When I was a kid, we had a rather long walk to school.  On cold, damp days, Mom would always be pulling freshly baked cookies out of the oven when we arrived home.  I don't think she ever purchased cookies from the grocery store.  Nor have I.  I kept this tradition going for our children (although I drove them to and from school every day – rain or shine).  I, like my mom, figured the health benefits of my kids coming home to a tall glass of milk and the smell of warm cookies on a cold day (knowing I lovingly baked for them while they slogged away at school) more than outweighed the negative benefits of some sugar and butter.
It's a cold and rainy day here in Zurich, Switzerland so it just felt like a day for baking one of life's simple pleasures – chocolate, oat and peanut butter cookies.  Below are step-by-step instructions.  A printable, text-only recipe is at the end.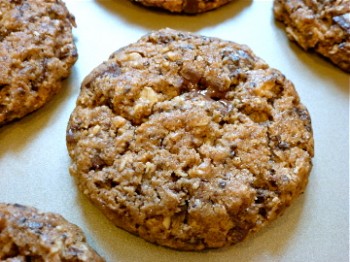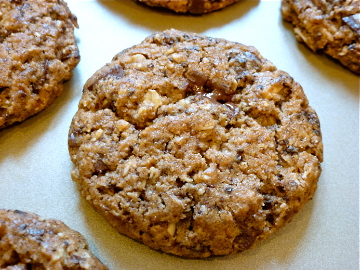 Gather and measure room temperature butter, peanut butter (unfortunately, grocery store brands work better than freshly ground), white granulated sugar, light brown sugar, vanilla and eggs.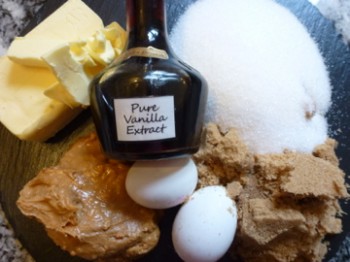 Place butter and peanut butter in a mixing bowl.  Beat until smooth with no butter clumps left.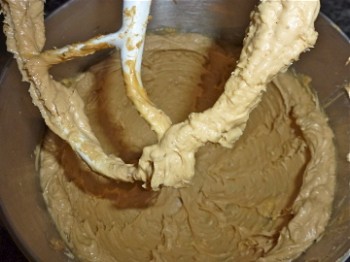 Add sugars and beat until smooth.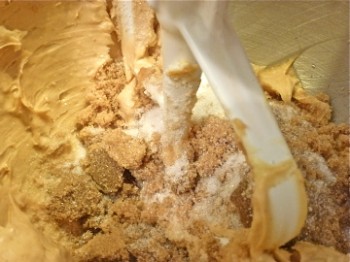 Add eggs and vanilla.
Beat until smooth.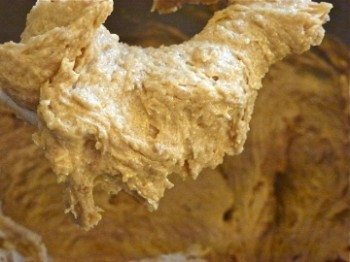 Grate or chop dark chocolate using a food processor.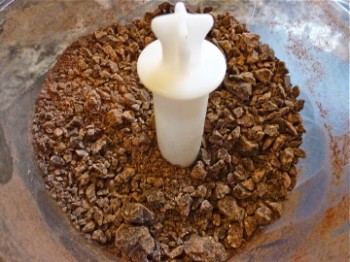 Add oats to the bowl of the food processor, holding some back to add whole to the batter.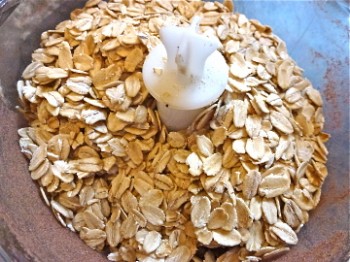 Process until the chocolate and oats are finely chopped.  Oats can be done separately or added along with large chunks of chocolate and processed all together.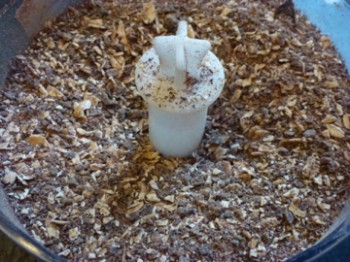 Whisk together the flour, salt, baking soda and baking powder.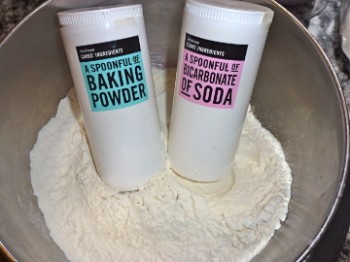 Add to the bowl.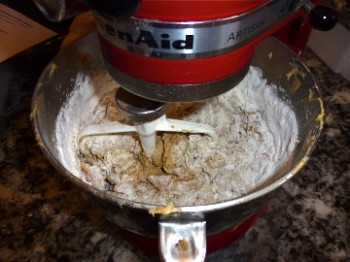 Mix just until blended.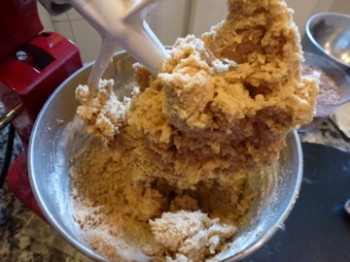 Add chopped oats, whole oats and chopped chocolate.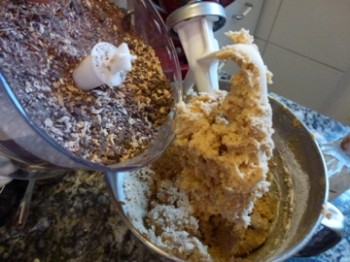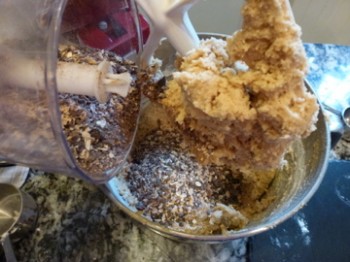 Mix until just blended.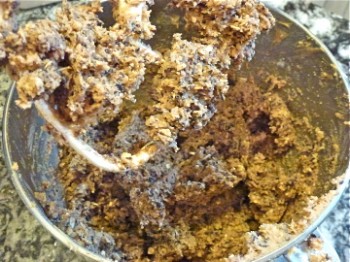 Add chocolate chunks or chips.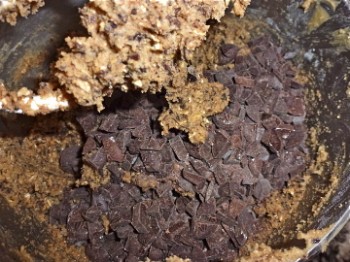 Mix together.  Dough must be chilled before baking.  It is OK to put the dough in a covered bowl or in a sealed container and chill (or freeze for later use) but chilled dough is more difficult to scoop and often warms up too much during the process.  I prefer to line a baking sheet with parchment paper or plastic wrap.  Scoop dough using a small ice cream scoop so each cookie will be the same size and, therefore, bake consistently.  Line them up tightly.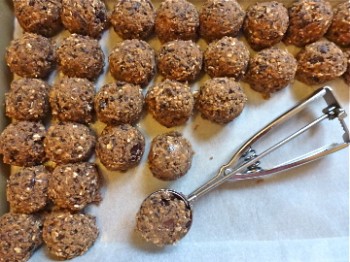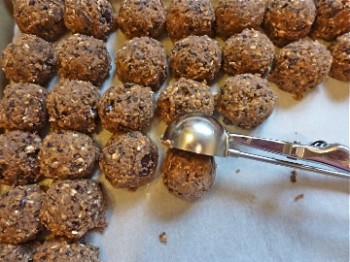 Chill in fridge several hours or overnight.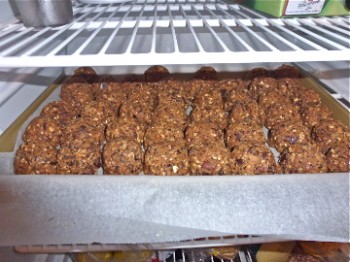 Or freeze and defrost in the refrigerator before baking.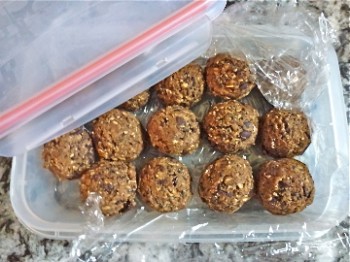 Place on un-greased cookie sheets just before popping them into the oven to keep the dough chilled, allowing room to spread.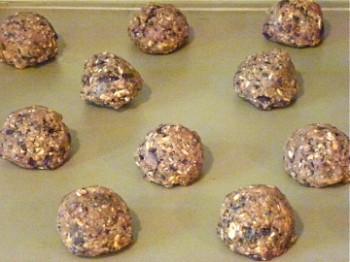 Bake around 15 minutes.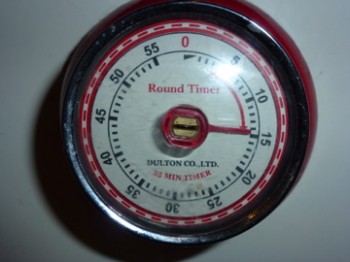 Be sure to turn the pan in the oven halfway through baking when they are soft and puffed and still raw in the center.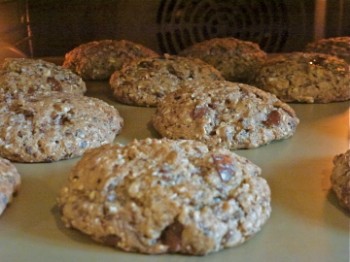 To test for doneness, lightly touch the top of a cookie.  It should be slightly crisp but a bit soft.  If crunchier cookies are preferred, leave in the oven a few minutes longer.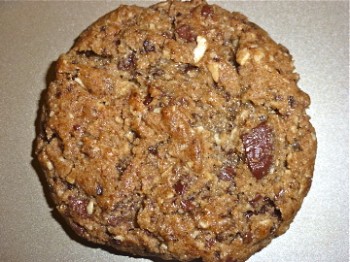 Cool on racks.  Store in an airtight container at room temperature for a few days or freezer up to several months.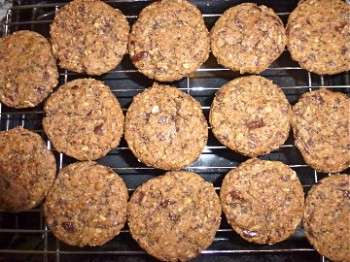 Eat!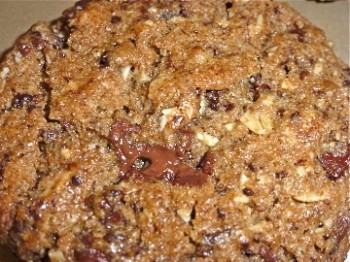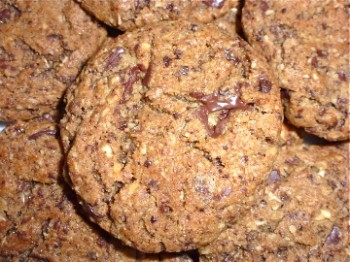 | | |
| --- | --- |
| Chocolate, Peanut Butter and Oat Cookies | |
Author:
Ingredients
1 cup old-fashioned rolled oats (100 grams)
8 ounces semisweet or dark chocolate, grated (225 grams); if chips, 1 1/3 cups
2 sticks (1/2 pound or 1 cup) unsalted butter, softened (225 grams)
1 cup granulated sugar ( 235 grams)
1 cup firmly packed light brown sugar (215 grams)
1 tablespoon vanilla
3/4 cup peanut butter (200 grams)
2 large eggs
2 cups all-purpose flour (270 grams)
1 teaspoon baking powder
1 teaspoon baking soda
1 teaspoon salt
1/2 cup old-fashioned rolled oats (50 grams)
12-ounces (2 cups) semisweet chocolate chips (340 grams)
Instructions
Preheat oven to 325°F (165°C).
In a food processor, pulse 1 cup (100 grams) oats and 8 ounces dark or semi-sweet chocolate until finely ground.
Place butter and peanut butter in a large mixing bowl.
Beat with an electric mixer until smooth.
Add white and brown sugars.
Beat until light and fluffy.
Add eggs and vanilla and beat until incorporated.
In a large bowl whisk together flour, baking powder, baking soda, and salt.
Add to the mixing bowl and beat just until combined.
Add remaining 1/2 cup (50 grams) whole oats and the ground chocolate and oat mixture.
Stir just until combined.
Chill cookie dough, covered, at least 2 hours and up to 1 week. It is easier to form large, round balls using a 2 inch (5 centimeter) ice cream scoop before chilling.
Just before baking, arrange balls about 2 inches (5 centimeters) apart on ungreased baking sheets.
Bake cookies in batches in the middle of the oven for around 15 minutes, or until just pale golden.
Turn pans around half way through baking. Be sure to keep dough chilled while baking earlier batches.
Cool cookies on baking the sheet 5 minutes.
Transfer to racks to cool completely.
Dough and baked cookies may be frozen for several months.