Use your thumb to push around the stem.  When it loosens, pull it out.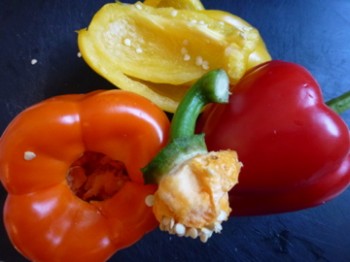 Tear the pepper into pieces and clean out the seeds.  Lightly toss with oil and place, skin side up, on a baking sheet.  Roast in a hot 400º F / 205º C oven until patches of the skin are blackened, taking care not to burn the flesh.
Remove from the oven and immediately place in a shallow pan or a bowl.  Seal tightly with plastic wrap then cover with a dish towel to keep the heat in.  The steam will loosen the skins.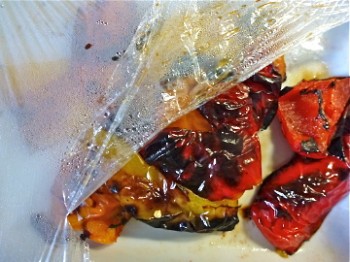 Pull the skin off with your fingers and discard.  The perfectly skinned and roasted peppers are now ready to be chopped, pureed, used in fajitas, tossed  in balsamic vinegar for sandwiches or used however your recipe indicates.