I have had the good fortune, on several occasions, to visit the cellars Jean-René Germanier  in Vértoz, Canton Valais, Switzerland.  The founder, Urbain Germanier, harvested his first vintage in 1896.  The company was passed to his three sons, Francis, Paul and Charles, whose wines claimed their place among the premiers crus.  Today, third generation enologists Jean-René Germanier and Gilles Besse continue this winemaking tradition.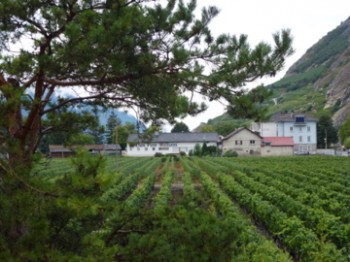 Besides being a brilliant winemaker, Gilles is one of the nicest, most easy-going and generous people on the planet.  I have heard nothing but praise for him from a number of his competitors.  Quite recently, he was unanimously elected president of the Swiss Wine Promotion association.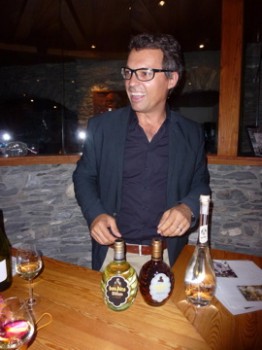 The first time I met Gilles was in the company of wine writer and consultant, Chandra Kurt.  Gilles picked us up a local wine bar to take us to dinner at his cellar.  On comes the music in his car and (ready for this??) he is playing the theme songs from Shaft and Superfly and the classic, "Papa Was a Rollin' Stone".  Just when I thought nothing could be more surreal than to be driving through vineyards at night in Valais with a Swiss wine writer and one of the great Swiss winemakers, all three of us singing along to Curtis Mayfield, Isaac Hayes and the Temptations, he mentions that his American wife is the granddaughter of (wait for it….) Emmy Award-winning actress Isabel Sanford.  Better known to a generation of 1970s and 1980s sitcom fans as Wheezy on the "The Jeffersons".  I was also informed he was a pallbearer at her funeral.  And so began my first evening with Gilles.
My second visit last week corresponded with the fun Le Salon Vinea wine festival in Sierre.  Buy a ticket, get a glass and proceed to taste any or all of the offerings from 150 Swiss wine producers.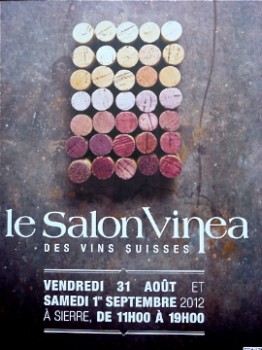 I wanted to interview Gilles for my Food Scout radio show on World Radio Switzerland about, not their wine, but the delicious pear brandy  Bon Père Willliam made from Williams pears (also known as Bartlett in the U.S.) cultivated on the estate.  I received an invitation to do the interview during a dinner they were having at their cave for a number of Belgian friends. So, bags packed, off I went knowing it would be a fun and informative evening.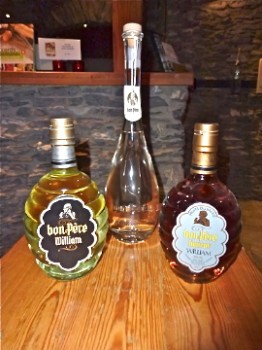 Dinner was, as always, platters of wonderful local dried meats, wine (and more wine) and Raclette.  Raclette is both the name of a cheese and the name of a wonderful dish indigenous to the Valais region.  The cut edge of the delicious cow's milk cheese is heated then scraped onto a plate and served  with boiled potatoes, gherkins and pickled onions.  Dinner ended with poached pears and pear brandy.
After dinner came a tour of the cellars.  I have never seen so many varieties of aging barrels and vessels.  My favorite is a cement pod that looks as though it was a prop from a B sci-fi movie, the plot being it landed in a field and an alien life form would soon emerge from the protective womb.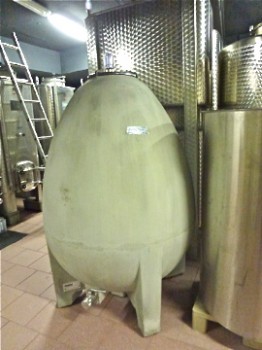 Below are more photographs of the interesting variety of aging barrels and vessels.