Understanding the food of a culture is an essential ingredient to begin to understand the culture itself. Food reflects the history and geography of a region, group or nation.  Our first stop on any trip is usually a local market or a grocery store.  Wandering around the incredible markets in Morocco, Japan, Spain, Greece, Italy, Switzerland, Mexico, Germany, France and South Korea (to name but a few) gave us a glimpse into the home life of locals.  I never hesitate asking vendors and customers what something is and how they prepare it.  As often as possible, I study up on a cuisine before visiting and sign up for a (preferably) private cooking class given by a local near the beginning of my trip. When taking private classes, I can request which dishes I have an interest in learning.  A few of these adventures included frequent lessons on Japanese cooking during our two years living outside Tokyo, spending a week with a small group learning from Diane Kochilas how to prepare Greek cuisine using all local ingredients on the remarkable island of Ikaria, taking a pasta making class from a wonderful Tuscan pasta shop owner and spending the afternoon with a traditional Berber chef in Marrakech and an afternoon with an Arab chef in Fez.
Most recently, I took a private class at the Food & Culture Korea Academy in the fantastic city of Seoul to learn how to make typical dishes such as bibimbap (a vegetable rice bowl very popular now in the U.S.), bulgogi (a marinated meat dish), japchae (a sweet potato starch noodle dish),  kimchi (preserved vegetables) and dasik (a traditional sweet, rarely now made, impressed using wood or plastic molds).  These recipes, plus more, are available on the academy's website.  My recipe is in a printable version at the bottom of the post.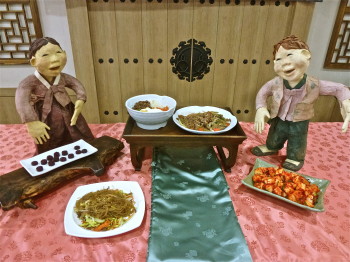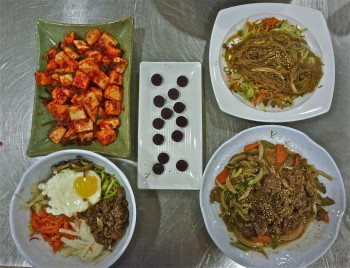 By taking this class, I better understood how Korean soy bean paste, doenjang, differs from the more familiar miso from Japan and the taste benefits of using dangmyeon (sweet potato starch noodles) for japchae rather than the readily available rice starch noodles used in Thai and Chinese dishes.  I also learned about Korean gochujang (chili paste) and the different types of Korean soy sauce, including Joseon ganjang.  While the commonly available ingredients can be substituted, the Korean ingredients are readily available from numerous on-line sources and worth seeking out.
Various vegetables can be used to make bibimbap.  The one-serving version I made at the school included: two small, dried, soaked-to-soften shitake mushroom; half a carrot; half a small zucchini; a small chunk of daikon radish; half a small onion; one egg; about 1/3 cup ground or finely chopped beef (briefly marinated in 1 teaspoon soy sauce, 1/2 teaspoon sugar and 1/2 teaspoon sesame oil) and about 1 1/2 cups cooked rice.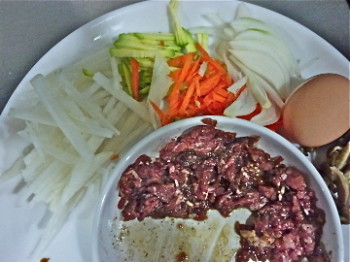 Vegetarian versions are popular.  Leave out the meat and, if desired, substitute tofu for protein.  Be sure the chili paste is vegetarian – yes, some include beef!  The vegetarian bibimbaps we had in South Korea were topped with raw, cubed tofu. When making it at home, I employ a tofu trick I have been using for the last 30 years to obtain a ground beef texture (especially useful when making vegetarian chili).  First, wrap and freeze a block of firm or extra firm, drained tofu.  At least a day later, thaw the block, crumble it and stir in the same sesame oil/soy sauce/sugar marinade used for the beef.
The next step is to choose vegetables and cut them into thick, matchstick shapes. I used onion, zucchini, carrot, daikon radish and burdock root.  Any variety can be used, as long as the vegetables hold up while sautéing.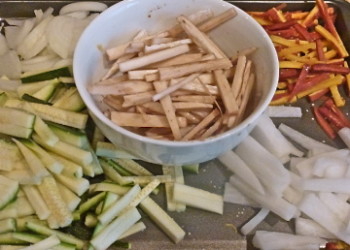 Next, heat a bit of sesame oil in a pan.  Saute the lightest-colored vegetable first.  Cook only until soft. Remove from the pan before they take on color and set aside.  Continue sautéing from the lightest to darkest vegetables in this manner until all are done. Saute the crumbled, marinated tofu (or the marinated meat).  If using burdock root, do this last.  I like to marinate the cut burdock in the same meat/tofu marinade then cook them in a bit of water to soften them before sautéing in the the same pan when the water evaporates.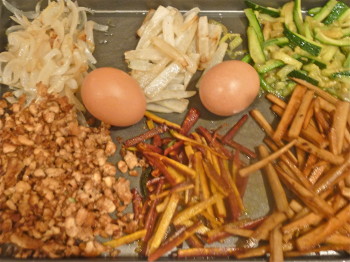 The next step depends upon which type of bowl is being used for serving.  If using a regular ceramic or metal bowl, layer the rice on the bottom and cluster each cooked item separately on top.  Fry the egg and place it in the middle as seen in the photograph below from class.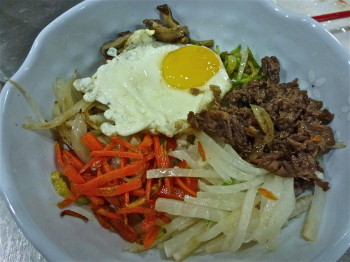 What I love the most, is using the incredibly heavy, single-serve granite bibimbap bowl.  We purchased ours at our local Korean market but they are readily available on-line. (Be sure to also purchase the wooden base to protect the dining table.) Rubbed with sesame oil then heated to searing hot on the stovetop, cooked rice is pressed into the bottom.  If done correctly, the rice begins to form a bottom crust while on the stove top.  The granite retains heat for a long time so the crusting continues at the table.  They can also be heated in a very hot oven but crusting is not as prominent.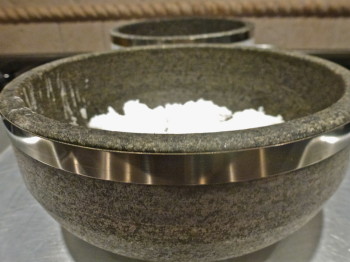 Cluster the vegetables and, if including, the meat or cooked tofu.  When using this method, everything should end up being very, very hot.  I learned at several restaurants that a raw egg can be cracked on top just before serving, rather than using a fried one.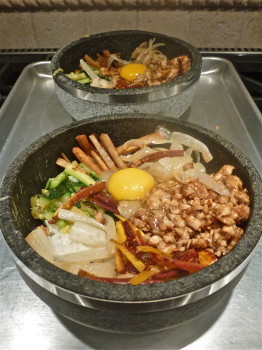 Everyone stirs their bowl immediately, taking care not to scrape up the bottom rice layer.  Everything should be hot enough to cook the scrambled egg.  Top with chili paste and stir thoroughly.  Pastes are different heat levels so start conservatively and keep adding to tolerance.  If desired, also top with cubed firm or extra-firm tofu.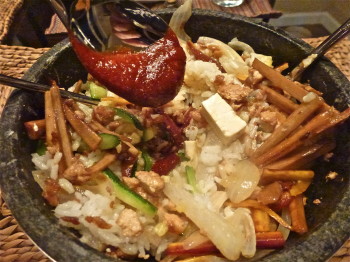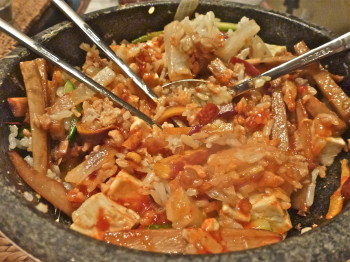 Bibimbap is always served with a host of pickled vegetables.  Recipes for several versions of Kimchi can be found on the school's website linked above and are always available at Korean stores and on-line.
Korean Bibimbap
All ingredient amounts are approximate. Use any sturdy vegetable desired. This recipe serves two so multiply by the number of servings required. When using a regular bowl, top the rice layer with the cooked vegetables, top with a fried egg and serve immediately. The recipe below includes instructions for serving in a hot granite bowl.
Ingredients
3 to 4 cups cooked white rice (about 1 3/4 to 2 cups raw)
OK to substitute brown or black (about 2 to 2 1/2 cups raw)
1 small onion
1 large carrot
1 zucchini
1 large piece daikon or similar radish
1 burdock root (optional)
2 eggs
1 block firm or extra-firm tofu, about 14 ounces (optional)
OR
6 ounces ground beef (optional)
sesame oil for sautéing
chili paste (preferably Korean gochujang) for topping
MARINADE (double if marinating burdock root):
1 teaspoons sesame oil
2 teaspoons soy sauce
1 teaspoon sugar
Instructions
If using crumbled, cooked tofu, drain half of the block, wrap in plastic wrap and freeze at least overnight. Defrost completely before using. This can be done slowly in a microwave. Crumble in a strainer to drain excess water.
If using either the beef or the defrosted tofu, combine the soy sauce, sesame oil and sugar for the marinade. Add the beef or tofu. Stir to thoroughly coat then let everything rest while vegetables are being prepared.
Cook the rice according to manufacturer's directions.
Remove the top and root end of the onion then peel. Thinly slice lengthwise and set aside.
Remove the top and root end of the carrot then peel, if necessary. Cut into matchstick shapes approximately 2 inches long by 1/8 – 1/4 inch thick and set aside.
Remove the top and root end of the zucchini. Cut into matchstick shapes approximately 2 inches long by 1/8 – 1/4 inch thick and set aside.
Remove the top and root end of the radish then peel. Cut into matchstick shapes approximately 2 inches long by 1/8 – 1/4 inch thick and set aside.
If using, remove the top and root end of the burdock root then peel. Cut into matchstick shapes approximately 2 inches long by 1/8 – 1/4 inch thick and set aside in the additional marinade.
Heat a tablespoon of sesame oil in a skillet over medium-high heat.
Saute the vegetables, one type at a time, beginning with the lightest-colored one such as the onion.
Once each vegetable is soft, and before it begins to color, set aside.
Repeat until all are cooked, adding more oil, if necessary. Keep different vegetables in separate piles.
OK to hold cooked vegetables on a pan in an oven set on a very low heat (about 250° F).
If using burdock root, dump into the hot pan along with the marinade and a few tablespoons of water. Cook, covered, on high heat until the water is absorbed and the burdock has softened enough to eat. Add more water if necessary. Once the water is absorbed and the burdock has softened, add a small amount of sesame oil to the pan to finish it off. Set aside.
Add another few teaspoons of sesame oil to the hot skillet and saute the marinated meat or crumbled, marinated tofu until cooked through. Set aside.
IF USING NON-GRANITE BOWLS:
Layer cooked rice on the bottom of each bowl. Top with clusters of the vegetables and top with a fried egg.
IF USING GRANITE BOWLS:
Coat the inside of each bowl with some sesame oil.
If you want them searing hot, it is OK to place them in a very hot (400° F) oven while the contents are being prepared.
Place each stovetop-proof bowl on a gas burner and set to medium high.
Layer cooked rice on the bottom, pressing to ensure a nice crusting on the bottom.
Top with the cooked ingredients, keeping in individual clusters fanning out from the center.
Crack a raw egg on top (or top with a fried egg).
May also top with cubed, raw or sautéed tofu.
Serve immediately.
At the table, everyone stirs the raw egg promptly into the searing hot ingredients so it will scramble and cook. Take care to leave the bottom layer of rice intact so it will crust.
Dollop on Korean chili sauce, to taste and stir through.