Not long ago, I spent a glorious week at a friend's house in Alicante, Spain.  The area is beautiful. Limestone mountains, winding (and sometimes hair-raising) roads through hillside vineyards, ocean views and weekly local markets.  Our days were spent lounging poolside reading, swimming in the Mediterranean, drinking cocktails at one of the may ocean-view bars and eating local specialties.
I could not wait to sink my teeth into the iconic, Spanish rice dish, paella.  Yielding to my pleas (OK, nagging), off we went on our first day to  Restaurante Raco de l'Arros in Moraira.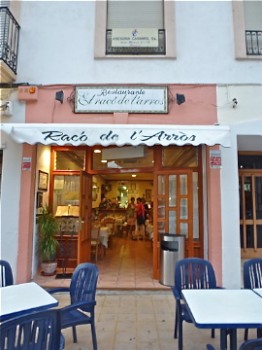 There are as many versions of paella as there are cooks.  The rice is often seasoned, and stained a golden yellow, by the addition of saffron.   It may contain chicken, fish, pork, squid, shellfish, rabbit or vegetables.  Cooked, preferably, on open flames and in two-handled flat dishes reminiscent of large pie pans, the great joy is finding a bottom crust of ever so slightly burnt, crunchy rice.
The incredibly nice staff invited me into the kitchen to watch them make several varieties while my endlessly patient friends parked themselves at our table and sipped sangria until the meal was ready and I returned.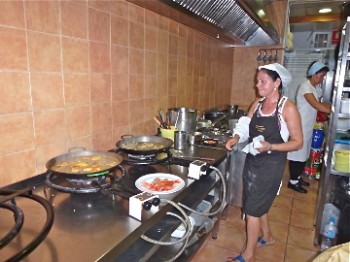 I watched each step carefully.  While I claim no authenticity, I have to say the paella I made upon returning home with bagfuls of locally-grown rice was delicious.  Below are step-by-step instructions for making a basic chicken paella at home.  A text only, printable recipe can be found at the bottom of this post.
Ingredients include short grain paella rice (or substitute a short grain Italian risotto rice in a pinch), chicken thighs, flat beans (string beans can be substituted), garlic, homemade chicken broth, broad beans or lima beans, saffron, smoked paprika, rosemary and tomatoes (still hanging out in my garden so not in the photograph).  Lemons or red pepper can be used at the end as a garnish.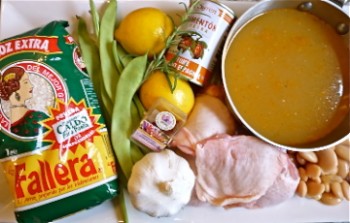 It is important to prepare all ingredients before the cooking begins.  Pull 6 to 8 cloves of garlic off of the bulb.  Place them on a cutting board and smash them with the flat side of a large knife to help release the papery skin.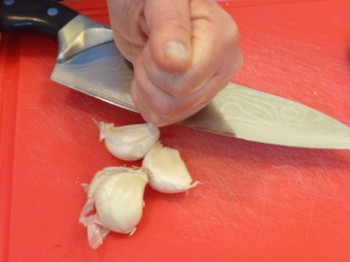 Remove the skin and cut off the flat top of each clove.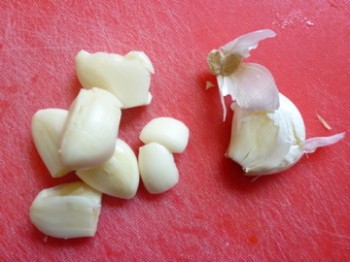 Chop until very finely diced.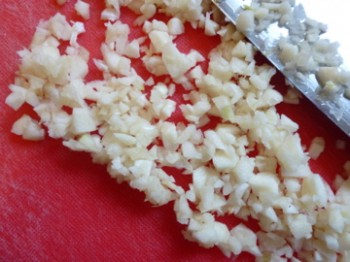 Trim the ends off of the beans and slice into approximately 1 inch / 2.5 centimeter pieces.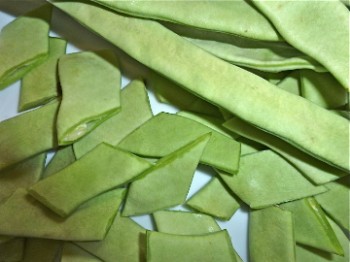 Season chicken thighs with half of the smoked paprika, salt, pepper and some of the chopped garlic.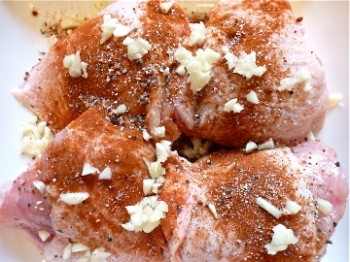 Rub the seasoning into both sides of the thighs.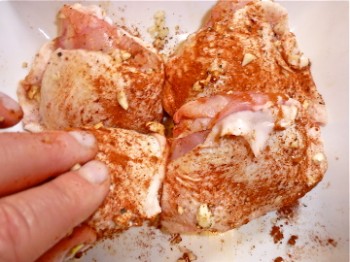 Place the chicken stock in a saucepan and heat to a very low simmer.  The ratio is one part rice to two parts stock but be sure to reserve additional stock to add if the rice becomes too dry while cooking. Crumble in a large pinch of saffron so flavors infuse.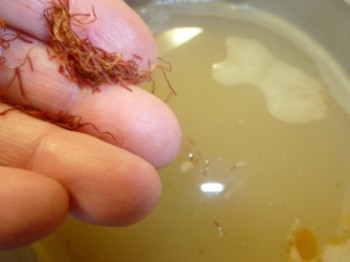 Heat olive oil in a paella pan or, less desirable, a large saute pan.  Do not use a non-stick pan.  When it becomes searing hot, add chicken, skin side down.
Reduce heat a bit and cook until the skin is nicely browned.  Turn and cook several more minutes until the second side has browned.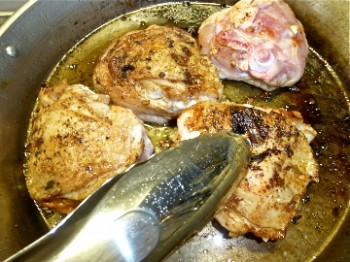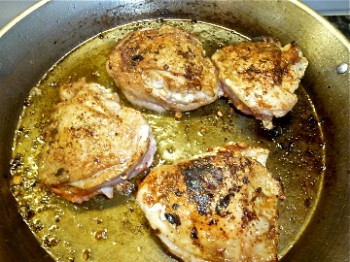 Add the sliced beans.  (If using artichoke hearts and fresh lima beans, add them as well.)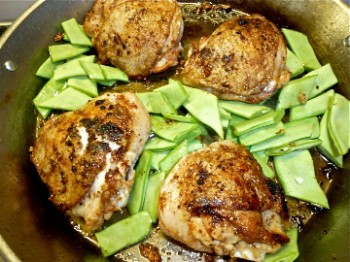 And cook until lightly browned.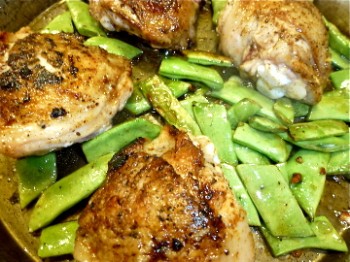 Push everything to the side and add another spoonful of olive oil to the center.  When it has heated, add the remaining garlic.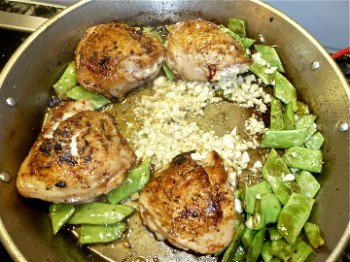 Cook until soft and lightly browned, taking care not to burn the garlic as it will become bitter.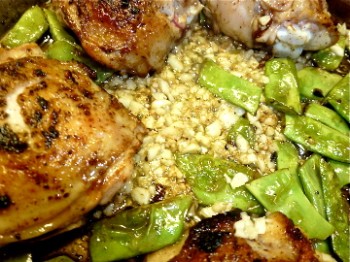 Cut tomatoes in half and grate them like you would a wedge of cheese.  Discard the skins.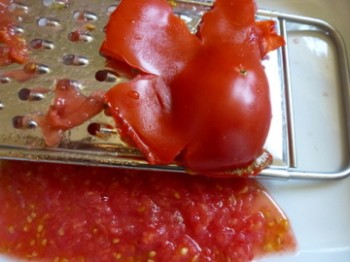 Add to the paella pan.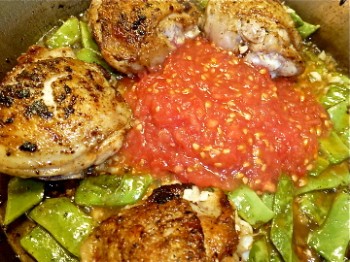 Along with the rest of the smoked paprika.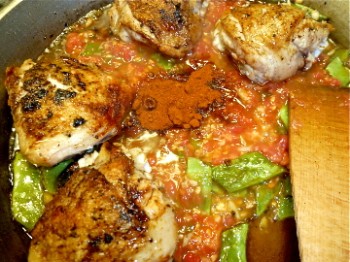 Stir and cook until the tomatoes become a bit jam-like in texture.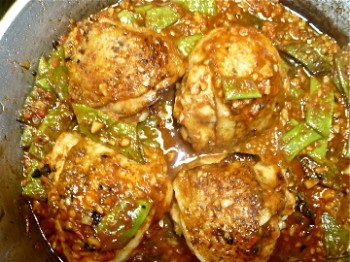 Add canned, drained white beans.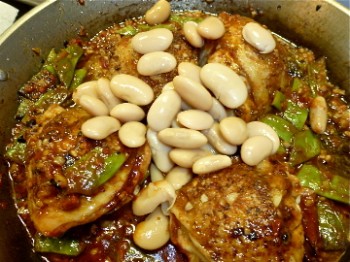 Add the rice.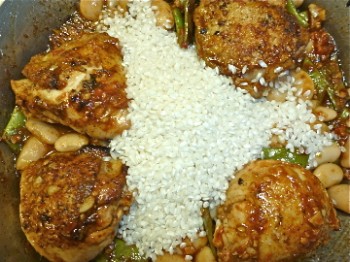 Stir until the rice is coated.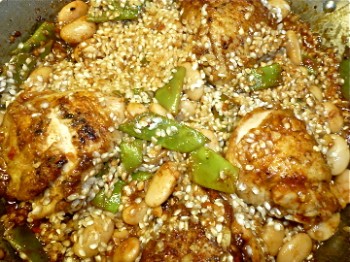 Add the hot saffron-infused chicken stock.  Rice to stock ratio is 1:2.  Keep reserved stock hot in case the rice gets too dry and more liquid needs to be added.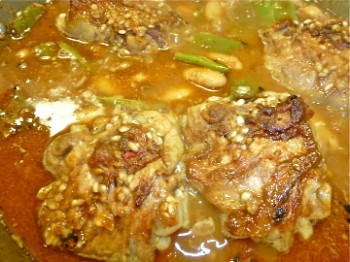 Add a sprig of rosemary.  I read that this is a good replacement if not adding snails!!!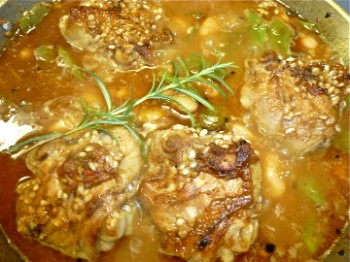 Simmer, occasionally gently jiggling and rotating the pan to continue distributing the liquid.  DO NOT STIR.  After about 10 minutes, carefully turn the chicken pieces over to ensure even cooking.  (They did not do this step at the restaurant but I wanted to be sure the chicken was cooked through.  If doing this,check that no half-cooked rice grains lay on top of the chicken pieces and not in the liquid.).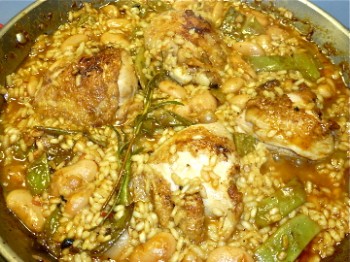 If the liquid is almost absorbed, taste the rice to see if it is cooked through.  If not, add another 1/4 to 1/2 cup of stock.  Shake to distribute.  May be necessary to repeat this step.  The total cooking time once the stock has been added can be as little as 15 minutes or quite a bit longer, depending upon the heat level and the depth of the rice.  The rice should be slightly chewy, not crunchy and not too soft.
Remove from the heat and garnish with sliced row or roasted red pepper slices.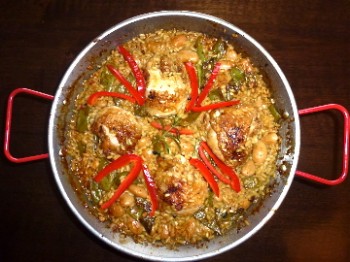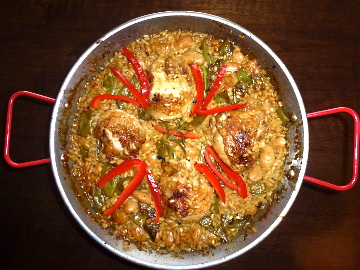 One of my favorite parts of paella is the dark, chewy crust on the bottom of the pan.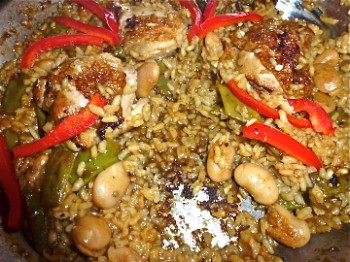 End of a great meal full of memories.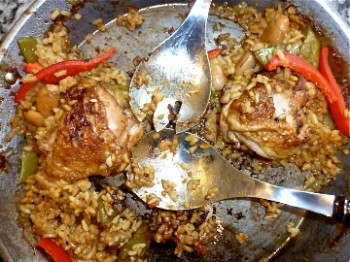 Author:
Ingredients
4 chicken thighs with bone and skin
4 tablespoons (or more) olive oil
1 ½ teaspoons smoked paprika
salt and pepper
6 to 8 cloves garlic, finely minced
1 cup flat or round green beans, cut into 1 inch / 2.5 cm pieces
1 cup canned, drained large white beans or frozen lima beans
6 to 10 frozen artichoke hearts (optional)
3 tomatoes
1 cup short grain Spanish paella rice
(less desirable but OK is Italian rice used for risotto)
3 cups chicken broth or stock (reserve one cup)
large pinch of saffron
sprig fresh rosemary
optional garnish: fresh or roasted red pepper slices or lemon
Instructions
Season chicken thighs with salt, pepper, 1/2 teaspoon smoked paprika and a tablespoon of the garlic.
Rub the seasoning into both sides.
Let sit at room temperature for 15 minutes.
Place all 3 cups of chicken stock in a saucepan.
Rub a pinch of saffron in the palm of your hand to crumble it and add to the stock.
Heat saffron-infused stock to a low simmer.
Put 4 tablespoon of hot oil into an 11 to 13 inch (28 to 33 cm) paella pan or skillet – preferably not non-stick and with sloped sides.
Heat oil to smoking.
Add chicken, skin side down.
Reduce heat to medium high, taking care not to burn the skin.
Once the skin had browned, turn each piece over and brown the other side.
Add cut beans (and artichoke hearts and lima beans if using) to the pan.
Sauté until lightly browned, stirring occasionally.
Push everything away from the middle of the pan.
If needed, add another tablespoon of oil.
Add remaining garlic into the middle.
Cook, stirring, until soft and lightly browned, taking care not to burn the garlic or it will become bitter.
Cut tomatoes in half.
Using a cheese grater, grate each half into a bowl, discarding the skin. Add to the pan along with the reserved 1 teaspoon smoked paprika and cook until it becomes a bit thick.
Add the rice and stir until it is completely coated.
Stir in 2 cups of hot chicken stock.
Add drained, canned white beans.
Reduce the heat to medium low and let the rice simmer, occasionally gently jiggling and turning the pan to distribute liquids.
DO NOT STIR.
When the liquid is mostly absorbed, taste the rice to see if it is still crunchy and not yet cooked through. If this is the case, drizzle in ¼ to ½ cup of the hot stock. Jiggle the pan to further distribute the liquid.
Repeat if necessary.
Total cooking time after adding the rice can be 15 to 30 minutes. Turn the chicken part way through cooking to ensure even cooking.
The paella is done when the rice is a bit chewy but no longer crunchy.
Hopefully a nice, caramelized crust has formed aournd the edges and nice crust has formed on the bottom.
Remove from heat and let sit about 10 minutes. Garnish with pepper strips.