It's Mardi Gras time!!  I love, love this festival.  I have spent many happy times in Louisiana at celebrations in the city of Lafayette and in rural Cajun country.  I cannot express how much I love the traditions of Courir de Mardi Gras passed down generations in the prairie regions of Cajun country. A description and photographs of the costumes can be found here. Below is a photo of me in my figure-flattering, traditional and typical rag costume.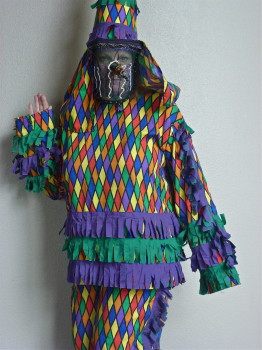 Whether in cities or in the countryside, king cakes are everywhere. There are numerous varieties of fillings and decorations, but the Mardi Gras colors purple, yellow and green are a must.  I usually only lightly drizzle colored icing on top but went a little nuts for this blog to highlight the fun colors.  A small plastic baby is inserted after baking.  Whoever finds the baby is the king/queen and may be required to buy the cake next year.  I try different recipes every year, making adjustments to the previous year.  I love many dough types and here is this year's effort, a bit more bread-like than last year's.  I made two types of filling and combined them into one gooey center.  A printable recipe is below
Begin by scalding milk.  Remove it from the heat and stir in butter until it melts.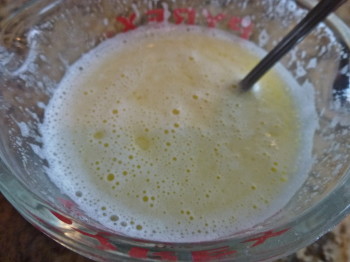 Combine yeast, a spoonful of sugar and warm water.  Whisk and let sit a few minutes until it bubbles.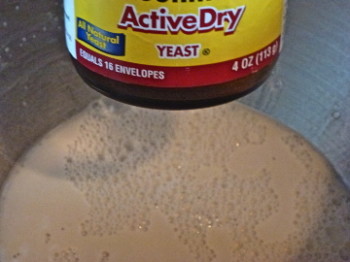 Combine the yeast and milk mixtures in a large mixing bowl.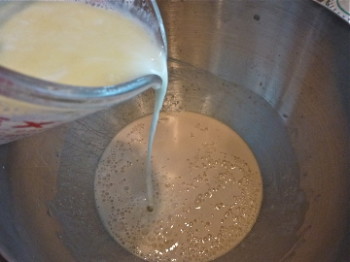 Add eggs.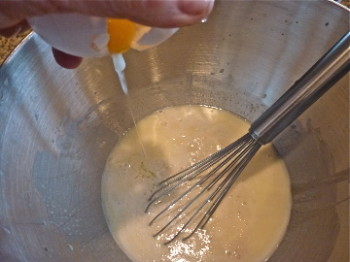 Add sugar.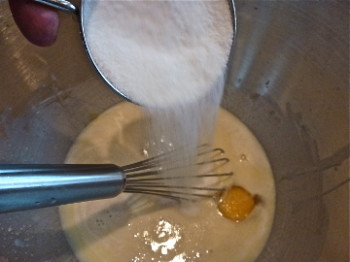 Whisk in salt, cinnamon and nutmeg.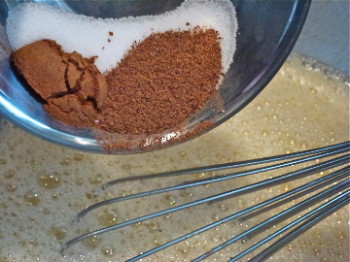 Begin stirring in flour, one cup at  a time.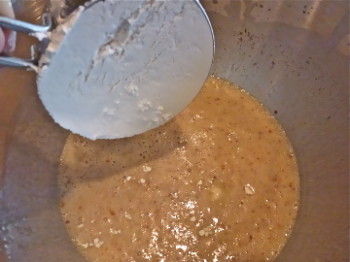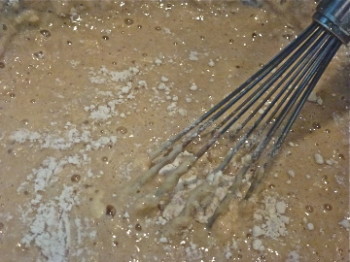 When the batter becomes thick, I use a bread hook on my mixer to continue blending in the additional flour.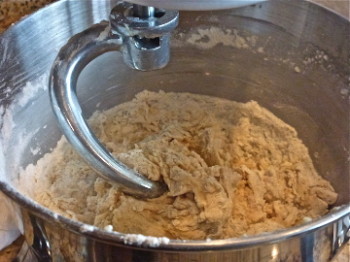 Mix until the dough pulls away from the side of the bowl.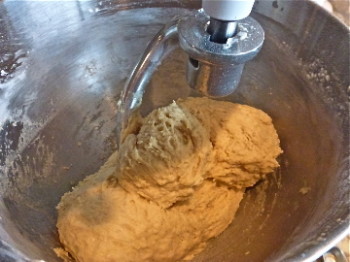 Dump the dough out onto a lightly floured surface.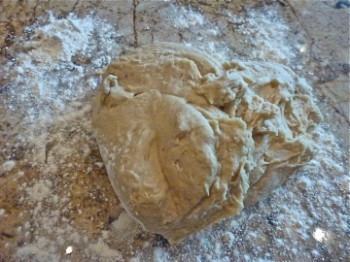 Knead about ten minutes until the dough is no longer sticky and a light finger impression disappears.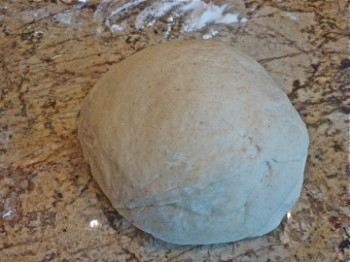 Oil a large bowl.  Drop the dough in then flip it so the top is oiled.  Cover with plastic wrap and a damp towel then let rest in a warm place to rise until it doubles in bulk.  This takes about two hours.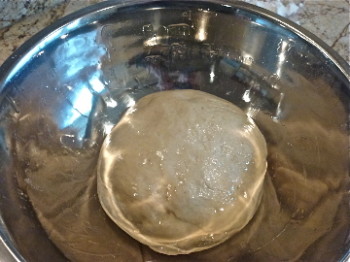 While the dough is rising, prepare the filling.  My favorite is a brown sugar and pecan mixture.  Begin by roughly chopping pecans (I prefer toasting nuts in a 350°F oven for about ten minutes first).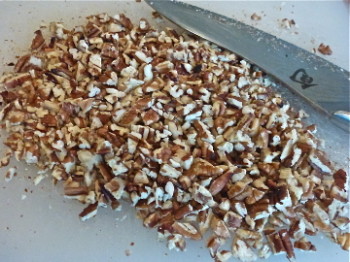 Combine brown sugar, flour and cinnamon then stir in melted butter.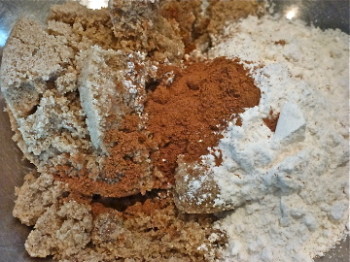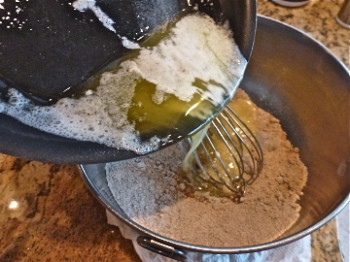 Add nuts and stir until combined.
If a cream cheese filling is preferred, or used in combination with the nut filling, combine room temperature cream cheese, sugar, egg yolks and vanilla and mix until smooth. If the cream cheese is cold, little clumps remain.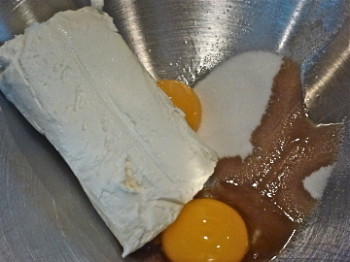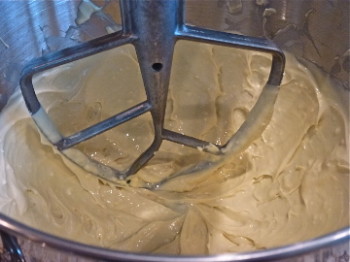 After two hours, the dough should have doubled in bulk.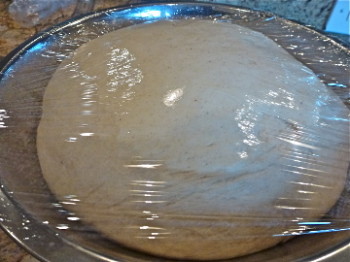 Punch it down then dump it onto a lightly-floured surface.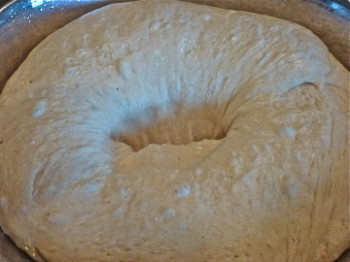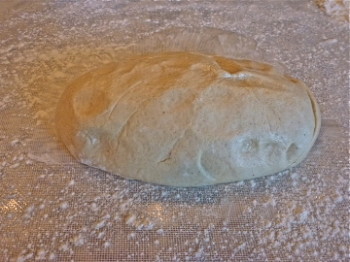 Cut in half.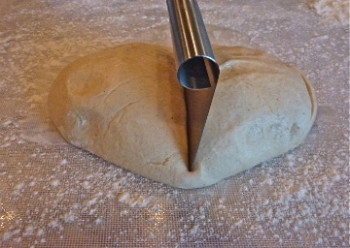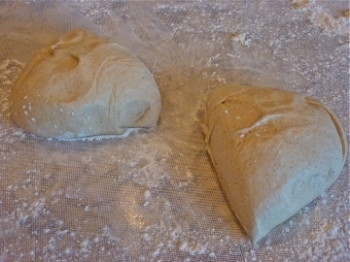 Roll each piece out to a rectangular shape about 10 inches x 16 – 18 inches.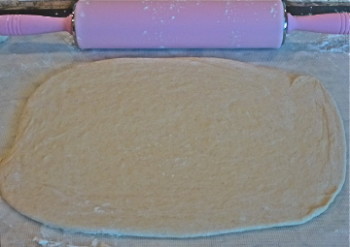 If using the nut filling, spread evenly over the entire surface of the dough, leaving half an inch border. The cream cheese filling should be laid at one end and, if desired, topped with raspberry jam.   I chose to use both fillings because, why not?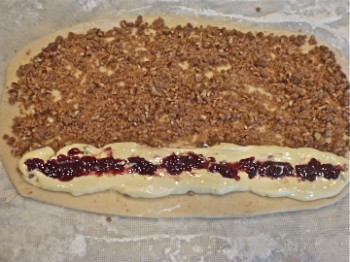 Spread a little bit of water or milk at the top to act as glue then tightly roll up, jellyroll-style.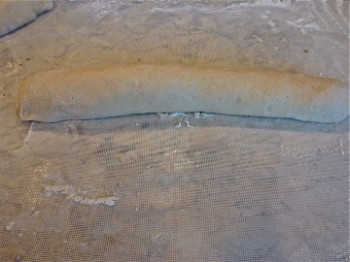 Lift onto a greased or parchment-lined cookie sheet and form a circle or oval.  Rub a little water or milk onto the ends to seal.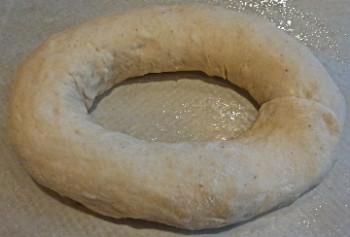 Cut about 1/3rd of the way into the dough at one to two inch intervals.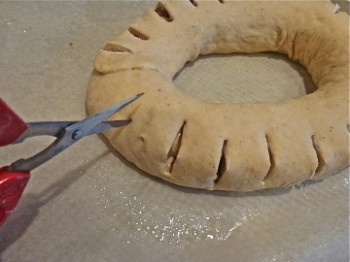 Set aside in a warm place for about 45 minutes  to rise.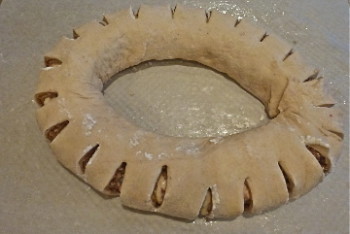 Bake in a pre-heated, 375°F oven for about 45 minutes.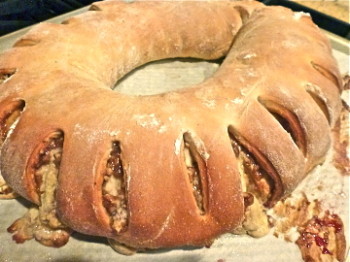 Once it cools, it is time to decorate.  I went to the extreme for this blog but prefer just a drizzle of icing and a sprinkle of colored sugar.  To make the icing, combine confectioners' sugar, a bit of melted butter and enough milk to reach the desired consistency.  Divide evenly in three bowls if color is being added. Mix enough food dye to reach the desired color.  OK to leave the icing white if sprinkling with colored sugars.
If purple, green and yellow sugars cannot be found, it is easy to make your own.  Add a few drops of food coloring to bowls of white sugar.  It might be necessary to add a drop or two of water if using a thick, gel food dye.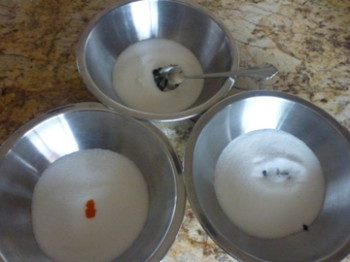 Stir to combine.  Can also be made in separate sealable plastic bag and squish to spread the color.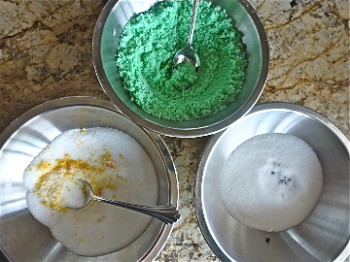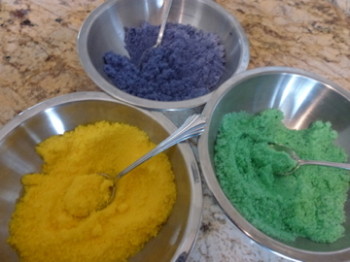 Now decorate.  Remember, it is Mardi Gras so it is just OK to eat wildly decorated, sugary treats!  Bon Ton Roulet!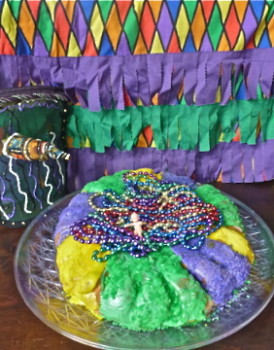 Ingredients
DOUGH:
1 cup milk
1/4 cup butter, cubed
1 1/2 tablespoons (2 packages) active dry yeast
2/3 cup warm water (about 110° F)
1 tablespoon sugar
1/2 cup white sugar
2 eggs
1 1/2 teaspoons salt
1/2 teaspoon nutmeg
1/2 teaspoon cinnamon
5 1/2 cups all-purpose flour
NUT FILLING:
1 cup packed dark brown sugar
1 tablespoon ground cinnamon
2/3 cup chopped pecans
1/2 cup all-purpose flour
1/2 cup melted butter
CREAM CHEESE FILLING:
8 ounces cream cheese, room temperature
1/4 cup sugar
2 egg yolks
1 teaspoon vanilla
(optional 1/2 to 3/4 cup raspberry jam to spread on top)
FROSTING:
3 cups confectioners' sugar
about 3 tablespoons milk
1 tablespoon melted butter
purple, green and yellow food dyes
purple, green and yellow sugars
(combine granulated sugar with dyes if unavailable)
Instructions
Scald milk, remove from heat and stir in the cubed butter. Set aside to cool.
In a large bowl, whisk the yeast and 1 tablespoon in warm water until combined. Let the mixture stand until bubbly, about 10 minutes.
Add the cooled milk mixture. Whisk in the eggs. Stir in the remaining white sugar, salt, cinnamon and nutmeg.
Beat the flour into the milk/egg mixture 1 cup at a time. When it becomes difficult to stir, it is ok to use the bread dough hook on a mixer. Mix until all of the flour has been combined and the dough pulls away from the side of the bowl.
Turn it out onto a lightly floured surface and knead until smooth and elastic, about 10 minutes.
Lightly oil a large bowl, place the dough in the bowl and turn to coat the top with oil. Lightly cover with a plastic wrap and a damp towel. Place in a warm place and let rise until doubled in bulk, about 2 hours. While the dough is rising, prepare the fillings (see below).
When doubled in bulk, punch down and turn out onto a lightly-floured surface. Cut the dough in half. Roll each half out into large rectangles, about 10 inches by 16 or 18 inches.
If using the nut filling, spread evenly over the dough surface, leaving a half -inch border. Sprinkle the filling evenly over the dough. If using the cream cheese/raspberry jam filling, spread the cream cheese across the bottom, about two inches wide, then top with the jam. Both fillings can be used together, if desired.
Spread a small amount of milk or water at the top edge to serve as glue. Tightly roll up each half, jellyroll-style, beginning at the wide end.
Carry each to a greased or parchment-lined cookie sheet. Bring the ends of each roll together to form a circle or oval, using a bit of water or milk as glue. With scissors, make cuts 1/3 of the way through the rings at 1 to 2 inch intervals. Let rise in a warm place until doubled in size, about 45 minutes.
Bake in pre-heated 375°F oven for 30 minutes. Push the doll into the bottom of the cake.
To Make the Nut Filling: Combine the brown sugar, ground cinnamon, chopped pecans and 1/2 cup flour. Pour 1/2 cup melted butter over the cinnamon mixture and mix until crumbly.
To Make the Cream Cheese Filling: combine the cream cheese, egg yolks, sugar and vanilla. Beat until smooth.