The great passion in both my professional and personal life is exploring and preserving family and regional food traditions.  One of the many family food legacies I treasure is Sauerbraten (sometimes called Suure Mocke in Switzerland),  meat marinated in vinegar and spices and then roasted.  This dish has always held a soft spot in my heart because it was so loved by my father and by my Swiss and German grandparents – even though as a child I loathed its smell and taste!  Trying it again as an adult, I found the tender, slightly vinegary-tasting meat counterbalanced by the rich, slightly sweet gravy delicious.  I finally understood why it was such a beloved taste-of-home.
Dad has been gone for over five years, but preparing, smelling and eating some of his lifelong favorite dishes still brings tears to my eyes.  Never having made Sauerbraten myself, I thought it high time to learn in the kitchen of the master – Mom.  On a recent trip back to the U.S., I begged her to teach me. Her recipe is simple and delicious.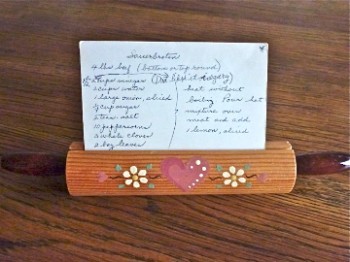 Sauerbraten is very easy to make yet takes days to prepare.  Under no circumstances can meat go directly from the butcher to the pan.  The necessary middle step is marinating for 3, 4 or 5 days in a spiced, vinegary solution designed to tenderize the meat by breaking down the collagen. The longer, the better. Below are step-by-step instructions.  A printable recipe is at the bottom of this post.
Gather the ingredients.  A very large onion, lemons, whole peppercorns, whole cloves, sugar, apple cider vinegar, water, salt, bay leaves and top or (preferably) bottom round.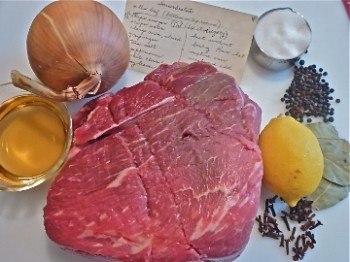 Slice the top off of the onion.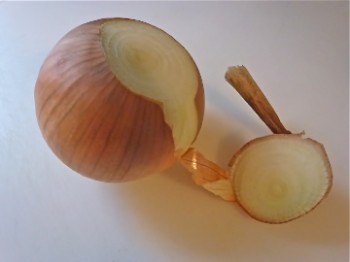 Make slits around the onion then peel off the skin and the tough outer layer.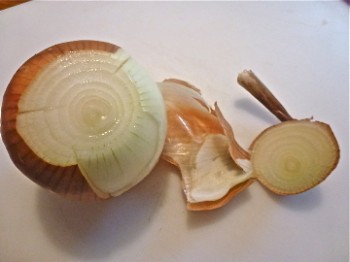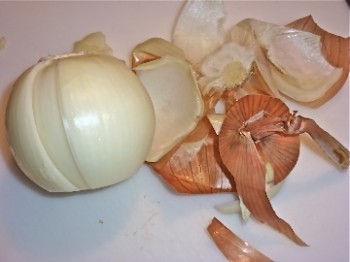 Cut the onion in half.  Flat side down, slice crossways.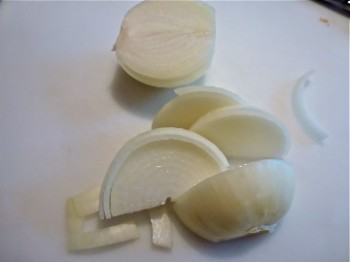 Pour water, vinegar, sugar, cloves, peppercorns, salt and sliced onions into a very large pan or Dutch oven.  (Many Swiss recipes substitute red wine or a mix or red wine and red wine vinegar for the cider vinegar in the marinade.)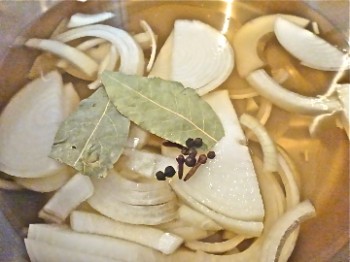 Turn heat to high and cook until just before boiling.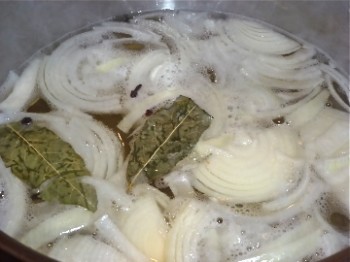 Turn off the heat and add sliced lemons.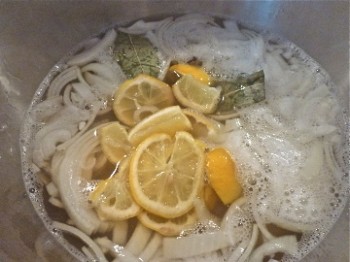 Put the meat in a large glass or ceramic heat-proof bowl.  The acidic marinade might react with a metal bowl during the extended marinating process so avoid using one.  Pour the hot liquid over the meat.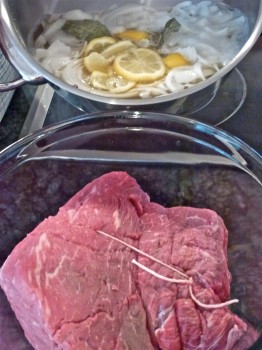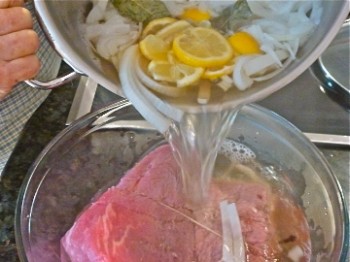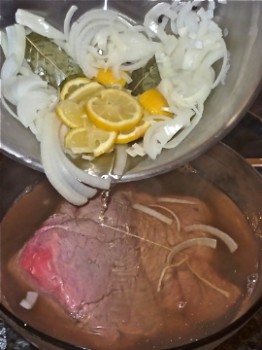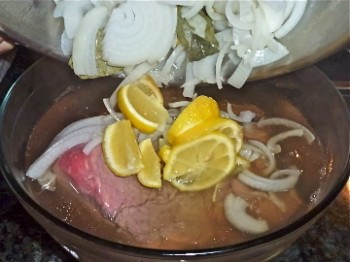 Cover tightly with plastic wrap.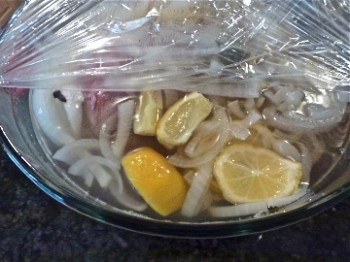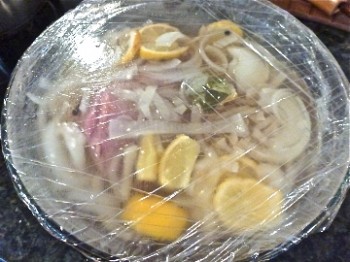 Place in the refrigerator to begin the several day marinating process.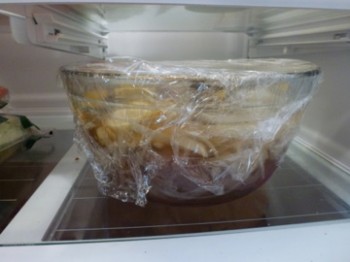 After 24 hours, remove from the refrigerator and turn the meat, keeping most of the onions and lemons on the top.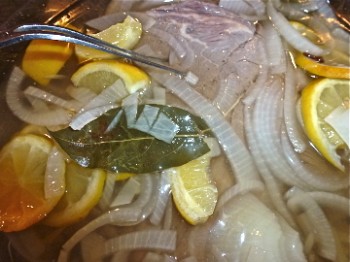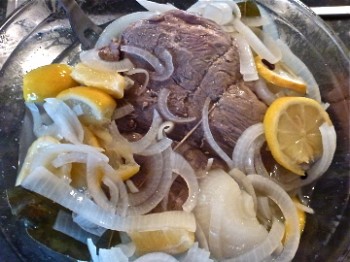 Tightly cover with plastic wrap and return to the refrigerator.  On the second day, do the same.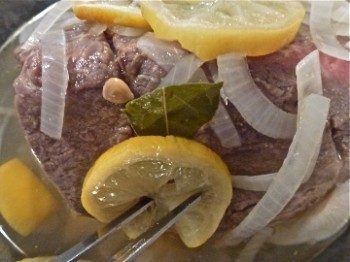 Here is a cross section after 48 hours of marinating in the vinegary solution.  The outer portion of the meat looks cooked as the acids in the vinegar begin breaking down the connective tissue.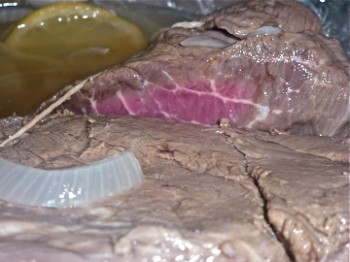 On day 3, flip again, cover and return to the refrigerator.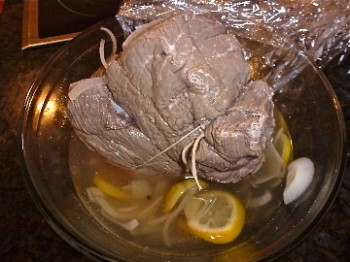 Cross section on day 4.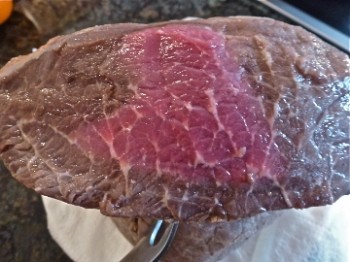 On day 4, remove the meat from the marinade. Pat it dry with paper towels and set aside.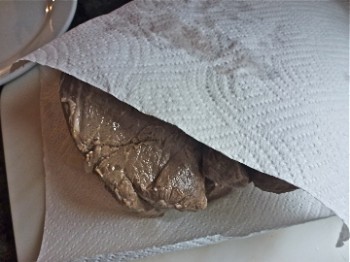 Strain the marinating liquid.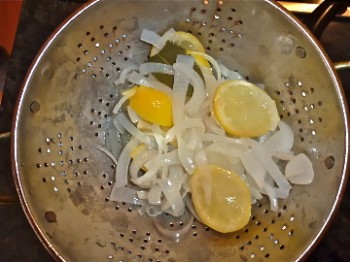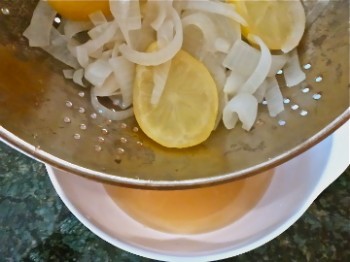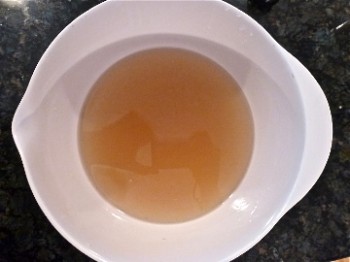 Heat several tablespoons of oil on high heat in a large pot or Dutch oven.  The meat looks grey and unappetizing.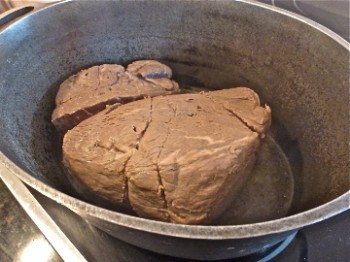 Brown on all sides.
Sop up any excess fat with a paper towel.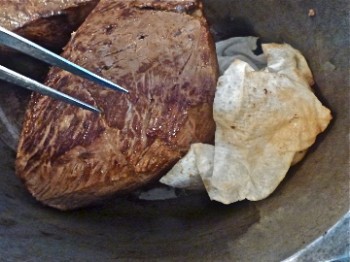 Pour strained marinade over the meat.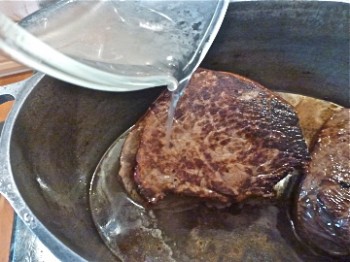 Bring to a simmer.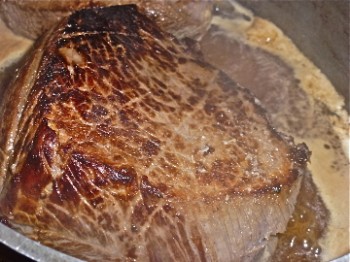 Cover with a lid and gently simmer for 3 to 4 hours.  Turn occasionally.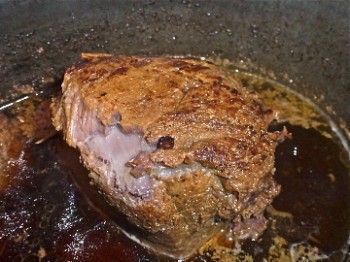 Cook until there is no resistance when inserting a paring knife into the center.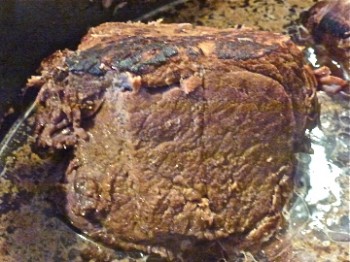 Remove from the pan.  Put the meat on a large plate (or anything with sloped sides to capture juices) and lightly tent with foil to keep the meat warm.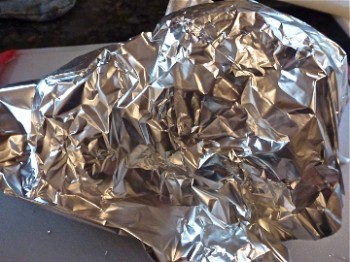 Pour cooking liquid off into a measuring cup.  Add water, if necessary, to make 3 cups.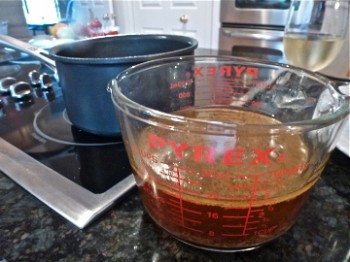 Many recipes add raisins, Lebkuchen (gingerbread cookies) or apples to the gravy. Mom tried that but Dad always preferred a more straightforward version made only with a butter and flour roux, the strained marinade and sour cream.
To make Mom's gravy, begin by melting butter in a saucepan.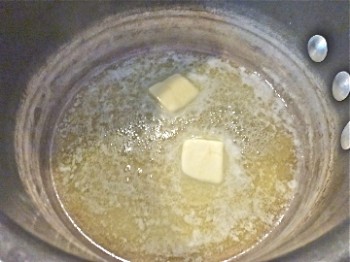 Add flour.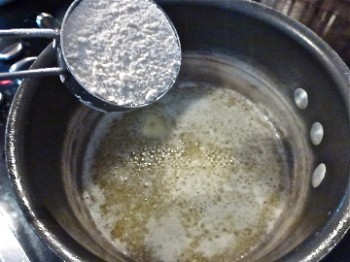 Whisk until smooth.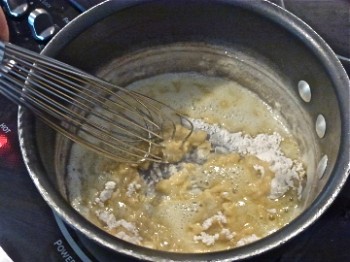 Continue cooking over medium heat, whisking the entire time.  First stage is a blonde roux.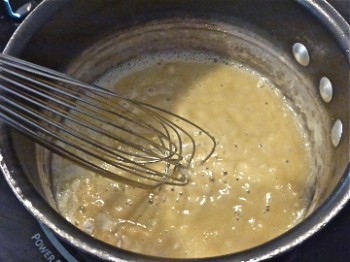 Continue cooking until the medium stage is reached.  At this point, the roux will be the color of grocery store peanut butter.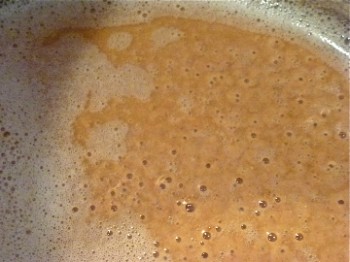 Whisk in reserved cooking liquid.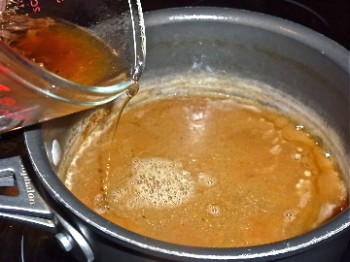 Cook over low heat, whisking the entire time, until the desired thickness is reached.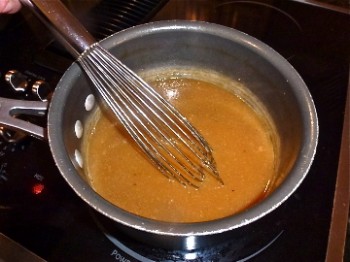 If desired, stir in meat bits that were left behind in the pot.   Keep warm on the stove over very low heat.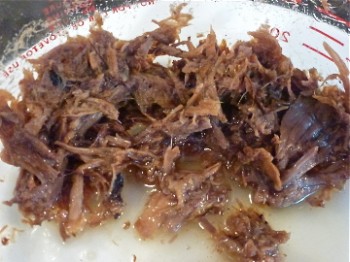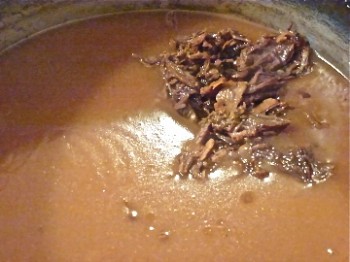 Slice the meat.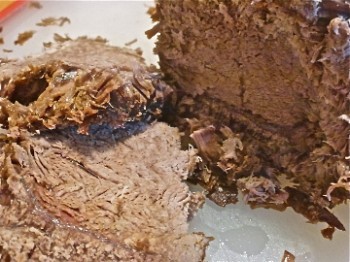 Whisk juices that dripped from the resting meat into the gravy.  Remove from the heat.  Stir in the sour cream.  Serve the meat doused with the rich, slightly sour gravy.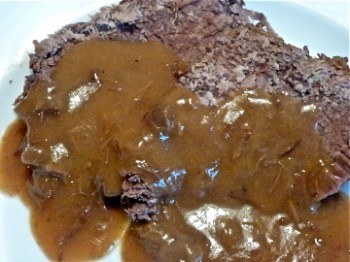 Regional and personal preferences prevail when it comes to side dishes which might include cooked red cabbage, potato dumplings, a pasta-like dish called Spätzli, boiled potatoes or potato pancakes (Dad's top preference).
Author:
Ingredients
1 1/2 to 2 cups apple cider vinegar
(or 1 1/2 cups red wine plus 1/2 cup red wine vinegar)
2 cups water
1 very large onion, sliced crossways
1/4 cup sugar
2 teaspoons salt
3 whole cloves
10 peppercorns
2 bay leaves
4 pounds bottom or top round
1 lemon sliced
Gravy:
1/4 cup butter
1/4 cup flour
3 cups marinade
1/2 cup sour cream
Instructions
Place vinegar, onion, salt, sugar, peppercorns and bay leaves in a pan. Heat to simmering.
Add sliced lemon and remove from heat.
Place meat in a large glass or ceramic bowl slightly larger than the cut of meat.
Pour hot liquid over the meat.
Cover tightly with plastic wrap and place in refrigerator.
Marinate for 4 days, turning meat once daily.
Remove meat from marinade, reserving the liquid.
Pat dry.
Heat a few tablespoons of oil in a large pot or Dutch oven.
Brown all sides.
Strain marinade through a colander.
Add the strained marinade to the pot.
Bring to a boil.
Cover the pan and reduce heat to a simmer.
Cook 2 1/2 to 3 hours or until fork tender.
Remove the meat to a platter and tent with foil.
To make the gravy:
Strain liquid from the pan, reserving meat bits.
Melt butter in a small pan.
Add flour and cook, stirring until brown.
Whisk in 3 cups of the marinade (make up any shortfall with water).
Cook until thickened.
Remove from heat and add sour cream
Serve meat sliced with hot gravy ladled on top.
Side dishes can include boiled potatoes, red cabbage, potato pancakes or Spätzli.