My introduction to the Latin American stew-like soup, Sancocho, began on a miserably cold day many winters ago when I worked in the kitchen of a gourmet shop and caterer.  The assistant chef was from Columbia.  As freezing rain pelted down outside, the chef, hankering for a taste of home, whipped up a batch of Sancocho.  One taste and I was hooked.  I begged him to tell me how this satisfying bowl of starchy deliciousness was made.  He very kindly obliged.
To be honest, I had never heard of Sancocho until that afternoon.  I was told it was a traditional dish popular in Columbia, Ecuador, Mexico, Dominican Republic, Peru, Canary Islands, Panama and Venezuela.  Sancocho ingredients vary from country to country and from kitchen to kitchen.  Often made with fish, seafood, beef, pork, hen or chicken, our chef always used chicken.  His version included fresh corn, plantains, yuca (also known as manioc and cassava), potatoes, onions, garlic, peppers, cumin, sweet paprika, cilantro and tomatoes.  A printable recipe is below the step-by-step instructions.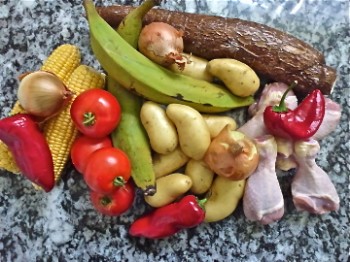 The first step in making Sancocho is dealing with the starchy tuber, the yuca. (Link to separate How To guide to peeling, coring and cutting this beast.)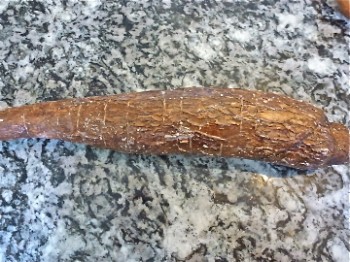 The yuca is encased in a thick, bark-like skin (often waxed to enable a longer shelf-life).  It must be completely removed.  Cut the top and bottom ends off then cut it into 2 or 3 pieces.  Stand each piece on its side and, using a sharp knife, slice the skin off from top to bottom.  Be sure to remove every single bit.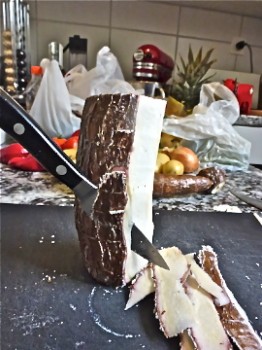 Next slice each peeled piece in half lengthwise to reveal a pencil-thick woody core.  This must be removed.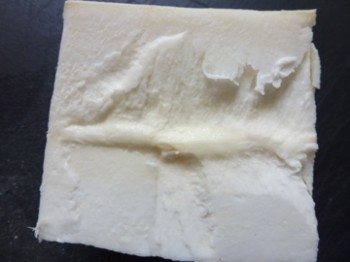 Those comfortable with a knife can cradle each half in the palm of one hand and whack each side of the core, parallel and at an angle, to form a V-trench so the core can easily be lifted out.
Perhaps easier, and safer,  is to deal with the yuca as you would a pineapple.  Cut each half in half again, lengthwise.  Stand each quarter on its end and run a sharp knife down the pointy end to remove the core.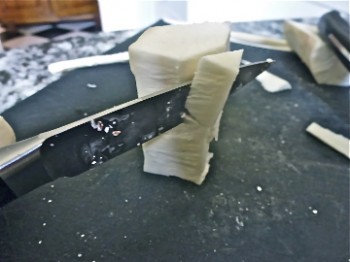 I prefer to chop the yuca into bite-size pieces.  Or, to keep the Sancocho more traditional, cut the vegetables into very large chunks.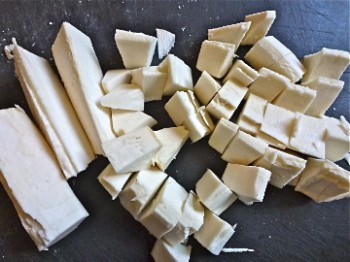 When choosing plantains for this dish, look for those green and firm.  The peel is tough and fibrous so plantains cannot be peeled like bananas.  Cut off each end and remove the peel by running a sharp knife just between it and the edible portion of the fruit.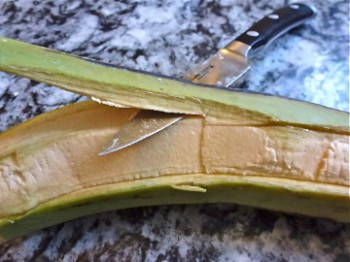 Cut the plantain into bite-size pieces.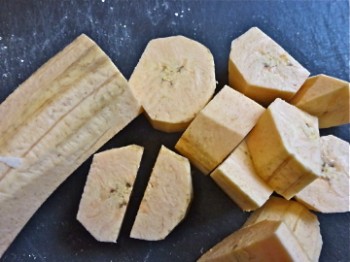 Choose low starch potatoes that keep their shape during cooking.  Scrub the potatoes.  If necessary, peel.  Cut the potatoes into bite-size pieces.  If doing this in advance, place cut potatoes in a bowl of cold water to prevent browning.  Otherwise, wait to cut the potatoes until just before adding to the pot.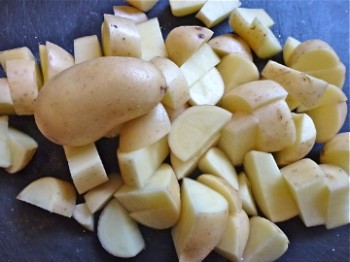 Heat a few tablespoons of oil in a large, heavy pot.  Add the chicken legs once the oil shimmers.  Cook until the skin has browned on one side then turn over and brown the other sides.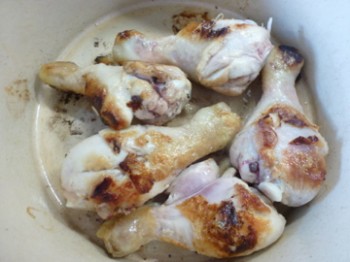 Add stock, potatoes, plantains and yuca.  Peel the corn and cut each ear into 1 inch (2.5 centimeter chunks) or stand each ear on its flat side and slice kernels off by running a sharp knife from top to bottom down the length of each ear.  Add the corn.  Bring the pot just to a boil then reduce the heat to a simmer.  Cover.  Stir occasionally until everything has softened enough to be edible.  Add more stock, if necessary.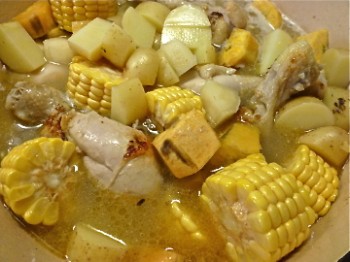 While the soup is simmering, seed and roughly chop the red pepper.  Place in the bowl of a food processor.  Peel and roughly chop an onion then add to the processor.  Peel the garlic clove and add. Cut out the tough stem end of the tomatoes.  Roughly cut into large chunks and add to the processor. Add cumin and sweet paprika and process until chunky-smooth.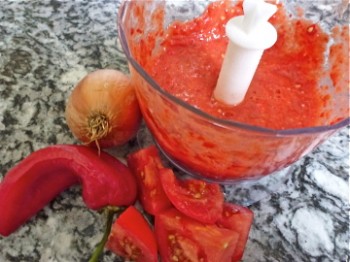 Add most of the tomato mixture to the pot.  Retain some to use as a topping.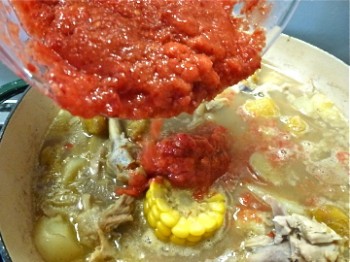 Stir to combine.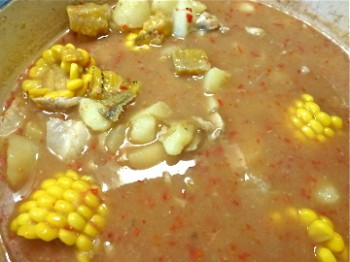 Chop fresh cilantro (coriander) and add most of it to the pot.  Serve piping hot in a large bowl topped with a dollop of the tomato mixture and sprinkled with chopped cilantro.  It is also delicious topped with chopped avocado.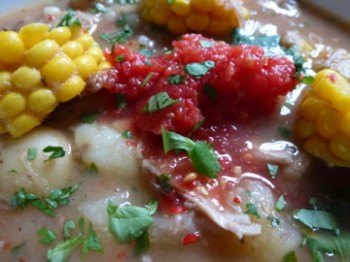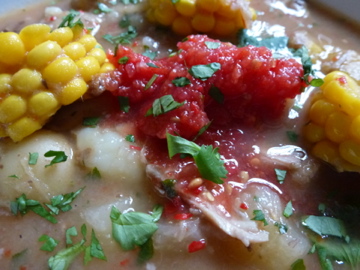 Ingredients
6 chicken legs (or leg quarters) with bone and skin
2 tablespoons oil
salt and pepper, to taste
2 unripe plantains
1 cassava (manioc or yuca) root
1 pound (500 grams) waxy potatoes
2 ears corn
8 cups (2 liters) chicken stock (can use half water)
1 red bell pepper, stemmed, peeled and cut into chunks
1 medium onion, peeled and cut into chunks
2 medium tomatoes
1 clove garlic
1 teaspoon cumin
1/2 teaspoon sweet paprika
1/2 bunch fresh cilantro (coriander), chopped
Instructions
Peel unripe plantains with a paring knife.
Cut into 8 equal size discs then cut each disc in half.
Cut ends off the cassava root.
Cut in half.
Stand one piece on its end on a cutting board.
Using a sharp paring knife, slice off strips of the bark-like skin.
Skin the second piece.
Cut each piece in half.
Take out pencil-size core by holding each half in your hand and whacking one side of the core at an angle with a large knife.
Do the same on the other side of the core so it pops out.
Or, cut each piece in quarters, stand on the end and use a paring knife to slice the core out.
Cut into bite size pieces about the same size as the plantains.
If skin is thin on potatoes, do not peel. Otherwise remove the skin.
Cut into pieces same size as plantains and cassava.
Husk corn and remove silk.
Cut into 1 inch (2 ½ cm) thick slices.
Or, stand corn on the flat end and use a serrated knife to remove kernels.
Heat a large, heavy pot over medium high heat. Add oil.
When the oil shimmers add chicken. If using quarters, cut each piece in half.
Sprinkle with salt and pepper. Cook until browned then turn over and cook until other side is brown.
Add stock.
Bring to a simmer.
Add plantains, potatoes, cassava and corn.
Simmer until vegetables are soft.
While the soup is simmering, place tomatoes, onion, garlic, bell pepper and spices in the bowl of a food processor.
Puree until chunky-smooth. Add most of the mixture to the soup.
Stir most of the cilantro into the soup, retaining some for topping.
Optional: Pull chicken out of the pot and pull off the meat. Cut into bite-size pieces and return the meat to the pot.
To serve: Ladle into bowls and top with reserved tomato puree and chopped cilantro.