When I think of the fabulous cuisine of Alsace, I conjure up images of delicious, hearty dishes prepared and/or served in beautiful, colorful, locally-produced pottery.  Kugelhopf (yeast-induced, slightly sweet  cake baked in turban-shaped forms), onion and apple tarts, sauerkraut left to ferment in specifically-designed pots, terrines, garlicky snails nestled in half circle crevices on round plates, Lammala (sweet cake baked in a form representative of the Paschal lamb sacrificed at the first Passover) and Baeckeoffe (meaning baker's oven in Alsatian dialect, it is a delicious stew-like conconction baked in large, oval clay casserole dishes).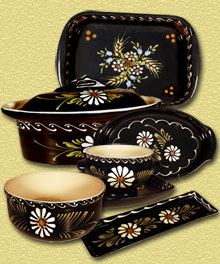 I recently participated in a day trip to one of the only two remaining traditional Alsace pottery production towns, Soufflenheim. Thirty kilometers northeast of Strasbourg, this small village in Northern Alsace is uniquely beautiful with colorful, half-timbered buildings lining the streets.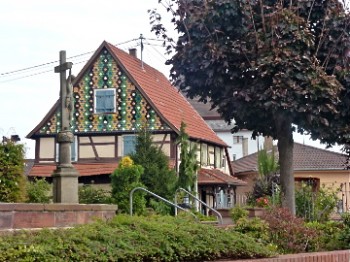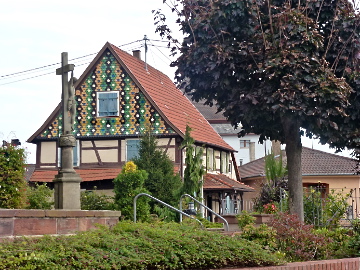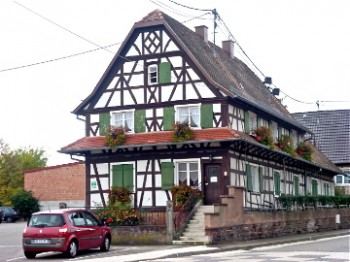 I was expecting a bustling tourist town filled with bakeries, restaurants and shops of every variety.  Instead, we found a village that was all about the pottery.  There are a number of potters in the center of the town.  Also notable is Restaurant Au Boeuf serving a whole host of regional dishes.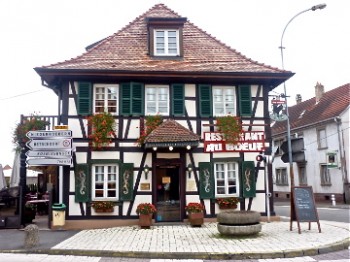 Pottery making is one of the world's oldest crafts.  Ceramic relics dating back 4000 years and a potter's wheel dated 400 BC have been found in northern Alsace.  The first reference to this trade in Soufflenheim is in a document from 1147 signed by Pope Eugene III.
Hstorically, potters from this village sourced clay and the necessary wood to fire their ovens from the Haguenau forest.  Potters were limited to searching for resources solely in village-owned regions.  All this changed for Soufflenheim potters when, as one legend has it, a 12th century potter was in the forest searching for clay when he rescued a man being attacked by a wild boar.  As luck would have it, that man was Emperor Frédéric 1st Barberousse who granted all Soufflenheim potters and all male descendants the right to source clay and wood from neighboring forests.  Challenged in court hundreds of years later, the decree held.
Our day began with a tour by the nice people of Poterie Siegfried-Burger et Fils of their facility.  Our guide walked us through the entire process of making a lidded Baekoffe baking dish.
It all begins with cylinders of clay.  (In a break with tradition, potters exporting their wares to Japan and the U.S. are sourcing clays from Germany, England and other regions in France to adhere to strict import regulations governing cookware.)  Each cylinder is cut into equal-size pieces.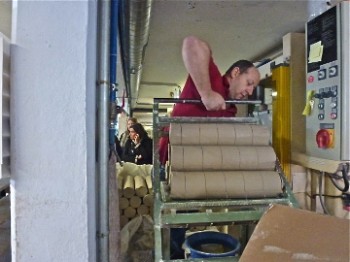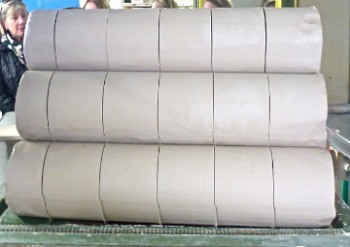 A piece of clay is placed in a mechanical press that pushes it around a mold, in this case the Baeckoffe lid.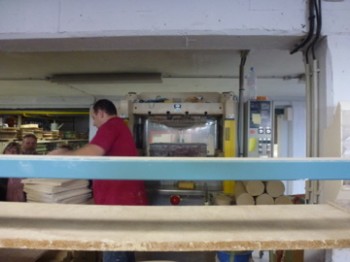 Once pressed, it is removed and carefully placed upon a square platter.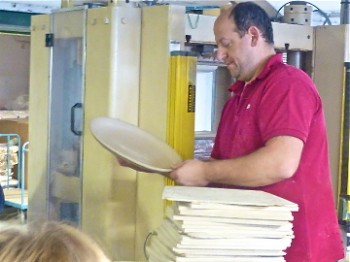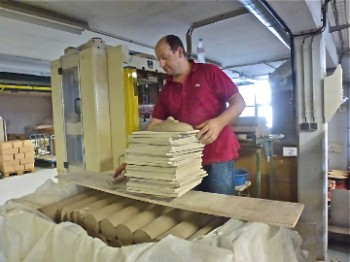 Each lid is placed on a rolling cart and wheeled across the room to the next station.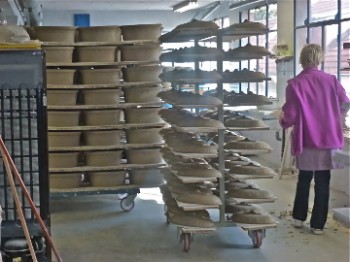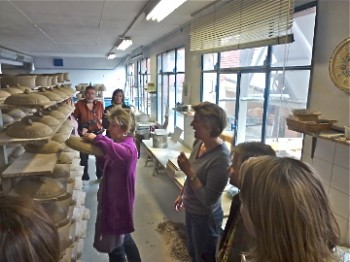 Here protruding seams are shaved off and the entire surface is smoothed with a wet sponge.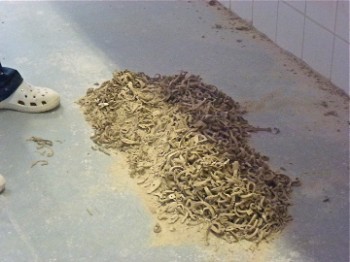 Pressed and smoothed pieces are left to dry.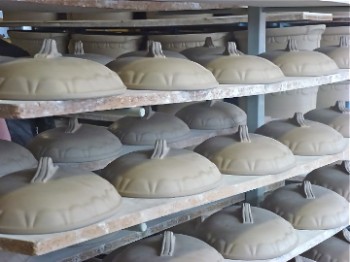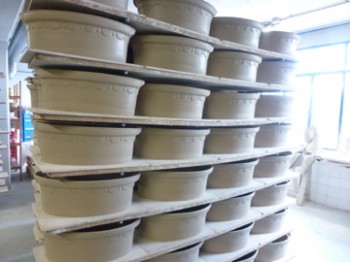 Next comes slip coating which gives the piece its final base color.  The calamine lotion-colored dye below, made from watered down clay and coloring, will blossom into a vibrant red after being glazed and fired.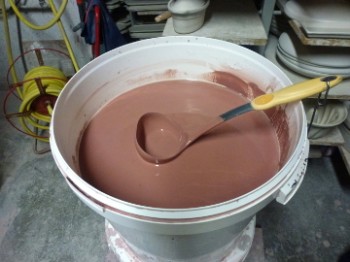 Some pieces are spray painted.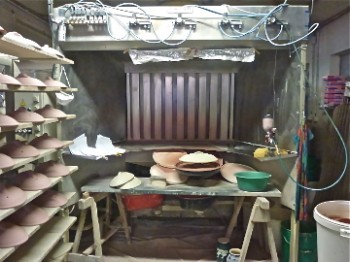 Others are dipped by hand (only by men) just to the rim of the piece.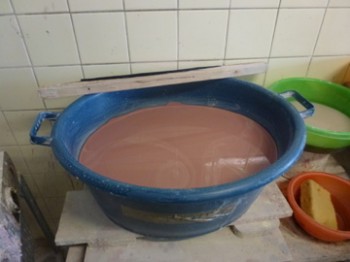 After dipping, the base is scrapped along the piece of cross wood to remove the excess.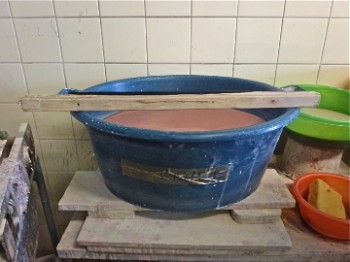 Then the bottom is polished to remove any residual paint.  I flipped over some pots at another shop and noticed not all do this esthetic clean-up.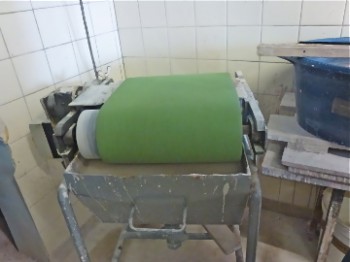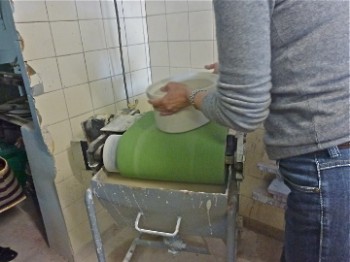 Decorations are applied by hand using a barolet.  Each pear-shaped dispensor is filled with a watered-down clay and coloring concoction.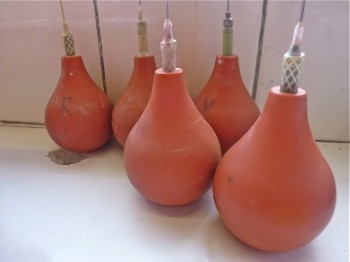 Artists undertake the tricky decorating process.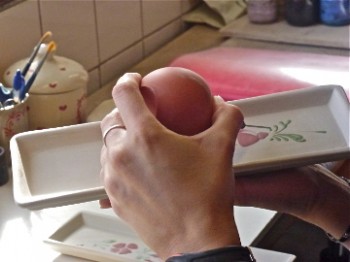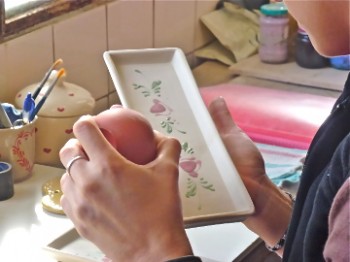 Pieces are again left to dry before being glazed.  Glazing waterproofs, seals the color and decoration, and gives it the final post-firing shine.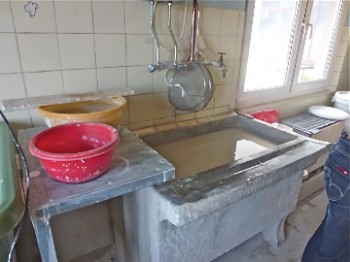 Each and every piece is hand-dipped into the milky bath.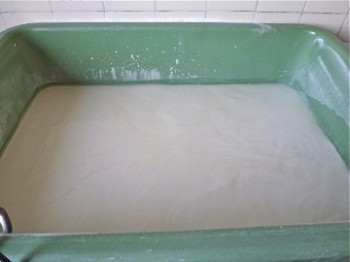 Then placed on a shelf before being wheeled over to the firing area.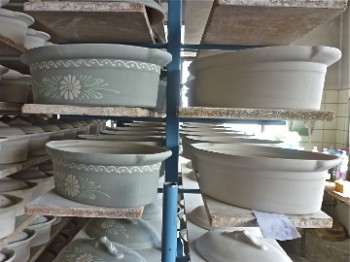 Ovens long ago were fueled by wood.  Many years ago, when huge numbers in this tiny village were engaged in the trade, fire and smoke belched out of huge chimneys above the many wood-burning furnaces earning Soufflenheim residents the nickname Hellegeischter spirits of hell.
Nowadays, the ovens are gas.  The entire firing process takes around 9 hours.  Fireproof carts stacked with decorated and glazed pieces are wheeled into the warm ovens.  Once the doors are sealed, the ovens reach an astonishing 1080º centigrade (1976º fahrenheit)!  Skill is required to determine heating up and cooling down times.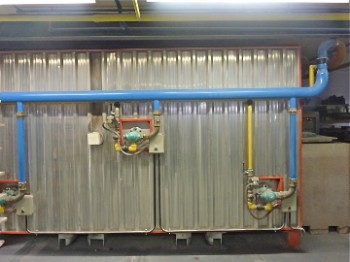 To illustrate the importance of glazing, below is a Kugelhopf pan that was only half glazed before firing.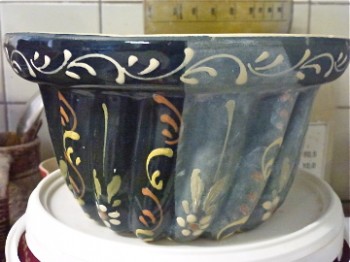 Piles of beautiful Baeckoffe are stored in the workshop waiting to be dusted off and shipped or sold in the shop at the front of the factory.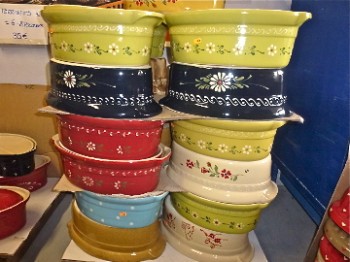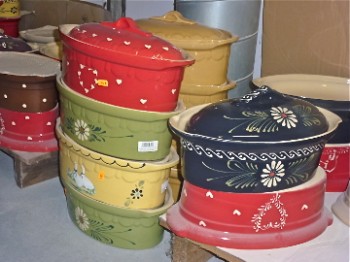 All wares, including Kugelhopf pans undergo the same process.