I love this time of year.  The heat is gone and there is a refreshing chill in the air.  Everything is still lush green and, best of all, orchards are yielding their fruits.  This season is so special to me because it is when Mom would always bake one of my Dad's favorite cakes from his homelands of Germany and Switzerland called Zwetschgendatschi – sugared wedges of Italian prune plums (also called Empress plums) tightly nestled in perfect rows on a shortbread crust then baked to a soft, jam-like consistency while still retaining their shape.
Dad has been gone five years.  I think about him every day.  Holidays are still tinged with sadness but the most difficult time of year, strangely enough, is plum season.  I have such vivid memories of him sitting in his recliner parked in front of the blaring TV watching a football game with a huge bowl of rock hard , blueish-purple, egg-shaped Italian prune plums balanced on his belly.  Why he preferred unripe fruit, we could never imagine. Mom's big challenge was hiding away enough to ripen to use for Zwetschgendatshi.  I can't even count how many of those she baked for us.  We adored this cake, all the more because we could sneak little bits (keeping row lengths proportional) thinking no one the wiser.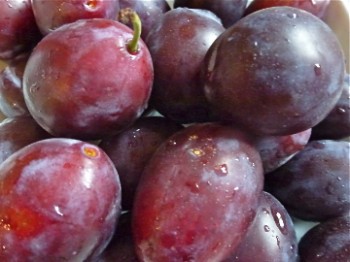 Plums are known as Zwetschge and Pflaume in German.  I recently asked a Swiss German-speaking farmer from Graubunden what the difference was between Pflaume and Zwetschge.  He said Zwetschge were the elongated Italian prune plums.
Zwetschgendatschi is the name  used at home and what I usually hear in Bavaria.  In some regions in Switzerland I ask for Zwetschgendatschi at a bakery and they correct me, calling it Pflaumenkuchen (literally plum cake). Other times I ask for Pflaumenkuchen and I am corrected and told it is called Zwetschgenkuchen.   I asked for it that way and was told it was called Pflaumekuche (Swiss don't love the N endings on a lot of words).  Occasionally in Germany and German-speaking regions of Switzerland I hear it called Quetschekuchen, quetsche being the French word for the Italian prune plum.
As for the second part of the various names.  Kuchen translates to cake.  Datschi is perhaps derived from  '"detschen" or "datschen"  which is likely German dialect for the verb "tatschen".  Nicely, it can  be translated as "pinching" (as the plums are pinched into the dough).  More crudely, it means to grope, squeeze or "cop a feel".
Onto the method and recipe, which is at the bottom of the post in text-only form.  Start with medium firm, purplish-blue Italian prune plums.  Cut each in half.  Remove the pit then cut each half into thirds.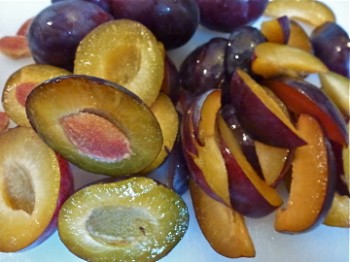 Ingredients for the simple base crust include sugar, flour, chilled butter, a dash of salt and egg yolks.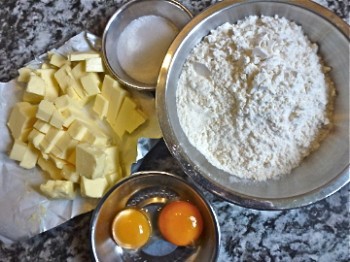 Whisk together the flour and sugar in a large bowl.  Add chilled butter cubes.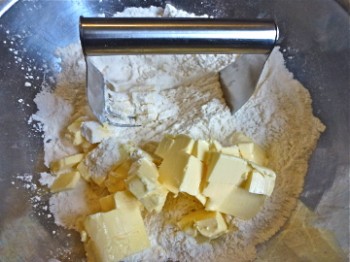 Work the cold butter into the flour and sugar mixture using a fork or a pastry cutter just until the dough is crumbly.  It is important not to overwork the butter and end up with a smooth dough.  The small bits of butter will release moisture and cause tiny air pockets to form during baking resulting in a flakier, crumblier crust.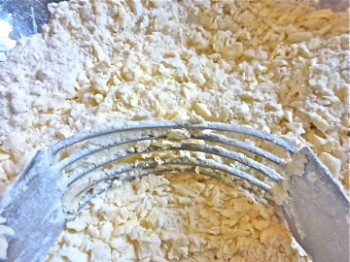 Separate eggs and reserve whites for another use.  Add yolks to the crumbly dough.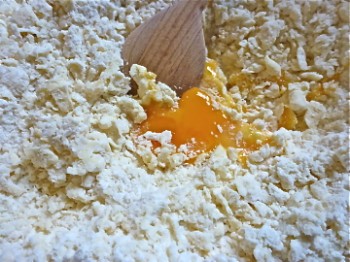 Gently mix with a wooden spoon or your hands until just combined.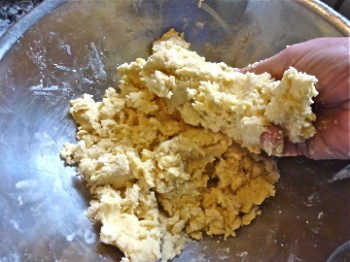 Press the dough into a 9 inch by 13 inch / 23  cm by 32.5 cm (or anything close to this size) lightly buttered, rectangular cake pan.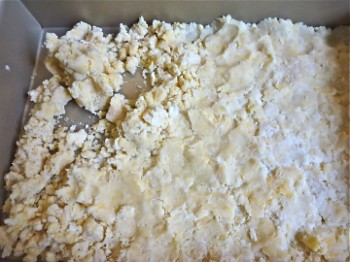 Bake at 425 ° F /  220° C  for about 10 minutes, or until the base crust is lightly browned.  If it is removed too early, the crust will become mushy once the juicy plums are baked on top.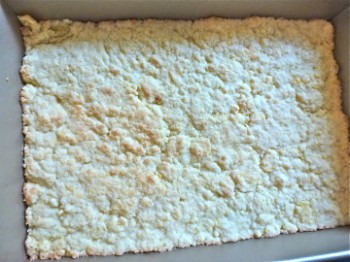 While the dough is baking, gather the ingredients for the topping.  Plum wedges, sugar, cornstarch and butter.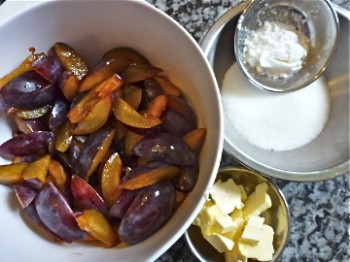 Once the crust comes out of the oven, begin making tightly packed rows with the plum wedges.  Be sure not to let any of the crust peek through.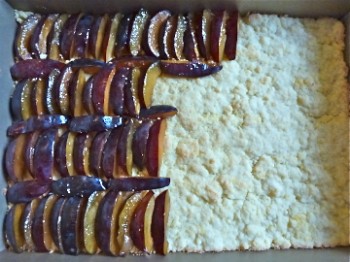 Combine sugar and cornstarch, whisking to remove any clumps, and sprinkle evenly over the crust.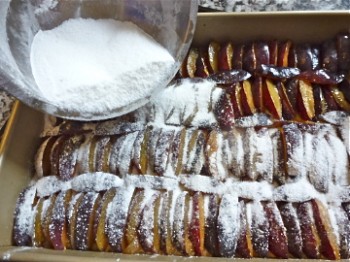 Dot with butter.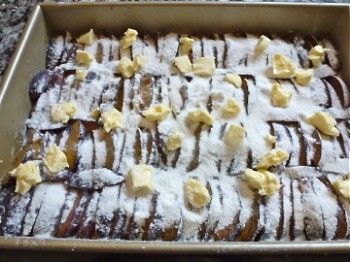 Bake for  30 minutes at 400º F / 205º C or until plums are soft and thick, juicy bubbles form and pop. Remove from oven and let cool.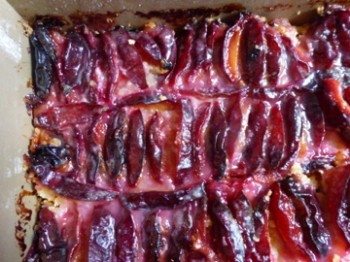 Commence eating.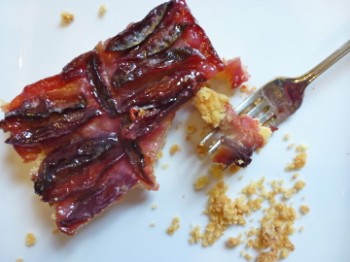 Going…..
Going……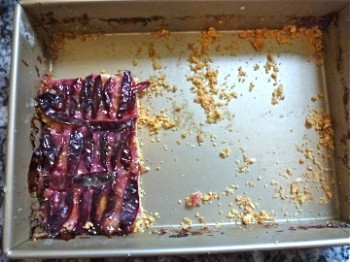 Gone….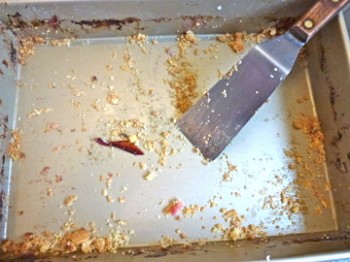 GONE PECAN (to use a S.W. Louisiana expression for there really ain't no more!!).  This cake freezes beautifully if you want you want to prevent yourself eating it, row-by-row, until you realize there is no more.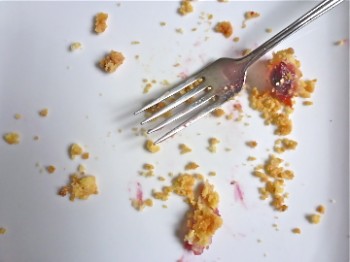 | | | |
| --- | --- | --- |
| Zwetschgendatschi (Plum Cake) | | |
Author:
Ingredients
CRUST
2 cups / 280 grams / 9.75 ounces flour
2 tablespoons sugar
pinch of salt
1 cup / 230 grams / 8 ounces cold butter, cut into small chunks
2 egg yolks
TOPPING
40 Italian prune plums (more or less, depending on size)
2/3 cup / 140 grams / 5 ounces sugar
2 tablespoons cornstarch
4 tablespoons butter
Instructions
Preheat oven to 425° F / 220° C.
For the crust, mix flour, salt and and sugar in a large bowl.
Cut in the cold butter pieces just until the dough is crumbly.
Add yolks and stir just until blended.
Press dough evenly into a 9 inch by 13 inch / 23 cm by 32.5 cm (or anything close to this size) lightly buttered, rectangular cake pan.
Bake 10 minutes or until golden brown. Remove from oven.
Reduce oven temperature to 400° F / 205° C.
Cut plums in half lengthwise. Remove pit then cut each half into 3 lengthwise wedges.
Arrange in tight, even rows on top of the baked crust.
Combine sugar and cornstarch and sprinkle on top.
Dot with butter.
Bake for about 30 minutes or until plums are tender and juices thickly bubble.
Remove from oven and let cool before eating.
Recipe can be halved and baked in an 8 inch X 8 inch or 9 inch X 9 inch (20 to 23 centimeter X 20 to 23 centimeter) cake pan.