Vegetarian meals play a dominant role in our household.  Having lived in Japan for years, I came to love, and rely on, tofu.  I also adore the taste of curry, cilantro and coconut so this dish has become a favorite.  Be sure to use extra firm tofu, unsweetened coconut milk and unsweetened, dried coconut. Other ingredients include long-grain jasmine or basmati rice, fresh ginger, cherry or grape tomatoes, lime, onion, garlic, peanuts. chili pepper, cumin and curry powder or garam masala.  A printable recipe is at the bottom of the step-by-step instructions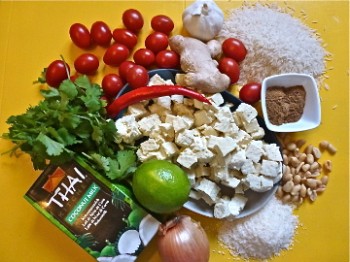 Begin by placing the rice in a pan with water and a bit of salt.  A rough guide, taught to me by an elderly Japanese woman, is to add water to a level above the rice equal to the length of one finger joint.  Bring it, uncovered, to a boil.  Cover tightly and reduce the heat to low.  Gently simmer until the rice is tender and has absorbed all of the water.  (If water is still left when the rice becomes tender, drain it.)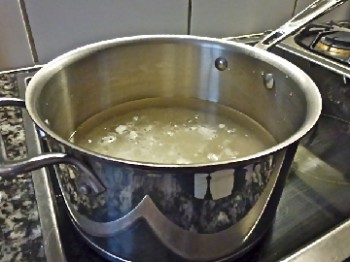 While the rice is cooking, place dried, dessicated, unsweetened coconut in a skillet over a low heat.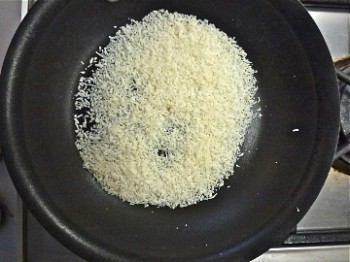 Cook, stirring occasionally, until the coconut has turned golden brown.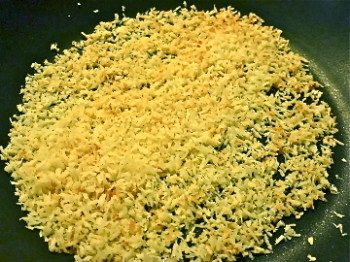 To prepare the stir-in for the rice, squeeze the juice from one lime.  Grate the ginger (see How To).  If the ginger is very fresh, there is no need to grate it before pureeing to get the stringy bits out.  It is only necessary to roughly chop it.  Grate additional ginger to use later when sautéing the tofu.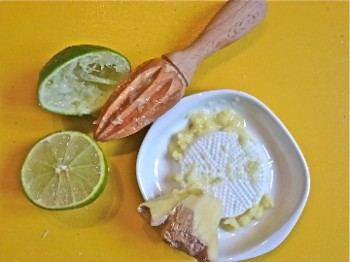 Add coconut milk, fresh cilantro leaves (and tender stems), lime juice, ginger, salt and  roughly-chopped garlic to the bowl of a food processor.  Buzz until reasonably smooth.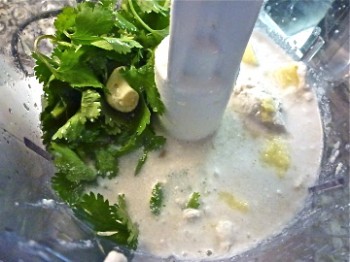 Stir the pureed mixture into the warm, tender rice.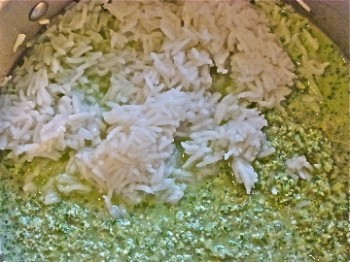 Stir in the toasted coconut.  Set aside with the lid on the pan to keep it warm.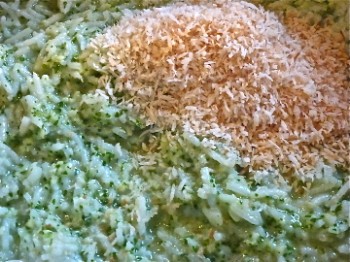 To prepare the topping, dice the onion (see How To).  Mince garlic and the hot red pepper (dried red pepper flakes can be substituted).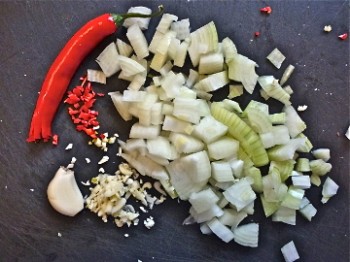 Heat oil in a large skillet until it shimmers.  Add the diced onions and saute a few minutes until they are soft.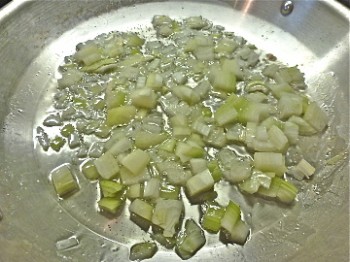 Add cubed and patted dry pieces of firm or extra-firm tofu.  Saute 5 or 6 minutes until the tofu is lightly browned.  This is easier done in a non-stick skillet.  Add more oil if using a regular skillet.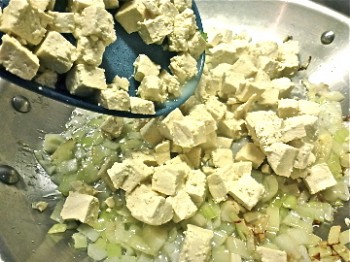 When the tofu is golden, stir in the garlic, chili pepper, grated ginger, curry powder (or garam masala) and cumin powder.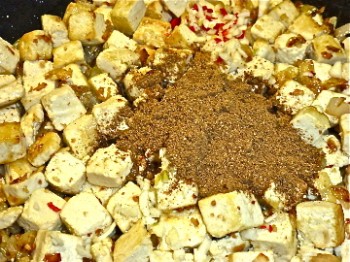 Saute until fragrant then add the tomatoes.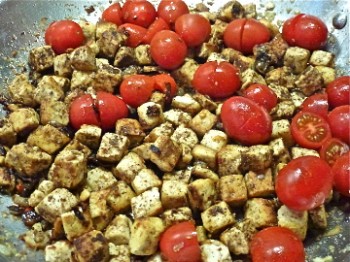 Pour in the remaining coconut milk.  It is OK to add additional coconut milk to make more sauce.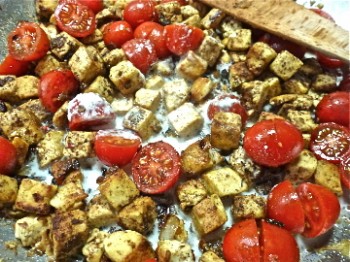 Simmer gently for several minutes.  Add salt, if necessary.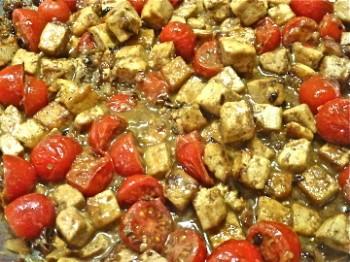 Serve the tofu mixture over the coconut cilantro rice.  Top with chopped peanuts.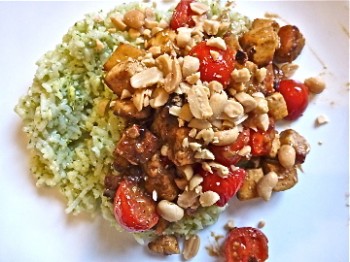 | | | |
| --- | --- | --- |
| Coconut Curry Tofu with Cilantro Rice | | |
Ingredients
CILANTRO RICE
1/2 cup / 1.5 oz. / 45 grams dried, unsweetened, shredded coconut
1 3/4 cups / 415 ml water
1 teaspoon salt
1 cup / 8 oz. / 225 grams long grain basmati or jasmine rice
1 cup (packed) fresh cilantro leaves (tender stems OK)
3/4 cup / 175 ml unsweetened coconut milk
2 teaspoons minced fresh ginger
juice from 1 large lime
1 large garlic clove, peeled and roughly chopped
salt, to taste
COCONUT CURRY TOFU
2 tablespoons (or more) vegetable oil
16 to 24 oz. / 500 to 750 grams extra-firm tofu, drained, patted dry, cut into 1/2 inch / 1 mm cubes
2 large garlic cloves, peeled and minced
I medium onion, peeled and diced
1 tablespoon grated fresh ginger
2 teaspoons curry powder or garam masala
1 teaspoon ground cumin
1/8 teaspoon dried red pepper (can substitute minced fresh, hot pepper)
1 1/2 to 2 cups whole small or halved large cherry tomatoes
1 cup / 250 ml (or more) coconut milk
salt, to taste
chopped peanuts for garnish
Instructions
Stir shredded coconut in small skillet over medium heat until light golden, about 5 minutes.
Bring water and salt to boil in medium-size saucepan.
Stir in rice.
Bring to boil.
Reduce heat to low, cover, and simmer until water is absorbed and rice is tender.
Meanwhile, puree cilantro, 3/4 cup / 175 ml coconut milk, 2 teaspoons ginger, lime juice, and one clove garlic in blender.
Mix puree and coconut into the warm, tender rice.
Set aside with the lid on to keep the rice mixture warm.
While the rice is cooking, heat oil in large non-stick skillet over high heat. (If using a regular skillet, more oil will be required.)
Add onions and cook until softened
Add tofu; stir-fry until golden, about 6 minutes.
Add curry powder, cumin, red pepper, 1 tablespoon grated ginger, and 2 minced garlic cloves.
Saute 1 minute.
Stir in tomatoes and remaining coconut milk. Add additional coconut milk of more sauce is desired.
Season with salt and pepper, to taste.
Divide rice among 4 plates. Top with tofu mixture. Sprinkle with peanuts.