Every childhood visit to my Swiss German grandparents in Pennsylvania was greeted by the smell of freshly-baked Gugelhupf. The taste and smell of this round, high-domed, dense, buttery, raisin-speckled cake baked in a decorative pan with a hole in the center penetrates every memory I have of them.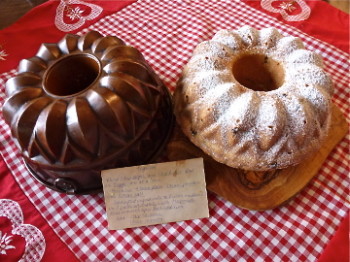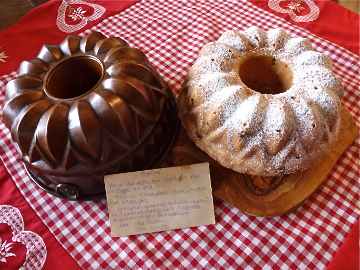 My grandmother was born and raised in Münich, Germany.  Like many young German girls in the early 1900s, she went to work at a tourist resort in Switzerland.  It was there she met my Swiss grandfather.  After marrying, this city girl resettled in Niderurnen, a small village in the shadow of the Swiss Glarner Alps.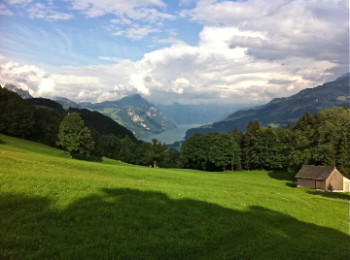 Below is a photograph of the house built by my great-grandfather and lived in by my grandparents, dad and aunt.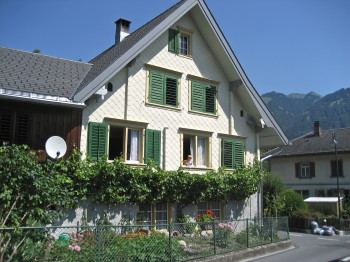 I tracked down the Alp farmer who bought the house many years ago with the idea of coming down from the mountains and retiring in the village.  Not surprisingly, this lovely, hearty soul still resides high in his beloved Alp.  Whenever I visited, I would bring a home-baked Gugelhupf.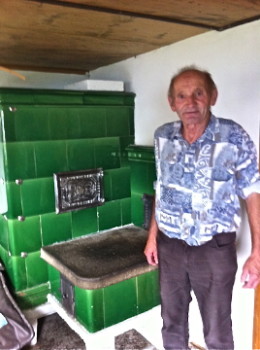 I can only imagine the difficulties my grandmother endured adjusting to a different culture, geography, pace of life and, arguably, a different language.  One familiarity between the Bavarian city and the tiny Glarus village was Gugelhupf.  So beloved and important was this simple cake to my grandmother, grandfather and their young children (my father and aunt) that her copper pan was one of the few items she carried on-board the ship, the Hansiatic, when they immigrated to the U.S. in the late 1920s.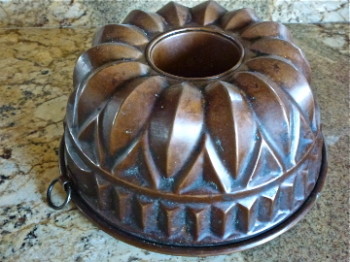 I began making Grandma's Gugelhupf recipe when I was a young girl.  One of my earliest baking memories is the joy of replicating her cake at home under my mother's loving and watchful eye, and the complete thrill of turning out the still warm cake from my own pan and having it not stick.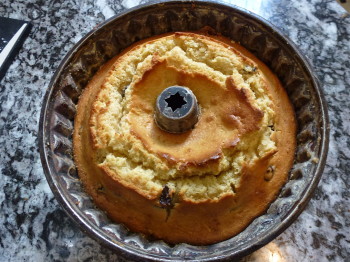 I still remember with deep sadness the first time I visited my grandparents, now as an adult, and the familiar smell did not greet my arrival.  I knew it was the beginning of the end.  Almost 15 years ago, my aunt gave me the greatest of all gifts – Grandma's pan.
Regional varieties of Gugelhupf vary as much as the spelling.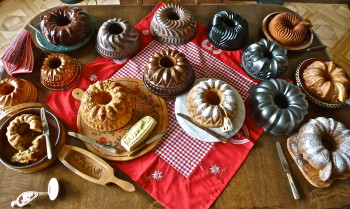 Included in my oft-baked repertoire is the yeast-leavened, golden raisin-studded, almond-topped, brioche-light Alsace Kugelhopf always baked in my very old, French ceramic pan and often served with butter I press in my wooden cow butter mold.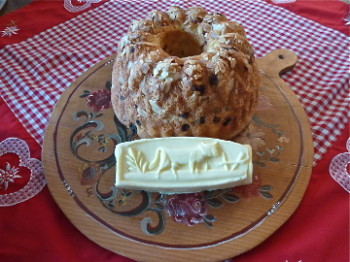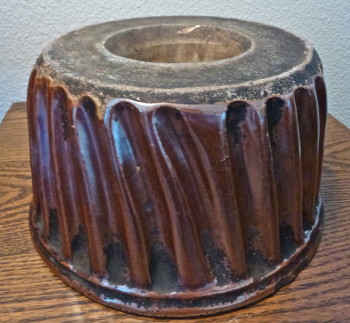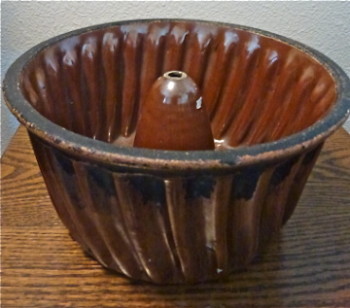 The rest rely on baking powder as leavening.  A moist and delicious poppy seed Gugelhupf recipe passed down to my sister-in-law by her Bohemian relatives, then generously shared with me, is typically baked in one of my many beautifully shaped non-stick pans.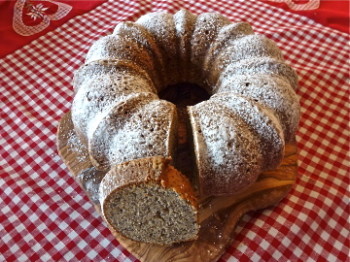 Marmorgugelhupf is usually baked in a copper pan gifted to me when my 95 year old Swiss neighbor moved into a nursing home.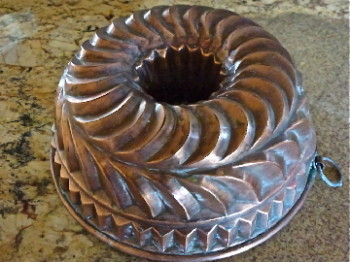 The recipe for this delicious chocolate and plain marbled version traces back to one of the finest bakeries in Vienna.  I also love baking it in my Bavarian Knot pan, an ode to my Bavarian roots.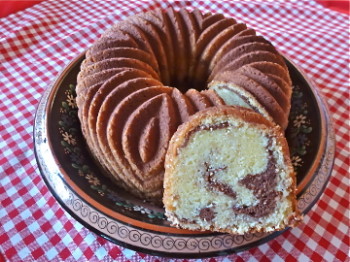 The lemon, chocolate and dried cherry almond paste Gugelhupfen are typically baked in my less decorative American bundt pans.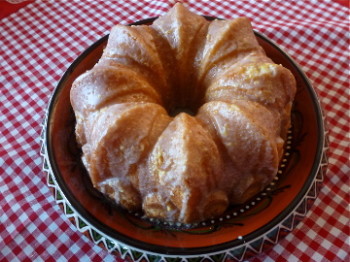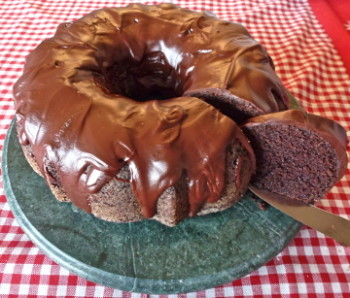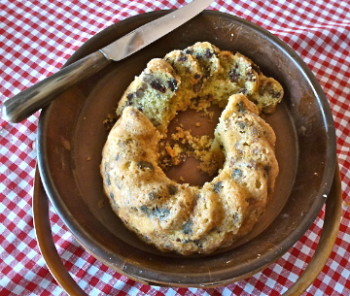 Grandma's treasured copper Gugelhupf pan is reserved for her recipe alone.  It brings great joy that I was able to carry both full circle back to Switzerland, our home for six wonderful years.  When we moved back to the U.S., I did not trust this treasure to the movers.  Like my grandmother did over 80 years ago, I bundled it in my suitcase.