In an earlier post, I told the story of my beloved Kugelhopf/Gugelhupf pan.  It belonged to my Bavarian grandmother who brought the pan with her when she immigrated from Switzerland to Pennsylvania, U.S.A.  Her precious recipe (a printable version is at the bottom of this post), was an important reminder of her youth and family in Munich, Germany and a source of comfort when she married my Swiss grandfather and settled in his tiny, Swiss Alp village of Niederurnen.  It became an ever more important part of her new life when she traveled with her two children and a trunk of belongings to join my grandfather who left in advance to find work in Scranton, Pennsylvania.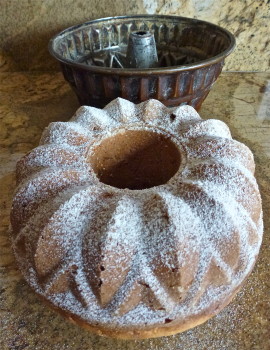 Grandma's version has a slightly less dense texture than the one my Mom often baked since Grandma separated the egg whites from the yolks, whipped them until stiff then folded them into the batter.  Both versions are terrific and I will share Mom's recipe in a later post.  Grandma always, always had this freshly baked cake on the dining room table and a pot of coffee brewing for the adults when we tumbled out of the car and excitedly ran into their house on our visits.
To begin, gather the ingredients.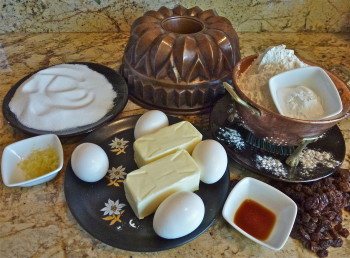 Separate egg yolks and whites.
Place room temperature butter in a mixing bowl.  Add the sugar and beat for a few minutes.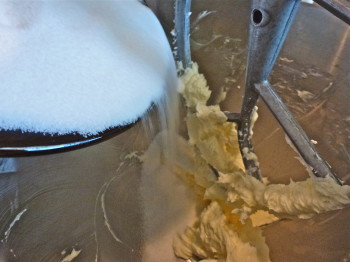 Add yolks, one at a time, beating before adding the next.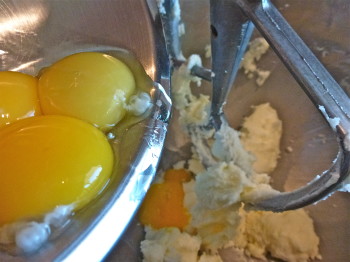 Beat until no yellow yolk streaks are visible.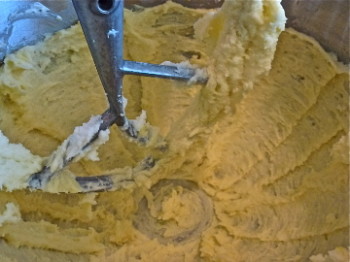 Add salt and baking powder to the flour.
Stir everything together and, if desired, sift.  I always, at the very least, sift baking powder to break up any lumps.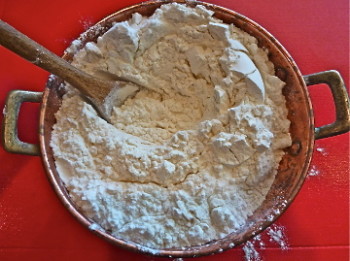 To prevent raisins from sinking to the bottom, I always remove about two tablespoons of the flour mixture to strew over the raisins.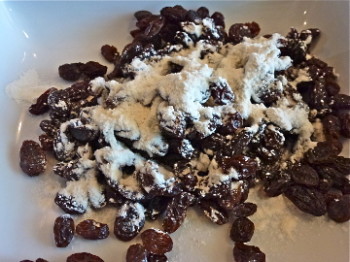 Then toss to coat.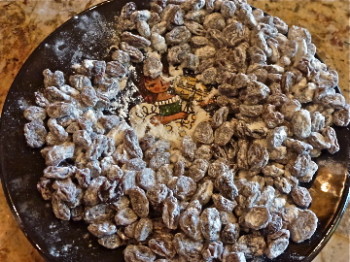 Kugelhopf/Gugelhupf is usually seasoned with either lemon zest or vanilla.  My dad preferred the vanilla version so that is what I grew up baking and eating.  Use one or the other, not both.  Add either to the milk to help with even distribution throughout the batter.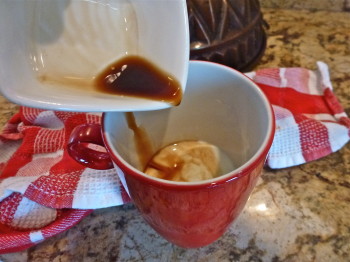 Add a third of the flour and a third of the milk to the butter/sugar/egg mixture.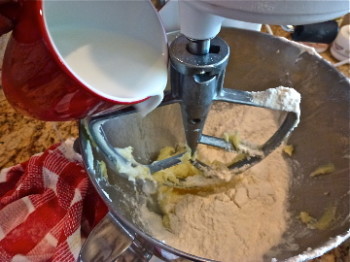 Mix briefly on low and repeat until everything is incorporated.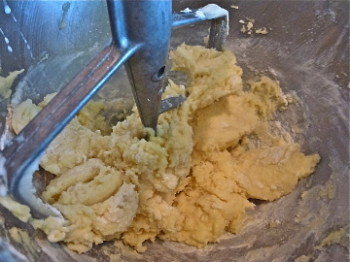 Dump the dusted raisins into the bowl.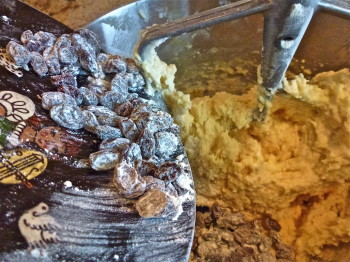 Gently combine while scraping down the sides until everything is thoroughly mixed.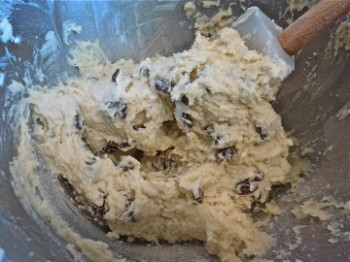 In a clean bowl, using a whisk attachment, beat egg whites until stiff peaks form.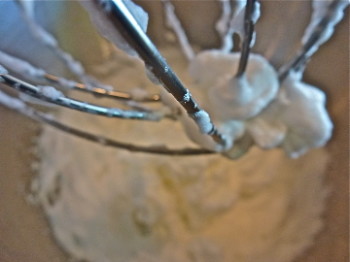 Add a small amount of the egg whites to the batter.  Mix it in by hand to lighten the dough.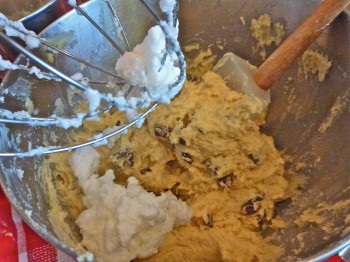 Now add the remaining egg whites and gently fold them in.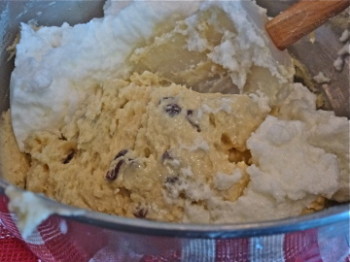 Continue scarping the sides and folding the dough until no more egg white streaks remain.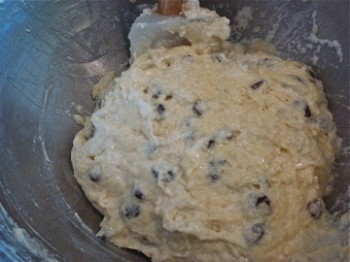 Butter and flour a Kugelhopf/Gugelhupf or bundt pan, even if it is non-stick.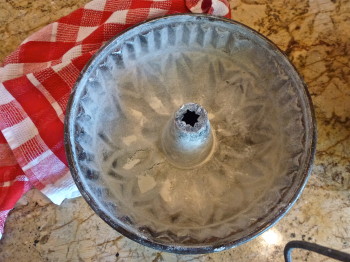 Dollop the batter into the pan.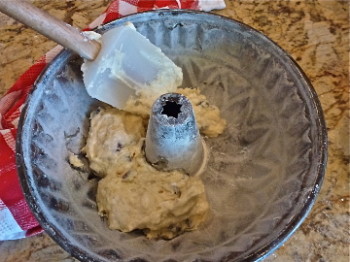 Smooth with the back of a large spoon.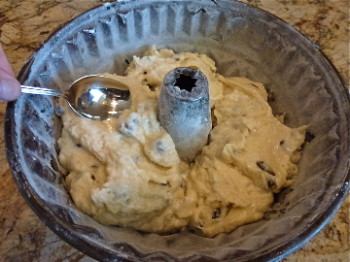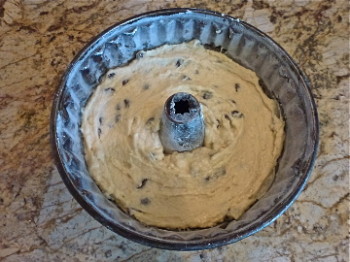 I always dredge a trench so the middle does not rise too high while baking.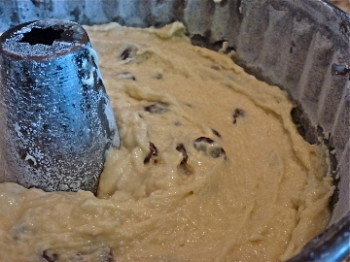 Pop it into a pre-heated 350ºF  oven.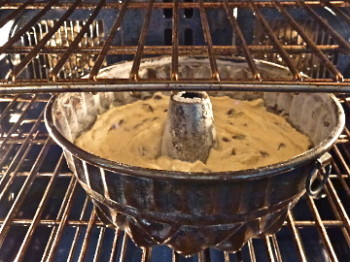 Bake for around one hour, or until a knife or skewer inserted into the middle comes out clean.  Place the pan on a cooling rack and let it sit until it is just barely warm.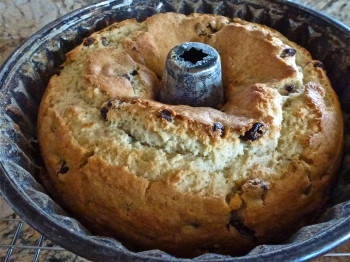 If the pan is properly prepared, it should pop out cleanly.  Let the cake cool completely on the rack.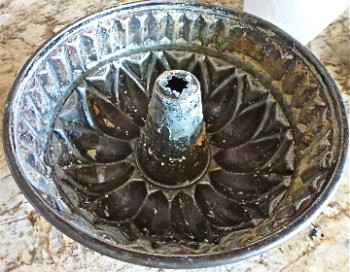 If desired, dust with confectioner's sugar run through a small sieve.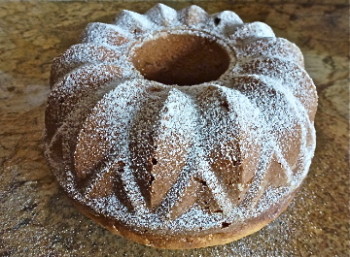 Slice and eat.  We usually have it as an afternoon snack (or, less traditionally, for breakfast).  This cake tastes better after resting overnight.  Be sure to store it in an airtight container, or tightly covered with plastic wrap, after it cools.  It also freezes beautifully.  I like to cut slices, wrap each in plastic wrap and place in a freezer bag, sealed airtight.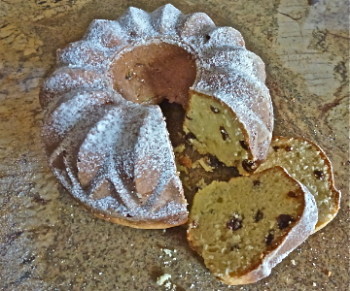 | | | |
| --- | --- | --- |
| Grandma Landolt's Kugelhopf (Gugelhupf) | | |
Ingredients
1 cup (8 ounces/2 sticks) unsalted butter, room temperature
1 cup sugar
4 egg yolks
3 cups flour
3 teaspoons baking powder
dash salt
1 cup raisins
1 tablespoon grated lemon peel OR 1 teaspoon vanilla
1 cup milk
4 egg whites
Instructions
Cream butter and sugar.
Beat in egg yolks, one at a time.
Add the vanilla or lemon zest to the milk.
Combine the flour, baking powder and salt in a separate bowl.
Remove a few tablespoons of the flour mixture to toss with the raisins. Set aside. This assists in keeping them from sinking to the bottom of the pan while baking.
Add one third of the flour and one third of the milk to the butter/sugar/egg mixture.
Mix until almost combined. Repeat.
Add the remaining flour and milk. Mix until thoroughly combined, taking care to not over-beat the batter.
Gently stir in the raisins.
Beat egg whites until stiff peaks form.
Add a large spoonful of the beaten whites to the batter. Stir in by hand to lighten the batter.
Carefully fold the remaining egg whites into the batter until no streaks are visible.
Generously grease a Kugelhopf/Gugelhupf or bundt pan. Sprinkle in a few tablespoons of flour. Shake and turn so every greased surface is covered with flour. Turn upside down to remove the excess.
Place the batter in the pan and smooth the top so it is even.
Bake in a pre-heated 350°F oven for 1 hour or until a skewer or knife come out clean.
Let the cake rest in the pan on a cooling rack until it is barely warm. Turn upside down and gently giggle to release the cake.
Place the cake on a rack and let it cool completely.
If desired, dust with confectioner's sugar.
It tastes best when stored in an airtight container or wrapped in plastic wrap overnight. This cake freezes well.