I have been making homemade granola since my college days at the University of Colorado when I would shop at one of the earliest, hole-in-the-wall whole grain, seed and nut shops.  Places like Boulder had some of the first such stores, usually run by what my parents would have termed vegetarian hippies.  Soon thereafter, whole grains, raw nuts, dried fruits, seeds and endless varieties of granola became common fare sold at neighborhood grocery stores around the country.  I prefer mine not-too-sweet and in chunks. Dried fruit is usually stirred in at the end of baking thereby breaking up the pieces of granola. After experimenting for years, I finally figured out how to add the fruit upfront without drying it out during baking.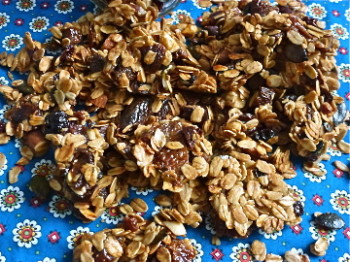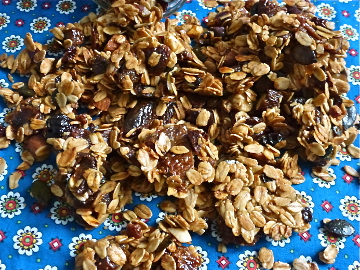 The ingredient list includes whole rolled oats, honey, maple syrup, a neutral-flavored oil such as canola, a dash of salt, a bit of ground cinnamon and any nuts, seeds and dried fruits that I have in the cabinet or take my fancy.  Slightly increasing or decreasing the amount of these add-ins will not affect the final result.  For this batch, I included dried figs, dates, apricots, goji berries, raisins and several varieties of cherries (all sulpher-free) as well as unsalted pumpkin seeds, sunflower seeds, almonds, brazil nuts, pecans, cashews and hazelnuts.  The recipe, found below in printable form, will work just as well by reducing the amount and variety of add-ins (such as only including one or two cups of raisins).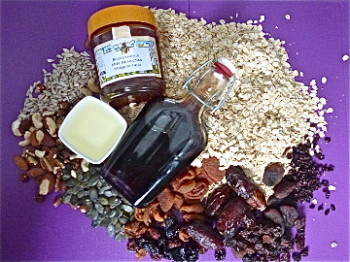 Roughly chop the dried fruits.  Do not leave the pieces too large or they will dry out during baking.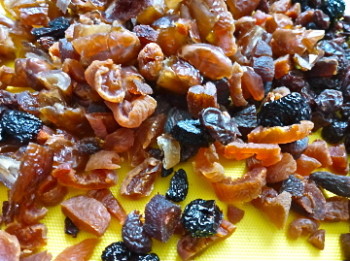 Place a neutral-flavored oil, maple syrup and honey in a pan.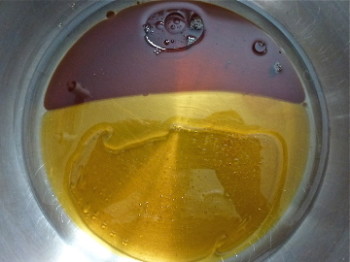 Warm over medium heat, whisking occasionally to combine.  Take care not to let the mixture boil.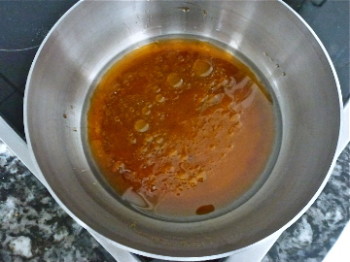 Turn off the heat and add dried fruit.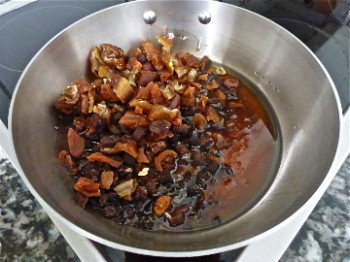 Stir to combine and let sit a few minutes until the fruit softens.  If fruits are particularly dry, cover the pan with a lid.  I prefer to use un-sulphered dried fruits which tend to be firmer so leave them to soak 5 to 10 minutes.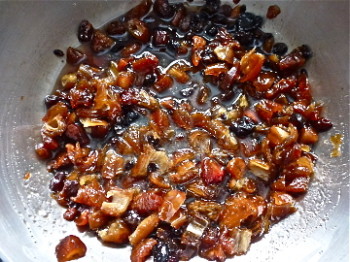 While the fruit is soaking, roughly chop the nuts (or leave whole).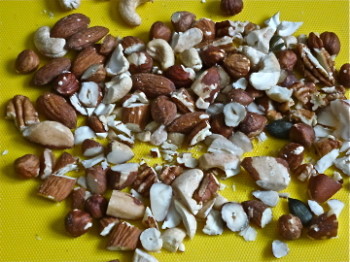 Place the whole oats, nuts, seeds, cinnamon and salt in a very large bowl.  Stir to evenly distribute the cinnamon and salt.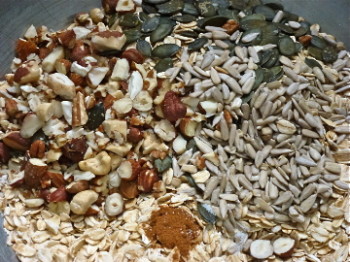 Add the moistened fruit and all of the warm oil, honey and maple syrup mixture.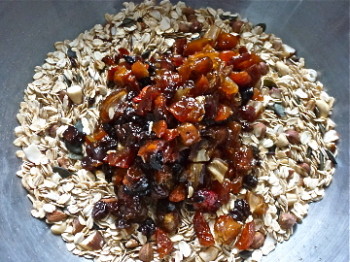 Stir to thoroughly coat the oats.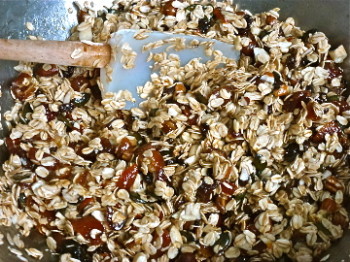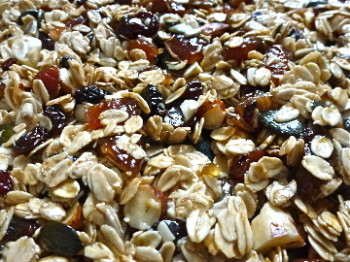 The unbaked granola will fit best into two jelly roll sheet pans (10 x 15 x 1 inch or 25.4 x 38 x 2.5 cm) or any pans roughly that size .  It can be baked in one half sheet pan (13 x 18 x 1 inch or 33 x 45.7 x 2.5 cm) but the layer will be a tad thick and will require more frequent stirring and a longer baking time.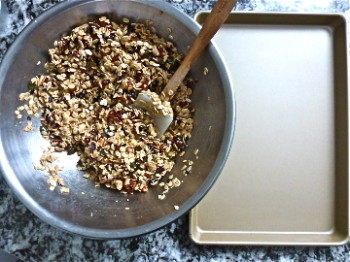 Line the sheet pans with parchment paper or a non-stick liner.  Spread the granola evenly into the pans and press firmly into place using the back of a heatproof spatula or the back of a wooden or large metal spoon.  (This will help prevent the dried fruit from puffing up and burning as well as encourage the formation of large, flat clusters.)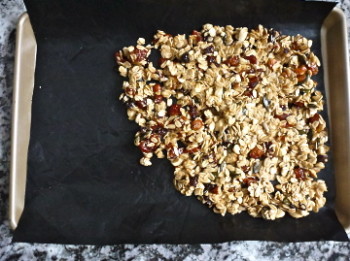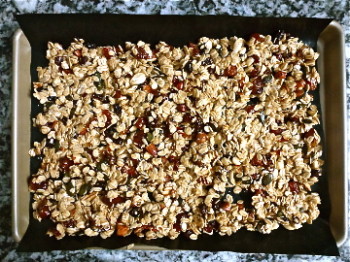 Place in a 300 °F / 150°C pre-heated oven.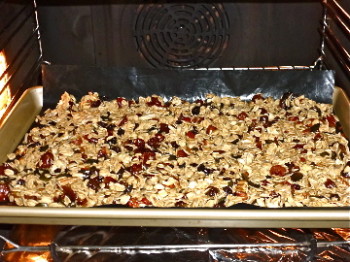 After 15 minutes, remove the pans from the oven.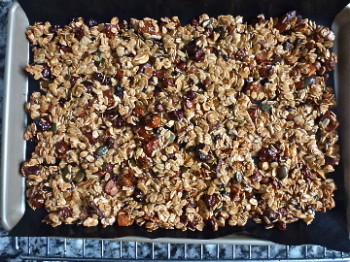 Stir everything into the center.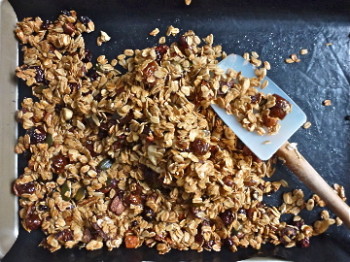 Evenly redistribute.  Again, press the mixture firmly into place.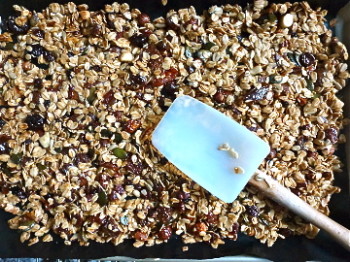 Repeat these steps after 15 more minutes.  Check granola every 5 minutes after the first 30 minutes have passed.  If the edges are darker than the center, again stir and redistribute.  When the granola reaches a golden brown color, remove the pan from the oven.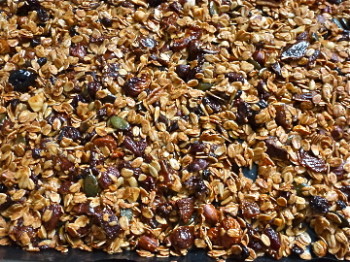 Press firmly over the entire pan with the back of spatula then let cool completely without disturbing.  If flaked granola is preferred over chunks, stir the mixture up several times during cooling to separate the oats, fruit and nuts.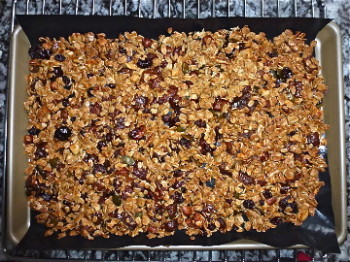 When completely cool, break into chunks and store in an airtight container.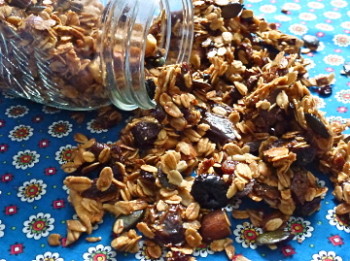 Serve with milk or over purchased or homemade yogurt.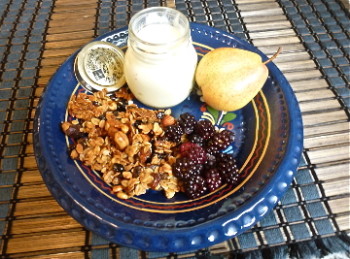 Ingredients
4 cups / 13 ounces / 268 grams whole, rolled oats
1/4 teaspoon cinnamon
1/8 teaspoon salt
1 1/2 cups nuts (such as pecans, walnuts and/or almonds)
1/2 cup pumpkin seeds
1/2 cup sunflower seeds
1 1/2 to 2 cups dried fruit (apricots, dates, raisins, cranberries, cherries)
1/2 cup / 4 ounces / 118 ml honey
3/4 cup / 6 ounces / 177 ml 100% maple syrup
(OK to reduce the amount to 1/2 cup / 4 ounces / 118 ml or less maple syrup but fruit may dry during baking)
1/4 cup / 2 fluid ounces / 59 ml neutral-flavored oil such as canola
Instructions
Roughly chop nuts, if necessary.
Mix oats, seeds, nuts, cinnamon and salt in a large bowl.
Roughly chop dried fruits, if necessary.
Heat honey, maple syrup and oil in a saucepan. Take care to not boil.
Stir in dried fruits and let rest a few minutes until the fruit has softened.
Add to oat mixture and coat everything.
Line two jelly roll sheet pans (10 x 15 x 1 inch or 25.4 x 38 x 2.5 cm) or any pans roughly that size with parchment paper or non-stick liners. OK to use a half sheet pan (13 x 18 x 1 inch or 33 x 45.7 x 2.5 cm).
Spread uncooked granola evenly on both pans.
Press the entire mixture using the back of a non-stick spatula or wooden spoon. This will prevent the dried fruit from puffing up and drying out.
Preheat the oven to 300° F / 150° C.
Bake 30 to 45 minutes, stirring and pressing evenly into place every 15 minutes, until golden.
Remove from oven.
Press the mixture down into the pan and let sit until cold. Granola will firm up as it chills.
Break into chunks.
Store in an airtight container.
Note: If adding less maple syrup, add dried, un-soaked fruit at the end of the baking time so they do not dry out. Large clumps will not form as the granola cools.