I adore making and eating pumpkin soup but I hate peeling the large, ribbed beasts.  Luckily, while living in Japan, I became familiar with lovely members of the winter squash family that look like small, smooth-skinned pumpkins.  They have a familiar, traditional pumpkin flavor and edible skin.  Hokkaido, Orange Knirps and Red Kuri ウチキクリare also available in many parts of Europe and in the U.S.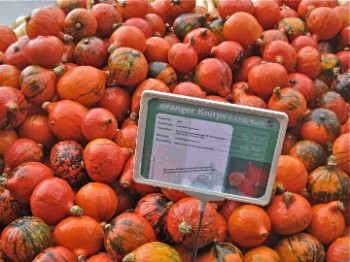 Throughout autumn, I visit numerous farms to buy these beauties.  I love them roasted and strewn with sea salt to be eaten as a side dish, stirred into risotto or baked into incredible feta pumpkin muffins (recipe from Culture: The Word on Cheese magazine).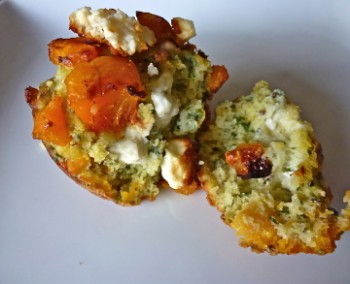 Mostly, though, I make huge vats of numerous varieties of pumpkin soup.  They all freeze beautifully so we can enjoy steaming bowls throughout winter.  If I make a plain soup, I always serve it drizzled with pumpkin oil and sprinkled with roasted, salted pumpkin seeds.  One of my favorite versions is a concoction I came up with many years ago on a miserably wet, cold day – Pumpkin, Curry, Coconut and Ginger Soup. The comforting, warming effects of hot soup are enhanced by the curry and ginger.  Perfect on a dreary fall Sunday afternoon sitting next to a roaring fire.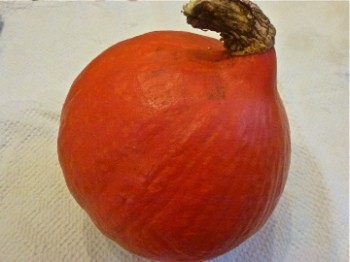 Pick a large Orange Knirps / Hokkaido squash.  Soup recipes do not have to be exact but I use one weighing around 3 pounds (1 1/2 kilo ).  Cut off the stem.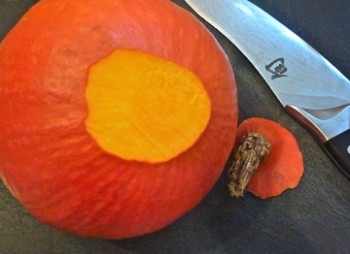 Split it in half.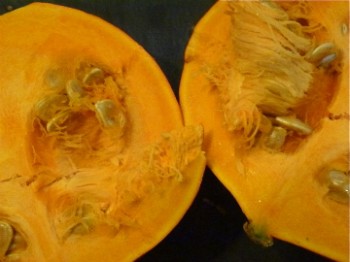 Cut each half in half again and scoop out the seeds and fibrous membrane with a large spoon.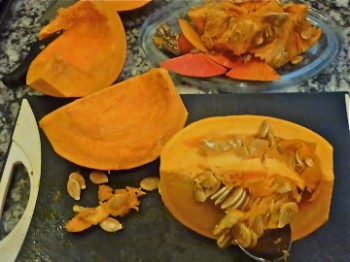 Cut the seeded quarters into chunks about 1 inch square (2 1/2 centimeters).  The soup will be pureed so it doesn't really matter if the pieces are the exact size.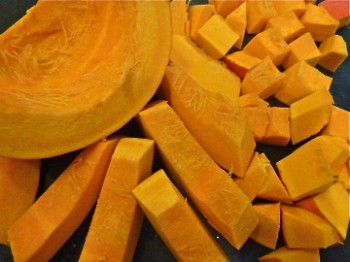 Toss in a small amount of olive oil and lightly sprinkle with salt.  Place on a baking sheet.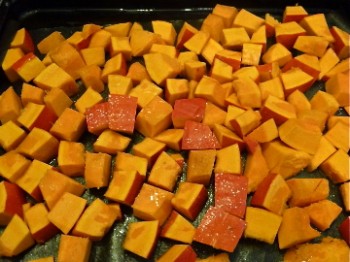 Roast in a hot oven until lightly browned and soft.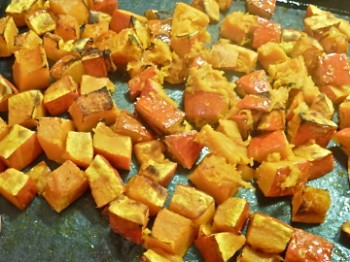 While the pumpkin is roasting, peel a large onion.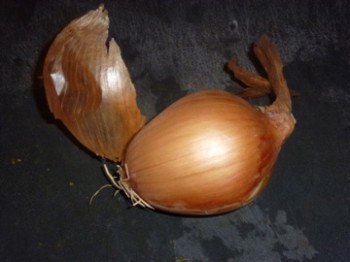 Cut off the stem end.  Remove the tough outer layer.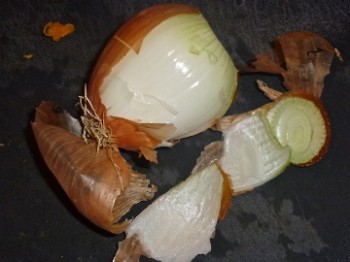 Leave the root end intact to ensure the onion holds together.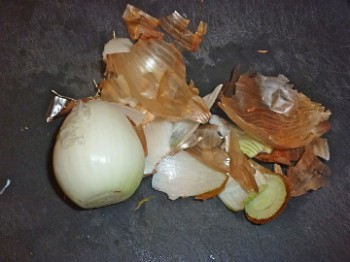 Cut the onion in half.  Place the flat side down on the cutting board.  Slice lengthwise in half or in thirds, depending on the size of the onion and desired size of the dice.  Stop before reaching the root.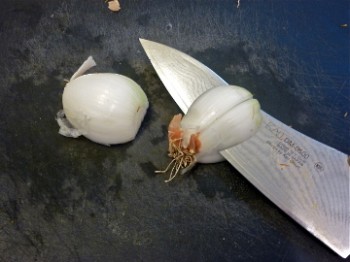 Now make numerous slices from the top to the bottom.  Distance between slices is determined by how small a dice is desired.
Slice crossways.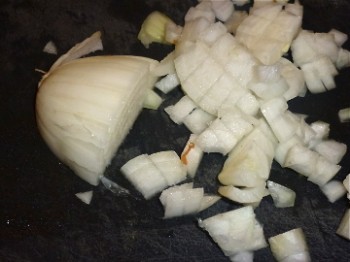 Heat oil in a large pan.  Add diced onions.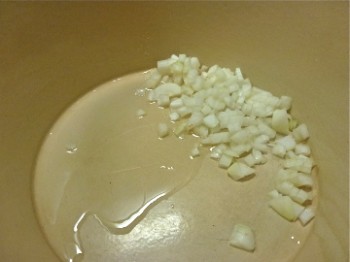 Saute until soft and lightly browned.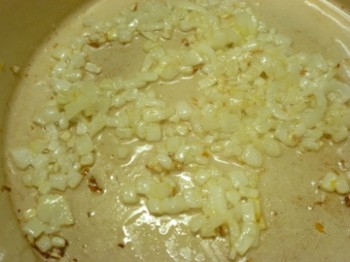 Add curry powder (or garam masala) and cumin.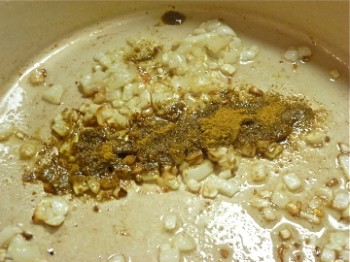 Stir a few minutes over medium heat until fragrant.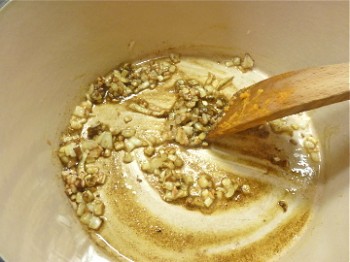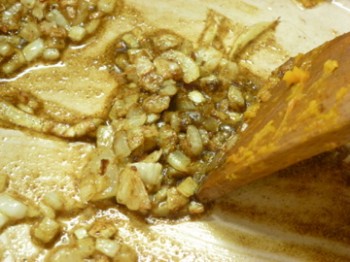 Peel and finely dice or press a large clove of garlic.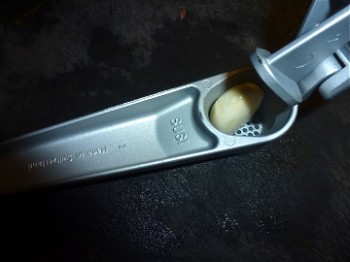 Add to the pan and stir until soft.  Do not brown as garlic can become bitter.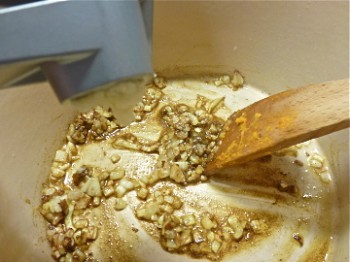 Add roasted pumpkin.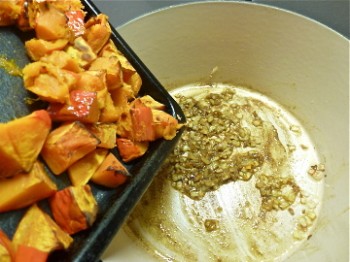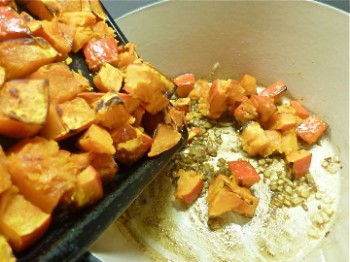 Grate fresh ginger. Use any of these methods.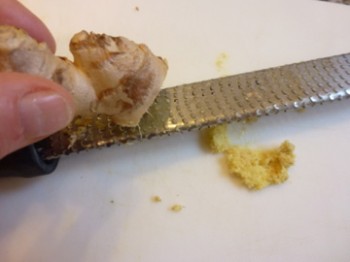 Add to the pan and cook a few minutes.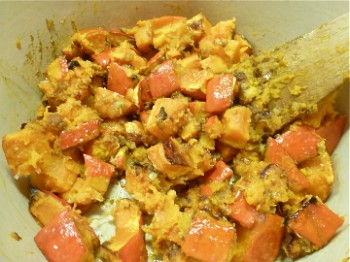 Add coconut milk.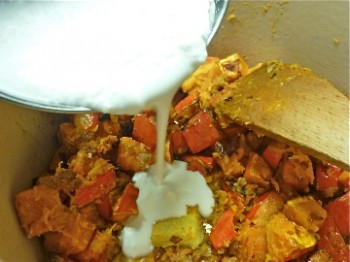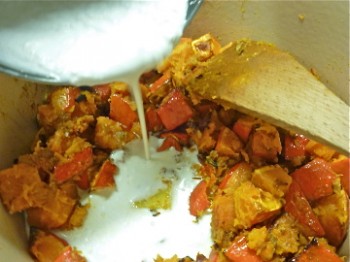 Stir to combine.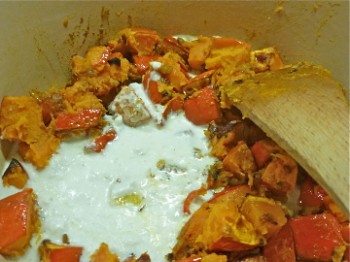 Add vegetable or chicken stock.  If using plain water, be sure to add more spices at the beginning to enhance the flavor.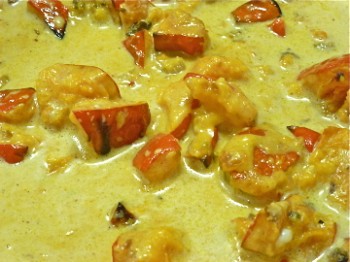 Simmer for 15 to 30 minutes. Stir occasionally.  Add more liquid if necessary.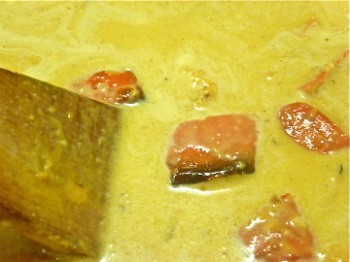 Using an immersion blender, puree until smooth.  OK to use a blender but do not fill the container more than half full each time.  Before turning the blender on, cover the lid with a dish towel and hold in place. Over-filling with a hot liquid can result in the top blowing off when the switch is flipped and risk of burns (I have the scars to prove it).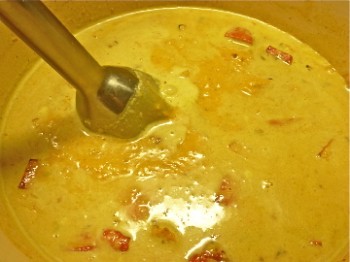 Add more liquid if the soup is too thick.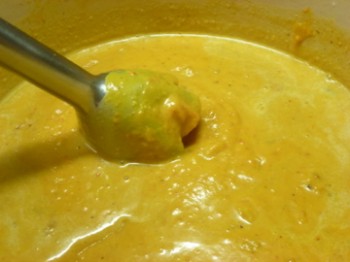 Beautifully smooth and creamy.  Taste and add more salt, if necessary.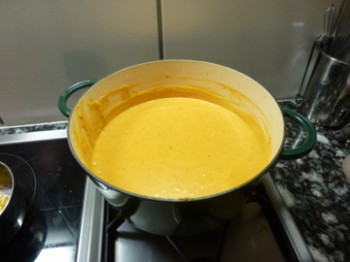 One trick I always use to enhance the flavor of soups made with orange vegetables is to add a small amount of lime juice.  Add only enough to brighten the flavor but not enough to actually taste it.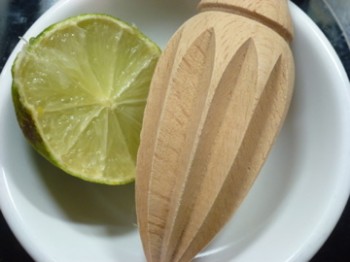 Creamy smooth and bursting with warming flavors.  Tastes even better the next day.  Freezes beautifully.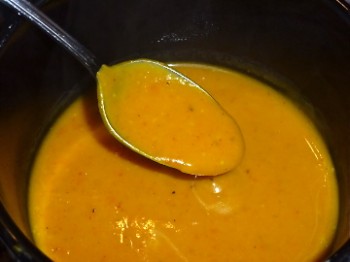 | | | |
| --- | --- | --- |
| Pumpkin Coconut Curry Ginger Soup | | |
Author:
Ingredients
1 large Hokkaido or orange knirps winter squash (3 pounds / 1 ½ kilo)
olive oil
salt
1 large onion, cut into small dice
1 tablespoon curry powder or garam masala
½ teaspoon cumin powder
1 large clove garlic, finely diced
2 teaspoons grated fresh ginger
(may substitute 1 heaping teaspoon dried ginger powder)
2 cups (500 ml) coconut milk
4 cups (1 liter) vegetable or chicken stock (more if necessary)
juice from 1 small lime
Instructions
Wash the squash. Cut stem end off and slice in half.
Cut each half in half again and scoop out the seeds and fibrous membrane with a large spoon.
Cut into 1 inch (2 to 3 centimeter) chunks.
Toss cubes of the squash with just enough olive oil to lightly coat.
Sprinkle with about 1 teaspoon of salt.
Place on a roasting pan in a pre-heated 400º F (205º C) oven.
Roast until soft and lightly browned. Do not burn.
(If the outside is browning well before softening, turn down the heat or cover with foil.)
Heat a few tablespoons of oil in a large pot over medium high heat.
Add diced onion.
Reduce heat to medium and cook until soft and lightly browned, stirring occasionally.
Stir in curry (or garam masala) and cumin.
(If using powdered ginger instead of fresh, add that as well.)
Cook a minute or two until fragrant.
Add the garlic and cook another minute or two.
Add roasted squash to the pan.
Add the fresh ginger.
Stir to combine.
Pour in coconut milk and stock.
Simmer for 15 to 30 minutes.
Stir occasionally and add more liquid if necessary.
Puree until smooth using an immersion blender (or countertop blender).
Add more liquid if too thick.
Add just enough lime juice to enhance the flavor but not enough to taste it.
Add more salt, if necessary.
Best served several hours after preparing or the next day to let flavors blend.
Freezes beautifully.