On a recent trip to Morocco, we stayed at the wonderful boutique hotel, Dar Les Cigognes in Marrakech. This lovely, traditional hotel was featured on the fabulous TV series, Ottolenghi's Mediterranean Feast. The big draw of staying here was the opportunity afforded all guests of taking a private traditional Moroccan foods cooking class in the small kitchen.  The Berber chef I spent the afternoon with, Fouzia, learned to cook at the heels of her mother and grandmother.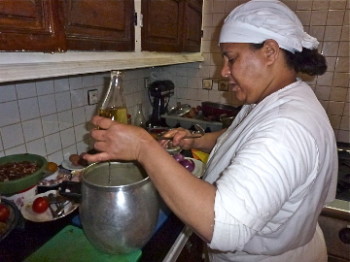 One of the (many) dishes I requested to cook was djej m'qualli, a traditional Chicken, Preserved Lemon and Olive Tagine.  Working side-by-side with this amazing cook, she taught me the proper way to prepare couscous which we then used to make Seven Vegetable Couscous.  I also asked to be taught how to make the flaky. filo-like dough warkha / ouarqa (just two of the numerous spellings).  We later used this to make b'stila bel hmame (spiced pigeon, egg and almonds encased in pastry) as well as a sweet dish of fried paper-thin warkha dough sheets layered with homemade milk custard and sugared almonds.  Those recipes will come later.  Below is Fouzia's step-by-step instructions for making Chicken, Preserved Lemon and Olive Tagine.  No recipe was given but I took notes and a printable recipe can be found at the end of the step-by-step instructions.
Begin by dicing onions and placing them in the bottom of a tagine (or heavy pot) that is both stovetop and oven safe.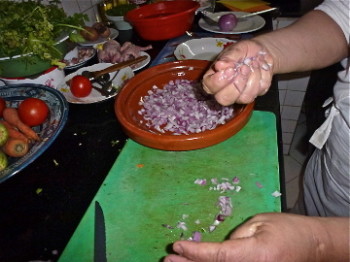 Chop garlic and add to the tagine.
Combine cumin, ginger, tumeric, salt and pepper in a medium-size bowl.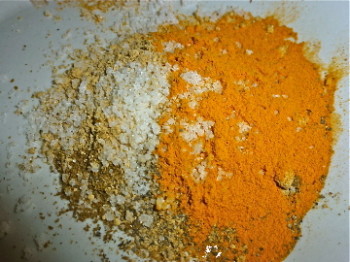 Chop fresh cilantro (coriander) and parsley.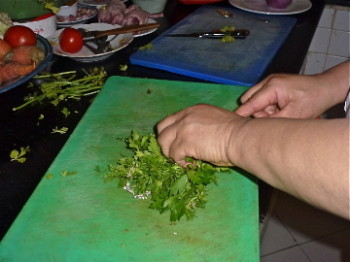 Add the herbs to the bowl with the spices.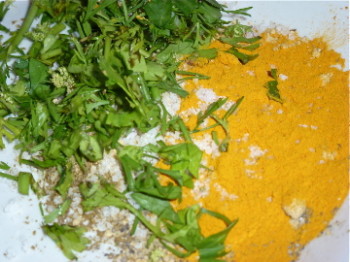 Add water and dredge the pieces of chicken.  (If time allows, marinate the chicken pieces overnight before beginning assembly.)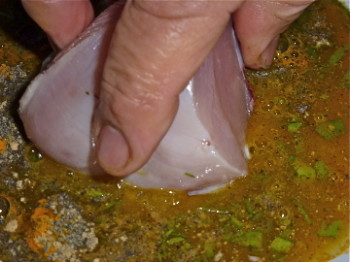 Place dredged pieces in a single layer over the diced onion and garlic base in the tagine.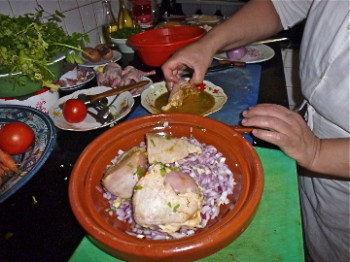 Pour remaining liquid over and around the chicken.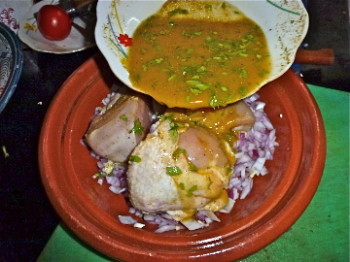 Add slices of preserved lemon and drizzle with oil.  Preserved lemons are available in many specialty shops.  While very easy to make, they need to sit for about at least a month.  Slices of fresh lemon produce an entirely different flavor so should not be substituted.  If you haven't time to properly age the lemons and are unable to purchase them, here is a quick How To guide for making a substitute for preserved lemons that can be used immediately.  (At the time of posting, preserved lemons are also available at Williams-Sonoma through mail order and at some store locations.)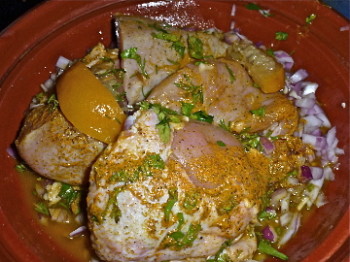 Set the tagine on the stove and turn the heat up to medium-high.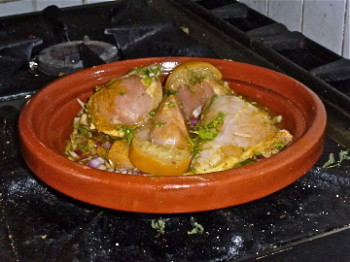 Pop on the lid.  The tagine lid is pointed so steam rises and moisture drips back down producing a constant basting effect.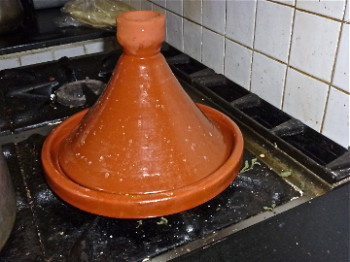 Cook for about 10 to 15 minutes then remove the lid, turn the chicken pieces over and give the mixture a stir.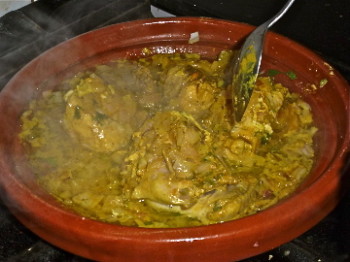 Replace the lid and continue cooking,  Turn the chicken one or two more times.  Add a touch more water, if necessary.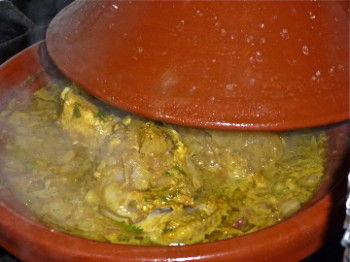 When the chicken is almost done cooking, add the olives.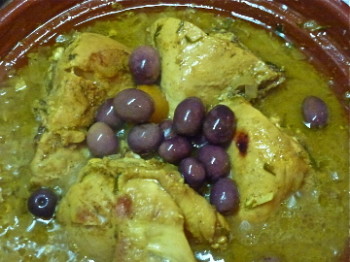 Check after a total cooking time of about 30 to 45 minutes to see if the chicken is tender and cooked through.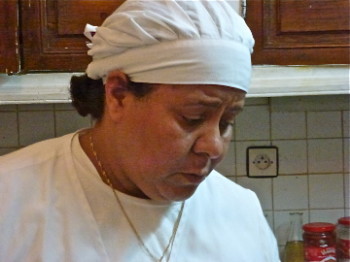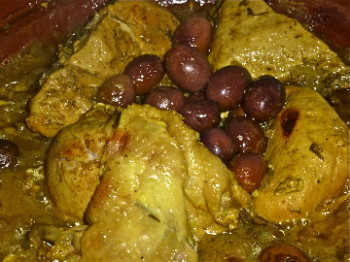 When our meal was done, we retired to the rooftop to dine on our efforts accompanied by Moroccan Domaine de Sahari wine with storks nesting nearby and flying overhead.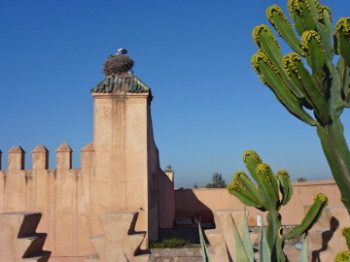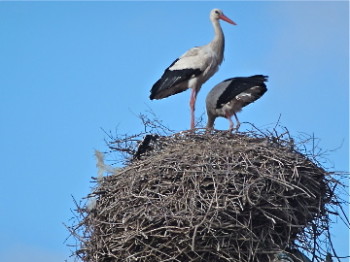 Absolutely delicious.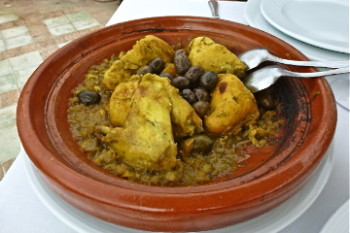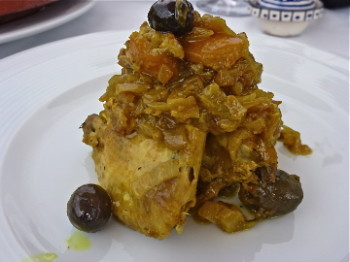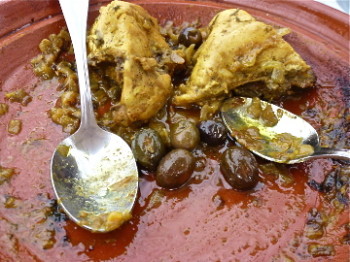 (I also tried this recipe with pieces of firm, white fish upon my return home and it was wonderful).
| | |
| --- | --- |
| Chicken, Olive and Preserved Lemon Tagine | |
Djej m'qualli is a traditional, Moroccan stew-like dish cooked in a clay, dome-topped tagine.
Ingredients
1 whole chicken, quartered
2 onions, peeled and diced
2 cloves garlic, finely chopped
1 teaspoon dried, ground cumin
1 teaspoon dried, ground ginger
1 teaspoon dried, ground tumeric
salt and pepper, to taste
1 1/2 cups water
1/8 cup fresh cilantro (coriander), chopped
1/8 cup fresh parsely, chopped
1 small preserved lemon, quartered
3 tablespoons vegetable oil
1/2 to 1 cup olives
Instructions
Place diced onions and garlic evenly over the base of a tagine or a heavy pot with a lid.
Mix spices, salt, pepper, parsley, cilantro and water in a bowl.
Dredge chicken pieces in the liquid, coating all sides and place on top of the onions and garlic. (Note: If time allows, marinate the chicken overnight before beginning to assemble the tagine.)
Pour the remaining liquid over and around the chicken.
Add the preserved lemon slices and drizzle the chicken with oil.
Set the tagine on the stove over medium to medium-high heat. Place the lid on the tagine and begin simmering.
After about 10 to 15 minutes, turn the pieces over.
Replace the lid and continue simmering.
Turn the chicken one or two more times.
After about 30 minutes of cooking, add the olives and replace the lid.
Total cooking time with be around 45 minutes.
Before removing from the heat, be sure to check the chicken for doneness. It should be cooked through and tender.
Serve in the tagine when it is done cooking.