One of the heartier dishes served in Switzerland, especially common at restaurants on hiking trails and at ski resorts, is Älpermagronen.  This rich pasta, potato and cheese dish is best topped with caramelized onions and accompanied by applesauce. Älper translates as Alps and Magronen was the Swiss German term for macaroni or pasta.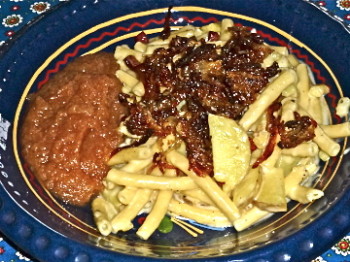 Älpermagronen is said to originate with Alp farmers who had an unlimited supply of butter, cream, milk and cheese.  Potatoes could be carried to the high Alps by farmers bringing their cows up for the summer.  Or grown, especially by dairy farmers lower down in the Alps who lived on their farms year round.  An elderly Swiss dairy farmer friend who has lived in his Glarner Alp home full time his entire life told me potatoes played an important role in his family's diet since they could be easily grown and stored.
Pasta was added to this potato cheese dish in central Switzerland in the late 1800s. The large influx of Italian construction workers hired to build the Gotthard tunnel (a major route from Switzerland to Italy) brought pasta with them and introduced it to locals.  When you think about it, pasta really was a nice addition to (or alternative to) potatoes.  It was lightweight so easy to transport, durable, easy to store, filling and reasonably nutritious as the classic  Älpermagronen pasta is made from wheat and eggs.
This calorie- and cholesterol-rich dish is reminiscent of the familiar American macaroni and cheese. When done right, though, it is a whole lot more.  The cheese sauce in most mac 'n' cheese recipes begins as a roux made from melted butter and flour.  Milk is whisked in then cheese is added and stirred until it melts. The sauce is tossed with cooked pasta and baked.
Älpermagronen does not begin with a roux.  Originally, it was a one pot meal prepared over an open fire. Most modern recipes involve boiling potatoes and pasta, layering them in a baking pan with cream or milk and cheese then baking in the oven until done.  I wanted to learn how my Swiss grandfather and Alp farmers of his generation prepared Älpermagronen.  Clearly they did not use the layering and baking method.  I finally found an older Swiss man who taught me his traditional method of preparation. He cooks his potatoes and pasta in milk outside over an open fire then, without draining, stirs in his cheese.  My version (which varies slightly from his in that I boil everything in water) is still FAR from low calorie and absolutely not a dish you should be eating after sitting around in an office or watching tv all day).  A printable recipe can be found at the bottom of the step-by-step instructions.  Here is a link to the radio segment I did on this dish.
Gather ingredients which include waxy potatoes that will not break apart during cooking, pasta, onions, cheese (more on this below) and whole milk, half and half or cream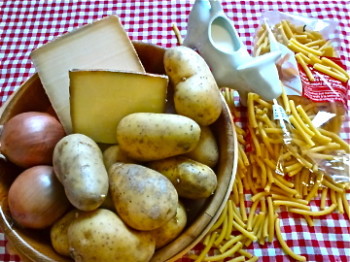 Stores in Switzerland sell an egg pasta specifically labeled Älpermagronen but any tubular pasta can be, and are, used.  Other common varieties include elbow noodles and rigitoni.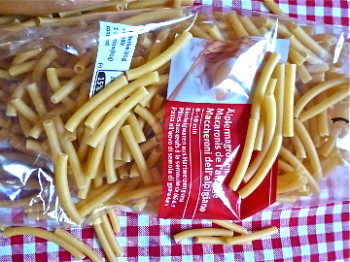 Älpermagronen is typically served topped with caramelized onions.  Slice the tops and bottoms off of the onions then peel off the skin and the thick outer layer.  Working from the top to the bottom, slice thin circles or cut the onions in half then thinly slice lengthwise.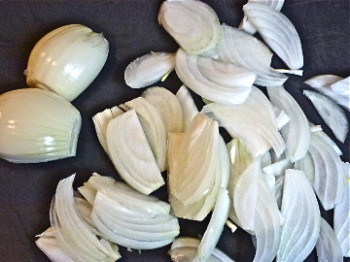 To give the onion topping a nice crunch, toss a bit of flour with the sliced onions.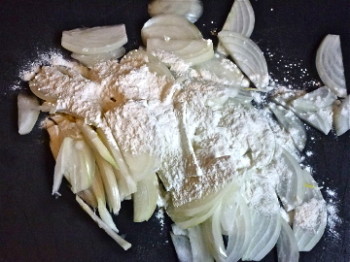 If desired, begin by sautéing small pieces of bacon in a large skillet.  Cook until they are nicely browned.  Remove the bacon from the pan with a slotted spoon and set aside.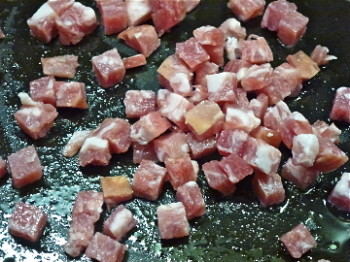 Heat oil and butter in the same skillet.  If there is a lot of bacon fat leftover, it may not be necessary to add much additional fat.  When it is shimmering, add the onions.  Sprinkle with salt.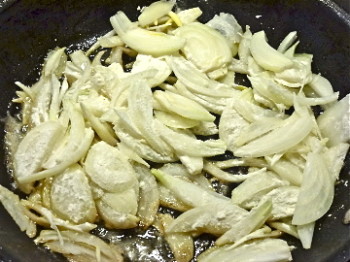 Saute over low heat, stirring occasionally, until the onions are nicely browned and crispy.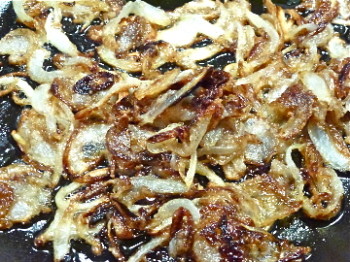 Add the browned bacon bits back to the pan, or reserve to stir into the main dish.  Turn off the heat and set aside.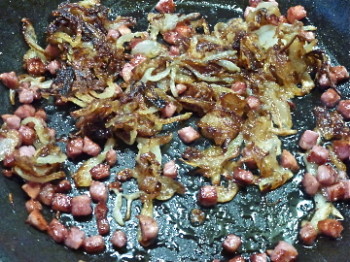 While the onions are browning, bring water to a boil in a large, heavy pot.  When it comes to a boil, add salt.  Cut potatoes into small cubes or into thin slices.  Try to cut the potatoes to around the same thickness as the pasta (excluding the hole) so they cook in the same amount of time.  If unsure, cook separately.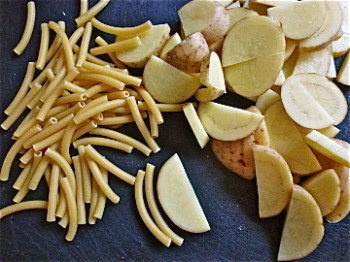 Add the potatoes and the pasta to the boiling, salted water.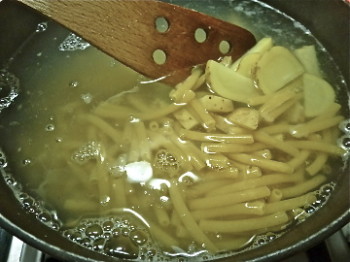 Cook until the potatoes are tender and the pasta is al dente. Drain thoroughly.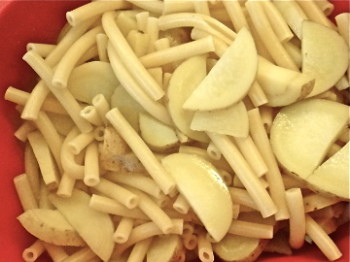 Immediately return the hot potatoes and pasta to the pan.  Add the cream, half and half or whole milk. Turn the heat to low.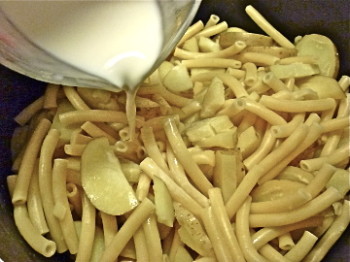 When the milk is warm, add the grated cheese.  Potatoes, pasta and milk are mild flavored so it is very important to use a flavorful cheese such as aged Bergkäse, Gruyère or Appenzellerkäse.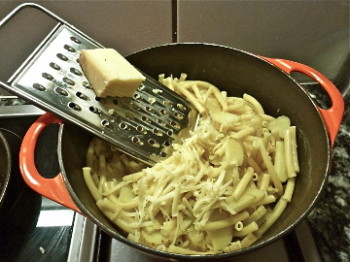 Add salt and freshly ground pepper, to taste.  If available, add a touch of ground nutmeg.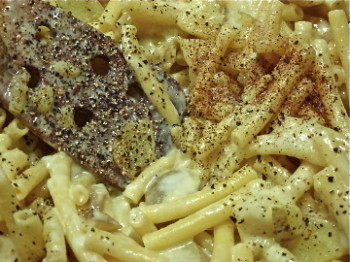 Stir constantly over low heat until the cheese melts and a thick sauce forms.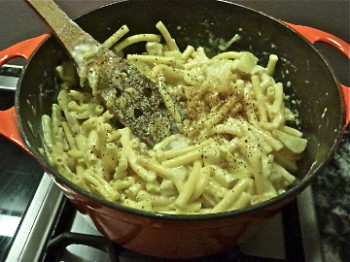 Serve immediately topped with the caramelized onions.  Älpermagronen is very often served with applesauce as well (see method below if using homemade).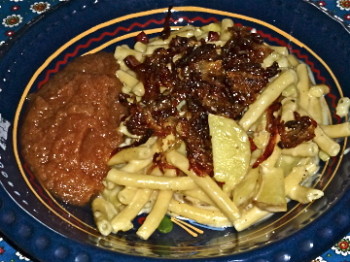 To make applesauce, peel, core and cut flavorful apples into small pieces.  Place in a pan with a little water and cinnamon.  Add a small amount of sugar if the apples are sour.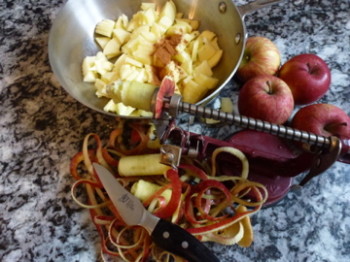 Bring the mixture to a boil.  Reduce the heat to a simmer.  Stir periodically and add more liquid if necessary.  When the apples are very soft, mash with a fork if the mixture is too chunky or puree in a food processor.  Add more sugar if necessary.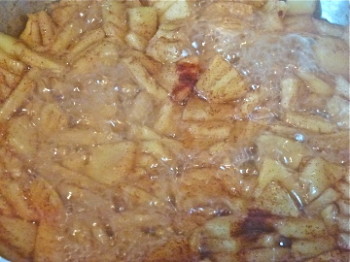 | | | |
| --- | --- | --- |
| Älpermagronen – Swiss Alp Farmer Macaroni, Potato and Cheese | | |
Ingredients
1 lb. / 500 grams waxy potatoes
½ lb. / 250 grams Älpermagronen, elbow or rigitoni pasta
1 cup / 250 ml cream, half and half or whole milk
½ pound / 250 grams aged and flavorful cheese (such as Bergkäse, Gruyère, Appenzeller, etc.)
salt and pepper, to taste
pinch ground nutmeg
4 oz. / 115 grams small cubes of bacon (optional) or 6 slices, cut into small pieces
2 large onions, peeled, halved and sliced thin lengthwise
1 tablespoon flour (optional)
1 tablespoon butter
1 tablespoon oil
salt, to taste
4 large apples
pinch cinnamon
¼ cup water (or more)
Instructions
If using, place bacon in a hot skillet.
Reduce the heat to medium high. Saute, stirring occasionally, until the fat has rendered out and the bacon is crisp.
Remove from the pan with a slotted spoon and set aside.
Melt the oil and butter in the same skillet. Use less if there is residual bacon fat.
Toss sliced onions in the flour (optional but it will make the onions crisper).
Add to the pan.
Cook over medium heat, stirring occasionally, until the onions are browned and crisp.
Turn off the heat and set aside.
Stir the bacon into the onion topping or reserve to stir into the main dish.
While the onions are caramelizing, bring a large pot of water to a boil.
Add a large teaspoon of salt.
If necessary, peel the potatoes.
Halve (if large) or quarter the potatoes lengthwise.
Slice crosswise into 1/8th inch (1/4 mm) thick slices.
(Cut potatoes thicker if using a thick pasta.)
Add the pasta and potatoes to the boiling water.
Cook until the potatoes are tender and the pasta is al dente.
Note: Potatoes and pasta can be cooked separately if unsure each will be done cooking simultaneously.
Drain.
Immediately return the hot potatoes and pasta to the pot.
Turn heat to low.
Add cream, half and half, whole milk or any combination to the pot.
When the milk has heated, add the grated cheese.
Add salt, pepper and nutmeg.
Stir constantly until a thick, cheesy sauce has formed.
Serve immediately topped with the caramelized onions (and bacon).
Accompany with applesauce.
If making homemade applesauce:
Place peeled slices of apples in a pan.
Add water, cinnamon and sugar (if using).
Bring to a boil.
Cover the pan and simmer on a medium-high heat until the apples are soft.
Puree if too chunky.