Every holiday season I make massive amounts of numerous varieties of classic European cookies along with marzipan creations and many different flavors of chocolate truffles. After sharing a platter of Christmas goodies with my husband's Swiss colleague, she thanked me by sending a Christmas cookie recipe passed down through her family from her great, great, great grandmother who lived in Canton Aargau.  The recipe, she told me, is about 200 years old.
The name of this treat is Sandelholzläckerli.  Sandelholz means sandalwood.  Läckerli are small, tasty treats.  Having received the recipe five years ago while still living in the States, I had no idea one could eat sandalwood.  I had only ever seen it in incense.  After moving to Switzerland, I have seen several recipes using it and found sandalwood in a variety of spice blend packets typically sold for Christmas baking here.  I expected to have difficulty sourcing it and was prepared to head to an Indian food market in downtown Zürich so was happily surprised to find it behind the counter at my local Drogerie (drugstore).  I was sure to specify Sandelholz for baking.  The fragrance is reminiscent of cloves and nutmeg.  The taste is rather more subtle.  Sandalwood combines beautifully with, and is in the same taste family, as spices typically associated with Christmas such as cinnamon, nutmeg, ginger, cloves, coriander and allspice.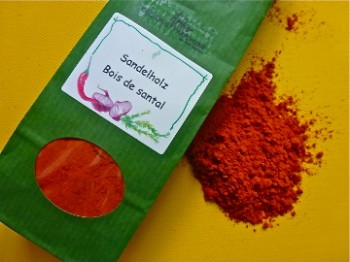 Despite the recipe being 200 years old, I wasn't surprised to find the other spices, cinnamon and allspice, in the cookie recipe.  Spice trade routes into Europe were firmly established during the Roman period.  I did, however, question the authenticity of the recipe since it used sugar, and not honey, as most old Lebkuchen (a variation on gingerbread) recipes did.  After some research, I learned that a German opened the first sugar mill in Switzerland using locally-grown sugar beets in the 1800s.  Every fall, we pass huge piles of harvested sugar beets and hundreds of train cars piled high heading to one of the two mills currently running in Switzerland.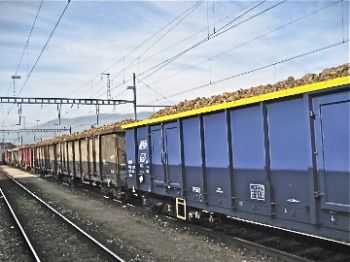 Sandelholzläckerli are easy to prepare.  Ingredients for the cookie include flour, butter, sugar, eggs, sandalwood powder, cinnamon and allspice.  For the filling, I used seedless raspberry jam.  The glaze instructions are at the end of the post, just above a printable recipe.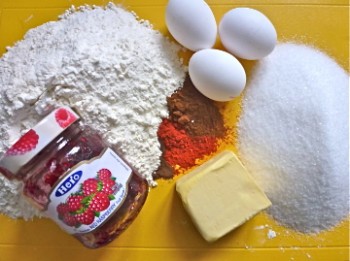 The first step is to melt the butter over medium heat, taking care not to burn it.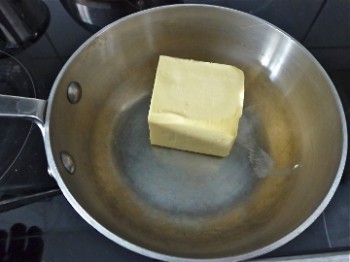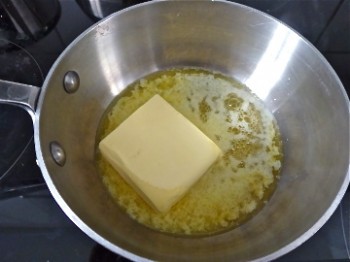 While the butter is melting, place the sugar and eggs in a large mixing bowl.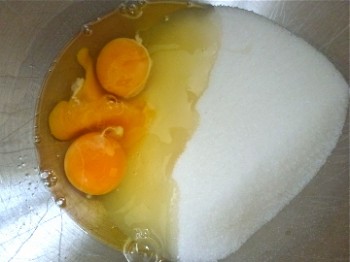 Start beating.  I prefer using the whisk attachment but a paddle works just fine.  A hand whisk can also be used.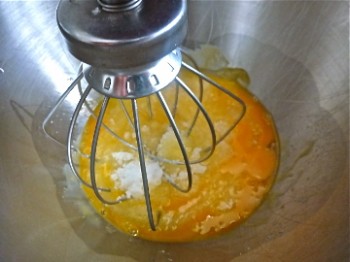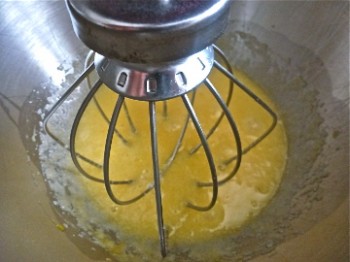 Beat for several minutes until the mixture has lightened a bit in color and the eggs and sugar are thoroughly combined.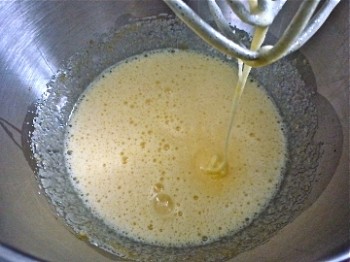 Remove the melted butter from the heat.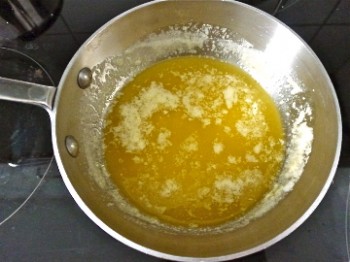 Add it to the egg and sugar mixture.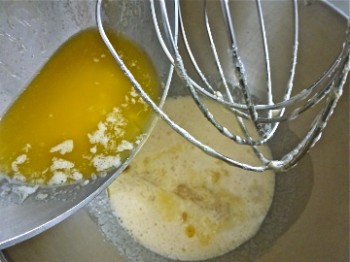 Beat until completely incorporated.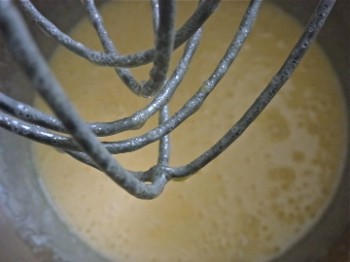 Measure out the sandalwood powder, the allspice and the cinnamon.
Add the spices to the flour.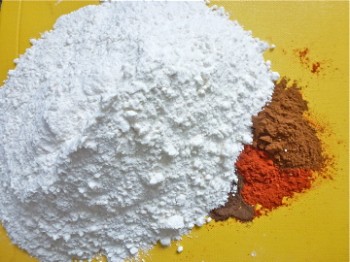 Whisk to combine.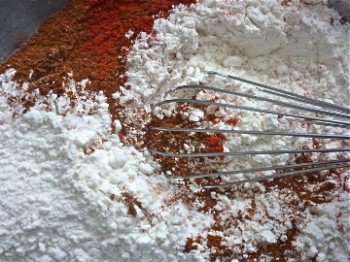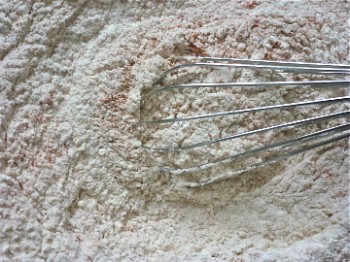 Add the spiced flour mixture to the egg, sugar and melted butter mixture.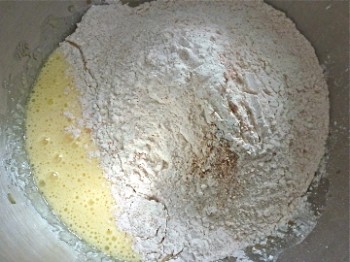 Using the paddle attachment (or a wooden spoon if you want a good workout), beat until just combined.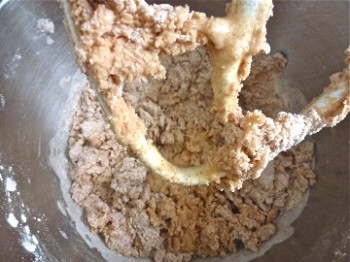 Do not overbeat.  When all of the flour is incorporated, it is done.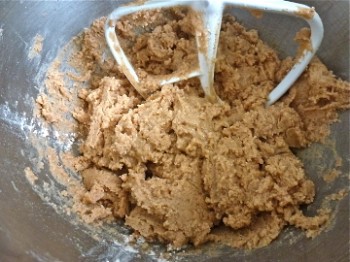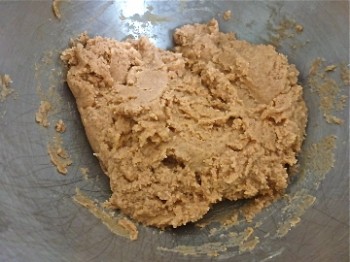 Cover the bowl with a tea towel or plastic wrap and let it rest for one hour.  Don't worry if the dough seems a bit soft, during this rest time it will stiffen up.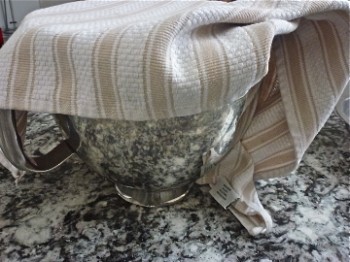 Lightly flour a rolling surface (I love using my silicon rolling mat as less flour is required so less is incorporated into the dough).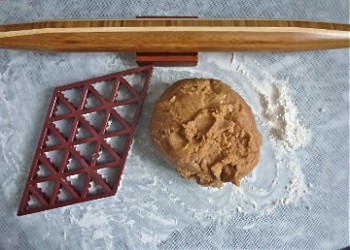 Roll the dough evenly to about 5 mm or 1/4 inch thickness.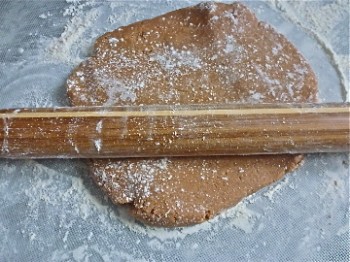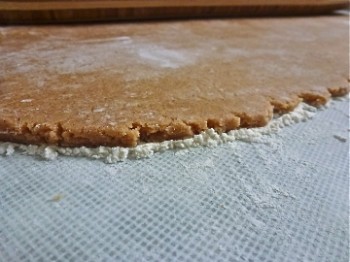 The recipe calls for using Läckerli cutters.  Shapes typically include rectangle, square, diamond, triangle or circle but any shape can be used.  It would also work to cut shapes using a sharp knife but only do this after filling the dough.  I found this multi-cutter at a second hand shop in Switzerland and often use it when making traditional spiced honey Lebkuchen cookies.  Flour the cutters before using so the dough will not stick.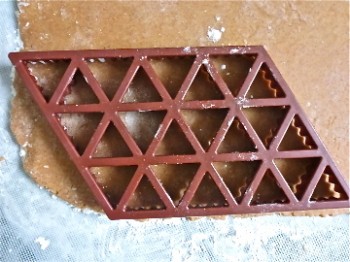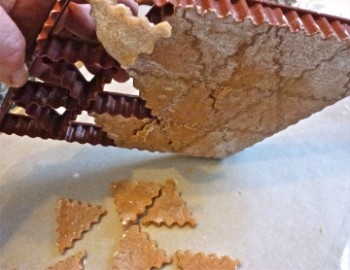 The old recipe says to spread the jam over half of the dough then top it with the other half.  I don't do this if I am using cookie cutters because scraps cannot then be re-rolled.  I spread jam on individual cookie bases then top each one with another piece of dough.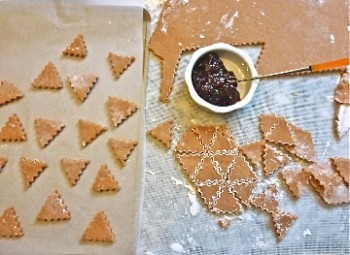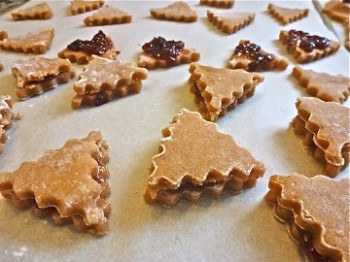 Place the parchment-lined cookie sheet in a pre-heated 350° F / 180° C oven on the center rack.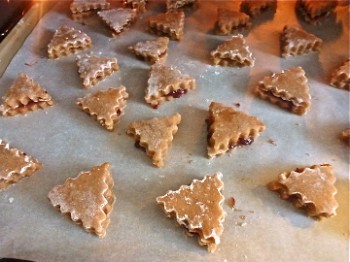 Re-roll and re-cut the scrapes to make more cookies.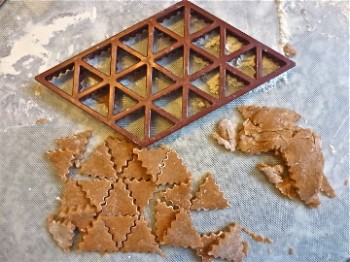 Bake the cookies until lightly brown on the bottom (the one on the right is perfect).  If left in the oven too long, the cookies will become rock hard as they cool.  The one on the left is just at the edge of being almost too dark.  Total baking time will be about 12 to 15 minutes.  Turn the cookie sheet around after about 5 minutes.  Keep checking every minute or so after about 10 minutes of baking.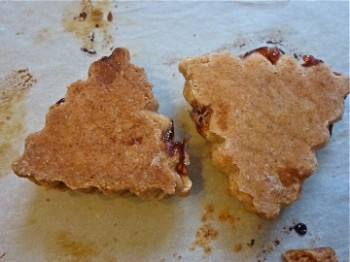 Let the cookies cool.  To make the glaze, sift icing sugar, known as confectioners' sugar in the States.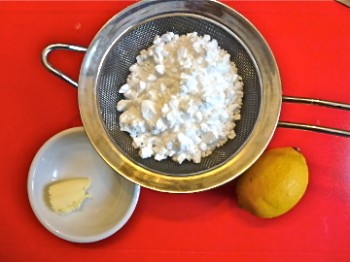 I always add a tiny bit of melted butter when making this type of glaze.  It hardens better and gives it a nice sheen.  The original recipe did not include butter.  Squeeze in half the designated amount of lemon juice.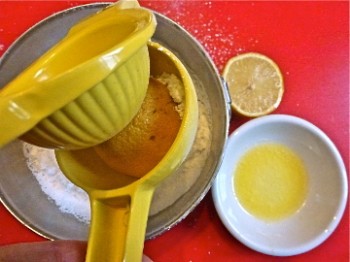 Stir to combine.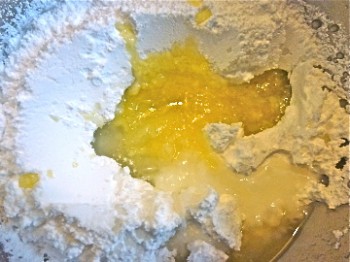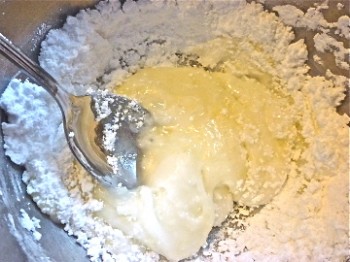 It will be very thick.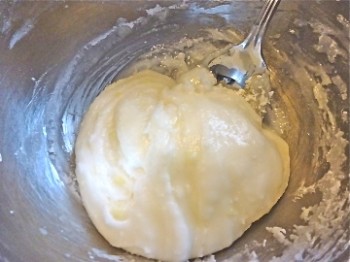 Slowly stir in more lemon juice just until the desired consistency is reached.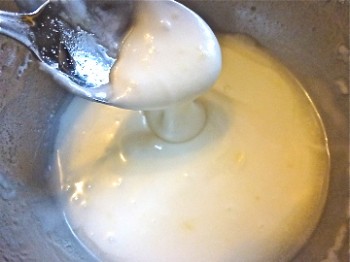 Test the consistency by dragging the spoon through the glaze.  The line should disappear in 5 seconds. Add more lemon juice if it is too thick (or milk if you run out of lemon juice) or more confectioners' sugar it it is too thin.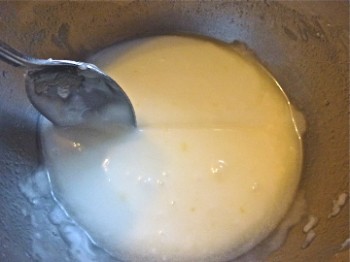 After 5 seconds, no more line.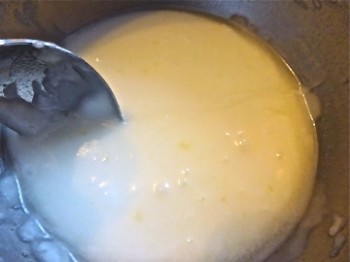 Place the baked cookies on a rimmed baking sheet in a single layer.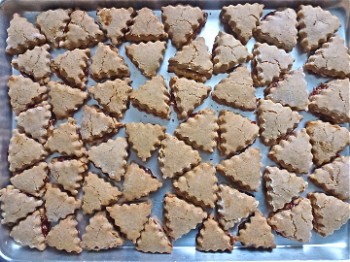 Spread each with glaze and let sit until the glaze has hardened.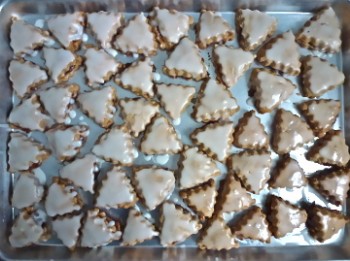 These cookies taste better the second day.  Place the Sandelholzläckerli in an airtight container with parchment paper between layers.  They can be stored for several months in the freezer or at room temperature for a week or two.  If they harden or are over-baked, they might be softened by adding an apple slice to the container.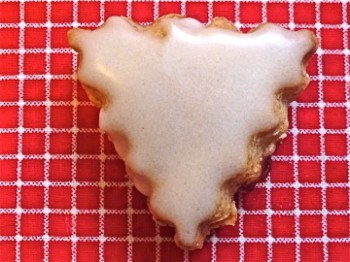 | | | |
| --- | --- | --- |
| Sandelholzläckerli (Sandalwood Cookies) | | |
Recipe Type:
200 year old spiced Swiss cookie
Author:
Ingredients
COOKIES
3 large eggs
500 grams sugar (2 1/2 cups / 18 ounces)
125 grams butter, melted (4 1/2 ounces)
1 tablespoon cinnamon
1 pinch allspice
500 grams flour (4 cups / 18 ounces)
1 1/2 tablespoons sandalwood powder
FILLING
about one cup of raspberry jam
GLAZE
juice from 1 large lemon (more of less may be needed)
200 grams confectioners' icing sugar (1 1/2 cups / 7 ounces)
1 teaspoon butter, melted
Instructions
Place eggs and sugar in a mixing bowl.
Using the whisk attachment, beat together until well combined.
Melt the butter.
Pour over the sugar and egg mixture.
Beat until well combined.
Whisk together the cinnamon, allspice, sandalwood and flour.
Add to the wet mixture.
Using the paddle attachment, stir until just combined.
Cover the bowl with a towel or plastic wrap.
Let the dough rest one hour.
Place the dough on a lightly floured surface.
With a floured rolling pin, roll the dough until it is 5mm or 1/2 inch thick.
Flour square, diamond, rectangular, triangular or circular cookie cutters, no larger than 2 to 3 inches / 5 to 7 centimeters.
Cut shapes from the dough.
Spread a bit of jam on half the cutout dough pieces.
Top each jam-covered piece with the remainingcutouts.
Place cookies 1 inch / 2 1/2 cm apart on a parchment-lined cookie sheet.
Pre-heat the oven to 350° F / 180° C.
Place the baking sheet on the center rack.
After 5 minutes, turn the sheet pan around to ensure even baking.
Bake until bottom is slightly browned, 12 to 14 minutes.
Check every few minutes after they have baked 10 minutes.
Do not over-bake or they will become stone-hard.
When the cookies have cooled, sift the confectioners' icing sugar.
Stir in the melted teaspoon of butter and half of the lemon juice.
Slowly add more lemon juice until the line left by a spoon dragged through the glaze disappears after 5 seconds.
Add more lemon juice if the glaze is too thick.
Add more confectioners' icing sugar if it is too thin.
Let sit at room temperature until the glaze hardens.
Place the Sandelholzläckerli in an airtight container with parchment paper between layers.
These cookies taste better the second day.
They can be stored for several months in the freezer or at room temperature for a week or two.