I adore ratatouille but, more often than not, am sorely disappointed when ordering it at a restaurant. Undercooked, overcooked, under seasoned, watery – you name it, I have paid for it.  I have much better luck in France but am only there a few times a year so have resorted to making my own.  Key, as for many dishes, is using fresh ingredients.  But, I like ratatouille year round.  To adjust for bland, out-of-season produce, I have taken to roasting the vegetables and slowly cooking everything together on the stove to meld and deepen the flavors.  Using this method, it can be frozen for months and still taste amazing.  I submitted my recipe during a competition at Hiltl, the oldest vegetarian restaurant in Europe, and won!  My dish was cooked by the chefs and served to customers as part of their delicious, impressive buffet.
Here is a step-by-step description of how to make this easy and nutritious dish.  A printable text-only recipe is at the bottom of the post.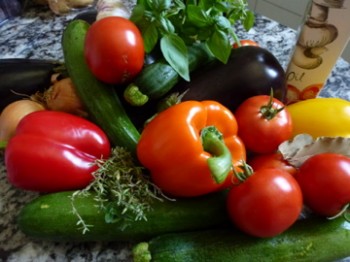 Basic ratatouille ingredients can include zucchini, eggplant, onions, garlic, tomatoes, bell peppers, olive oil and fresh or dried herbs.
Begin by cutting off the base and stem of the eggplant.  Peel (if very fresh, skin can be left on) and cut into small, bite size pieces.  Place in a bowl and toss with just enough olive oil to very lightly coat everything.  Sprinkle with salt and place on a baking sheet pan.  I like to line my  pan with a non-stick liner or quick release foil.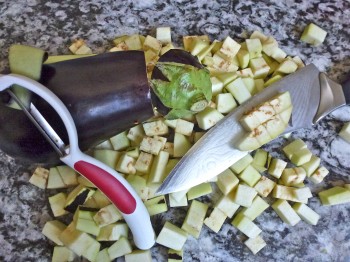 Bake in a  preheated  425ºF / 220º C oven until nicely browned, but not burned.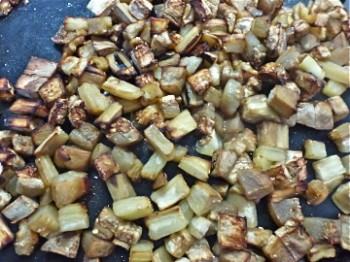 Cut the top off a head of garlic.  Place on a piece of foil.  Drizzle with olive oil and seal the foil.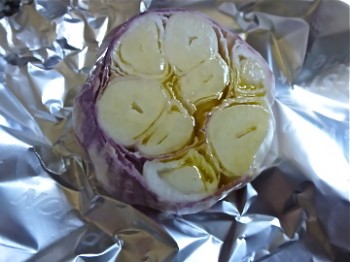 Pop the garlic into the oven and roast until the cloves are mushy, about 20 minutes.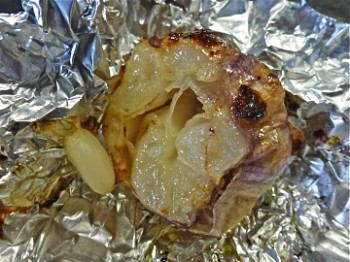 Follow the same procedure for the zucchini as that for the eggplant.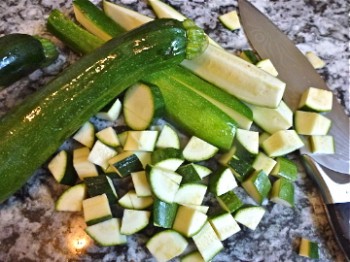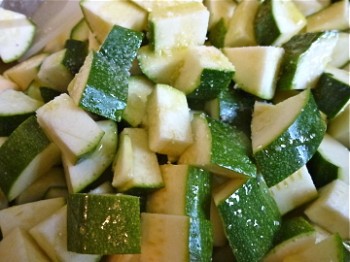 Peel and dice the onions (How To Dice An Onion).  Saute over medium-high heat in a large pot.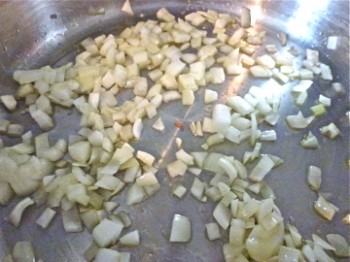 If using fresh tomatoes, grate on a cheese grater and throw away the skin.  OK to use high quality, canned, chopped tomatoes.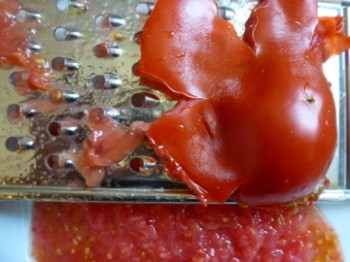 When onions are nicely browned, add about one ounce of wine and cook until wine is reduced.  Add tomatoes.  Stir in roasted garlic, zucchini and eggplant when they are nicely browned.  If necessary, add some water to prevent sticking and burning.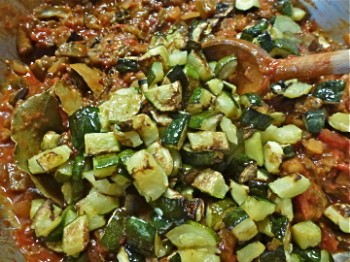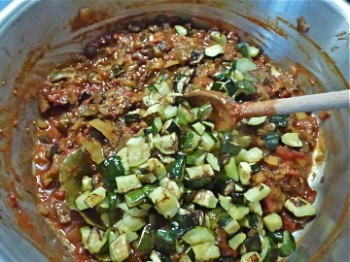 Time to roast the peppers.  The easiest way to stem and core bell peppers is to press around the stem with your thumb.  When it releases, pull it out.  Break the pepper apart lengthwise and remove the seeds. Very lightly toss with olive oil and place skin side up into the hot over.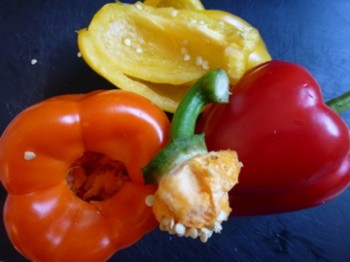 Roast until the skin blackens and blisters.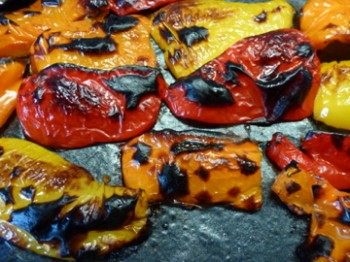 Immediately place the hot peppers in a bowl and seal with plastic wrap.  This serves to trap the steam making the skin easy to peel off with your fingers.  Discard the skin.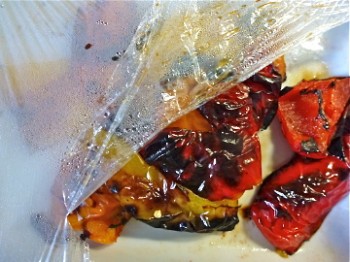 Rough chop the skinned peppers and add to the ratatouille mixture.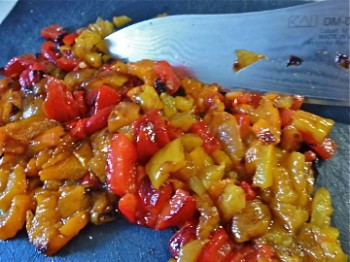 Add bay leaves and fresh or dried oregano, fresh or dried thyme and dried basil (only if fresh is not available to add at the end).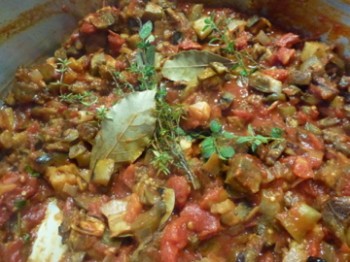 Simmer for an hour or more to blend flavors, stirring occasionally and checking it water needs to be added.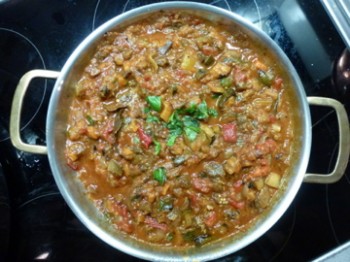 Serve over polenta or pasta, under a piece of grilled salmon, as a topping for homemade pizza or as a side dish.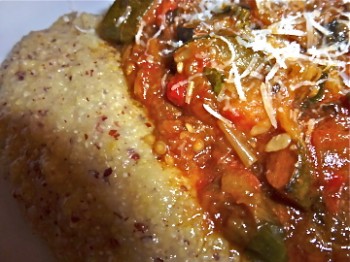 Recipe Type:
Main or Side
Ingredients
2 large eggplant, peeled and cut into 3/4 inch dice
3 large zucchini, cut into 3/4 inch dice
2 red bell peppers, cut into 3/4 inch pieces
1 head garlic
2 large onions, peeled, quartered and sliced thin
olive oil, as needed
salt and pepper
1/2 cup white wine (optional)
4 large tomatoes, grated and skin discarded
OR 2 (or more) large cans peeled tomatoes, roughly chopped or pureed
1/2 cup tomato paste (optional)
pinch of red pepper flakes
1 to 2 teaspoons dried or fresh oregano
2 bay leaves
1 teaspoon dried or fresh thyme
handful fresh basil leaves, chopped
Instructions
Preheat oven to 425ºF / 220º C.
Keeping separate, toss eggplant and zucchini in olive oil. Spread on sheet pans. Sprinkle with salt. Place in the preheated oven. Stir occasionally and roast until browned and tender.
Core and seed the bell peppers. Tear into large pieces and lightly coat with olive oil. Place on a sheet pan, skin side up, and roast until skin is blackened. Immediately place in a bowl and cover with plastic wrap so the trapped steam will loosen the skin, about 10 minutes.
Using fingers, peel the skin off of the peppers and discard. Chop peppers and add to pot.
Cut off the top of the garlic head. Place on a piece of foil. Drizzle with olive oil. Seal foil packet and roast until soft, about 20 minutes.
Heat a few tablespoons of olive oil in a large Dutch oven. Add onions and cook until translucent and lightly browned.
Add wine to hot pan and cook until the wine is reduced. Add tomato paste, if using. Add grated or canned tomatoes. Cook a few minutes.
Add roasted vegetables. Stir to combine. Add dried herbs and red pepper flakes. Simmer until flavors meld. Adjust seasoning and stir in fresh basil.
Serve immediately, next day (best) or freeze.
Can be eaten as a side dish, served over pasta or polenta, served under grilled salmon or as a topping for pizza.